He is large, he is black, he is muscular, and he is the new kid on the music theatre block.
Early on Monday morning, as bleary-eyed office workers were beginning the working week, the long-awaited King Kong was revealed at the Regent Theatre in Melbourne.
Five years in the making, Melbourne-made King Kong is a creation of Global Creatures (Walking with Dinosaurs and How to Train Your Dragon). Standing six metres tall the part marionette, animatronic and puppet, weighs in at 1.1 tonnes of steel, aluminium, lycra and latex. Within Kong are some 300 metres of electrical cable, 1500 connections, 16 microprocessors, and his own on-board hydraulic power with liquid cooled quiet pump.
Creator Sonny Tilders, declared Kong the 'most sophisticated puppet we've ever built' in an undertaking he believes is 'a hybrid of technology and art form'.
'I am so proud of the work my team has done. Even as adults, we can suspend belief,' he said.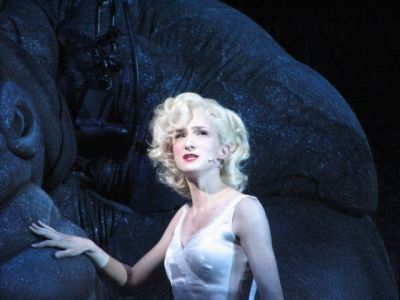 Apart from the rigours of more than 50 cast and 76 strong crew, King Kong is a three-tiered operation requiring the attention of 13 crew. His 1.1 tonnes is supported by 30 tonnes in the rig. On stage 10 ninja-like operators, known as the "King's Men", work collaboratively with slick acrobatic skill, and a voodoo operation controls movements of eyebrows, nose, lips, jaw, eyes, corners of mouth and jaw, creating the illusion of emotion and character.
Speaking at the media launch Victorian Government Minister Louisa Asher said King Kong was expected to attract 50,000 visitors to Melbourne, adding $45 million to the local economy.
It's a brave move, mixing puppetry with music theatre. But such is the spectacle in the scenes revealed today, one imagines young males in particular will find a lot to like in the show.
The jury is still out on whether King Kong will succeed as music theatre. That can only be decided by audiences. Preview performances begin tonight (28th May) before opening night on June 14th.
Story and images by Lucy Graham. Pictured: Esther Hannaford and King Kong.
Behind the Scenes of King Kong
Full Moon Lullaby - Esther Hannaford and King Kong.