Producer John Frost introduced the four main stars of his May 2012 World Premiere production of An Officer and a Gentleman The Musical on Monday September 26. While Ben Mingay (Jersey Boys) and Amanda Harrison (Elphaba in the original Australian of Wicked) will play the Richard Gere and Debra Winger roles from the Oscar winning movie, the secondary leads are in equally impressive hands.
Kate Kendall, known to TV audiences through six years in Stingers, and recently seen in the MTC's Next to Normal and Alex Rathgeber (The Phantom of the Opera, MTC's The Drowsy Chaperone and The Production Company'sAnything Goes), who will play the supporting leads Lynette Pomeroy and Sid Worley, have also been involved in the developmental workshop process for the musical.
They spoke to Neil Litchfield after the casting announcements.
Neil Litchfield: John Frost made mention that both of you had been involved in workshops for An Officer and a Gentleman. What was it like being involved at that early stage?
Alex Rathgeber: There have been several workshops for this show over the years; some of them have been in the States, and two have happened here. One of them happened in 2009, which I was involved in, then the two of us did a more recent one as well, around the time of the auditions, working with the two American writers and the lyricist and composer, who were all there.
Kate Kendall: It's been in incubation for years, and I just did the most recent workshop, which was great. They've changed the form a little bit in some ways, and changed some scenes. There's a great pop feel to it, and there's a great fun feel to it, but it's also quite dramatic. I'd forgotten how dramatic it was until I saw the movie again and then did the workshop. I went, this has got real balls. There's a real edge to it too, which is good.
Alex: I remember when I first saw the film, and then heard that they were making it into a musical, that I could see it as a play. It has that dramatic edge about it. It really does feel like it has the elements of a play, but then there's the songs, like Up Where We Belong, plus this whole original score written by Grammy Award winners who have created a really engaging score, which I think is going to be really popular.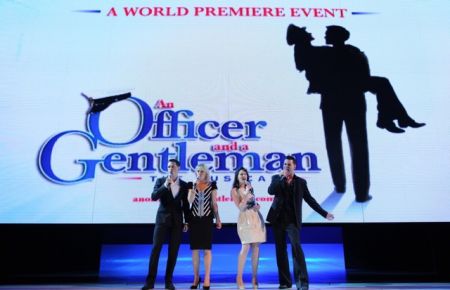 Neil: What was great for you as performers about being involved in those workshops?
Kate: Working with Simon (Phillips) was pretty amazing. I'd worked with him in workshops for a couple of other things, but for some reason we'd never done anything together since then. He's got one of those freakish brains which is able to store so much information, and change things, and really keep driving till he gets what he wants. Also, the music is really catchy. It was also kind of like a long audition for me, which I was trying not to think about at the time, which was pretty hard. But by the end of it, it was ultimately just very rewarding.
Alex: It's so rare to work on a musical in Australia where you get to have the writers in the room, and that is just such a thrill. They're sitting there and making changes and trialing different elements, and over such a long period of time too. It's so luxurious to have the time to make it something really powerful.
Neil: Can you share a particular contribution you've made during that process?
Alex: There was generally a lot of discussion and throwing ideas around, so it was a real collaborative process. I can't for the life of me remember one specific thing that I said, because everyone was sitting round the table throwing different bits and pieces in.
Kate: The job in those workshops is to do what's on the page, with 100% commitment, so that they can work out whether or not it works. So you throw yourself into it. Sometimes it might jar, and then they might go, 'we've tried that three times, and it's still not working, so we need to address that.'
So they changed some scenes around and made it more authentic. They brought a song that I do down to a more human level. Rather than being set in a fantasy style setting, they brought it back to two women talking about what their nights were going to be like. So they were trying to humanize it all the time, which I thought was great. There's a lot of jazz hands in musicals, and all that, but this has got that real authenticity about the journeys of the characters.
Alex: The writers have been away working on it since that first 2009 workshop. We got it on its feet in that first workshop and we staged it so they could see it as well. It was all very basic in the rehearsal room, but they could then see what was working – they were trialing different stuff. They went away and did at least one workshop in the States, and then came back to this next workshop with very clear ideas about what they wanted to try. They'd re-written stuff, they'd added vocal lines into one of the songs that Ben will be singing with Zac, where I had an extra line so it was more of a chorus number. They wanted to hear all that stuff, so, as Kate said, we just had to commit to bringing it alive around the table as much as possible for them to hear how it was going to work.
I'm sure they've gone away from that workshop again knowing what worked and what didn't and they'll be coming back again to the rehearsal period, with, again, much clearer ideas.
Neil: You've spoken about what you give to the writers through that process, but what about for you personally? Especially as you're moving from a workshop where you've actually helped develop the roles you will play.
Alex: We're especially lucky in that regard, in that we've been cast in the roles, so we get to carry them on, but it was fun. That was probably the greatest thing – we had a lot of fun.
Kate: It's going to be fun to do a big show. On another level, purely personally for me, because I've played so many depressed women of late, I'm just looking forward to playing someone who just wants to go out and have some fun. I've been playing manic depressive, bi-polar or suicidal women for the last five years in one format or another. It's going to be great to be able to rock up to the theatre and play someone where you know you're going to have a great time, and the audience is hopefully going to enjoy it, which I think they will. Personally it's just going to be great fun to be a sassy, sexy, flirtatious, naughty girl. On that level, purely selfishly, that's what I can't wait for.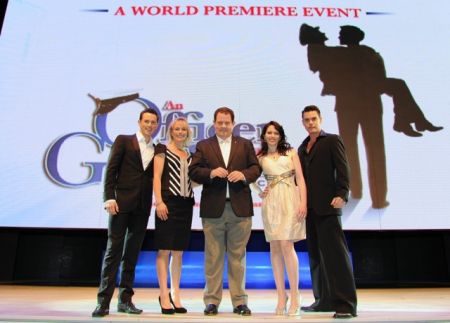 Neil: You're well known for TV work Kate, but as you said when the cast was being introduced, you have a great passion for being on stage.
Kate: I trained as an actress, and we only ever did theatre. They didn't worry about TV at acting school. So I'd been doing theatre until I fell into Stingers. That went on for six years. Then you come out and that's how people know you. They probably don't know that you've done Shakespeare, Beckett and many different plays.
The immediacy of the audience in theatre is a great thing. There's no second takes, and there's the fact that during rehearsal you really get to be quite specific about what you want to achieve because you have that rehearsal time. In television you just generally don't. You find out who your character is, try to flesh that out, and then you just do the scenes. It's very difficult to try to build moments that you're intrinsically part of, and you get that with theatre.
What's interesting to me is that I'm very new to this genre of musical theatre. I've always been a little bit afraid if it, because I've never really got it. I don't know if I've done bad auditions or just not been comfortable in the genre. So it was great to have a crack at Next To Normal, which was more like a very dramatic piece of theatre, with lots of music in it. But this is a real musical theatre show. I'm looking forward to doing choreography and everything. I just can't wait for that.
Alex: It's all very exciting. I have to say personally that the fact that we are going to have to get into good shape as officer candidates is really exciting. I've done a couple of roles in different shows where I had to become a tent boxer, and I had to learn how to roller skate blindfolded, and tap dancing, but this is a whole different challenge - to have do all those drills eight times a week, and to be eligible candidates.
Kate: You've got to be real. Some of the stuff they will do just has to be real – you can't fudge that.
Alex: There's stuff where every night on stage we're going to be put through our paces. There will be boot camp beforehand and during.
Neil: Are they sending you off for military training?
Alex: We're yet to find out, all of us boys, and there are a few girls who are candidates as well. But I dare say that anyone who has found out that they are in the show, and is playing a candidate, is going to already be hitting the gym, and doing all the necessary physical preparation. I'm sure that much closer to the time, probably January or February, we'll be put through our paces.
An Officer and a Gentleman The Musical, opens at the Lyric Theatre, Sydney in May 2012.
Images above: Alex Rathgeber, Kate Kendall, Amanda Harrison and Ben Mingay (with John Frost centre in bottom image). Photographer: James Morgan.
Below: Kate and Alex check out Stage Whispers.
Earlier report - link
An Officer and a Gentleman The Musical: Songs for Download
To keep up with the latest news and reviews at Stage Whispers, click here to like us on Facebook, or follow us on Twitter.