Rehearsals began on Monday March 19 for the World Premiere production of An Officer and A Gentleman The Musical, which opens at the Lyric Theatre, Sydney on May 18, 2012.
Producers John Frost and Sharleen Cooper Cohen, along with NSW Minister for Tourism, Major Events and the Arts, George Souris, welcomed the full cast and crew of the new musical to their first day of rehearsals, when they met for the first time to read through the script and sing the songs, together with co writer of the musical Douglas Day Stewart, composer and lyricist team Ken Hirsch and Robin Lerner, director Simon Phillips, choreographer Andrew Hallsworth and musical director Dave Skelton.
The principal cast members of An Officer and A Gentleman The Musical are Ben Mingay, Amanda Harrison, Kate Kendall, Alex Rathgeber, Barthlomew John, Bert LaBonte, Josh Piterman, Zahra Newman, Josef Brown, and in her musical theatre debut, Tara Morice. They are supported by Bernard Angel, Elise Brennan, Bianca Baykara, Kirby Burgess, Lena Cruz, Sam Devenport, Akina Edmonds, Zoy Frangos, Sheridan Harbridge, Peter Hardy, Brendan Irving, Tanya Mitford, Thern Reynolds, Simon Roborgh, Michael Whalley and Patrick Williams.
The final link in the casting was completed when the four boys who will be sharing or understudying the roles of the young Zack Mayo were announced. George Cartwright (12 years old), Michael Kilbane (12 years old), Otis Pavlovic (9 years old) and Oliver Wright (12 years old). George has just completed performing in the Sydney season of Love Never Dies, while Michael has previously performed with the Sydney Theatre Company and Opera Australia. Otis and Oliver are making their musical theatre debut.
Ben Mingay (Tommy De Vito in Jersey Boys) and Amanda Harrison (Elphaba in the original Australian of Wicked) will lead the cast. Mingay plays the role of Zack Mayo, created in the Oscar winning film by a young Richard Gere, while Harrrison plays Paula Pokrifki, the role created by Debra Winger in the film.
Speaking to Amanda, we asked her feelings as she was about to commence the first day of rehearsals.
"It's been a while since I had a first day of rehearsals. I did Anything Goes last year (for The Production Company), which was fun, but the one before that was Wicked, so that was 2008. So I feel a bit out of my depth at the moment – a bit nervous, but looking forward to hearing about the set, and the stage model, and learning some music today, and just getting into it really."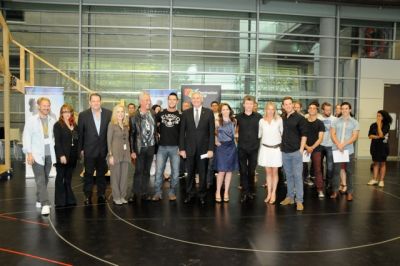 How much do you know about the show as you come into rehearsals? We know you've already recorded one of the songs.
"I only know the song that I recorded, If You Believe in Love the Way I Do, and Ben's song, Fly, which we've been performing. And we've been performing Up Where We Belong around the traps. There's been lots of publicity over the last four weeks. Apart from that, I'm very excited to start learning all the music.
"I'm looking forward to being able to help creating the role. I'm going to be able to help shape a lot of things about the character, and as an actress that's exciting. I think I'm just looking forward to finding out who she is, really."
Have you worked from the ground up in an original show before?
"Not really. I was in the original cast of We Will Rock You in London, but I was in the ensemble, so I think I shaped and created my character to a fantastic degree, but the audience wouldn't have seen that so much. But it's going to be really fantastic to be in a lead role in a world premiere this time."
Kate Kendall (Next to Normal – MTC, Stingers) plays Paula's best friend Lynette Pomeroy, while Alex Rathgeber (The Phantom of the Opera, The Drowsy Chaperone – MTC) plays Sid Worley.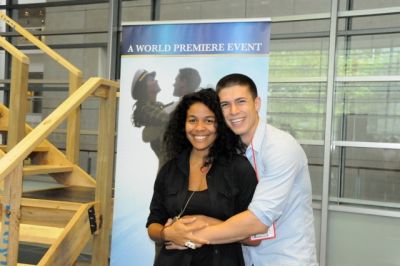 Josh Piterman (West Side Story, The Drowsy Chaperone) will play Ramon Guiterrez, the hot-blooded Latino recruit. Zahra Newman (Clybourne Park, The Drowsy Chaperone) plays the role of Taniya Seeger, an African American woman from the street whose chip on her shoulder and her weak upper body strength could be her undoing.
Josh says of the first day of rehearsals, "You go in with a really empty, open mind and hopefully everything just pans out nicely for you."
"I did the workshop, so I know a few things about the show, like the general plot line and a few of the songs, but that was two and a half years ago, and I'm pretty sure all the intricacies of the show will have changed since then."
What are you looking forward to?
"I think it's going to be a great piece of theatre, not just a piece of music theatre. I think it's going to be really demanding physically and dramatically for us. It's a beautiful story, but I think it's quite a tough piece dramatically, so that's what I'm looking forward to pulling off.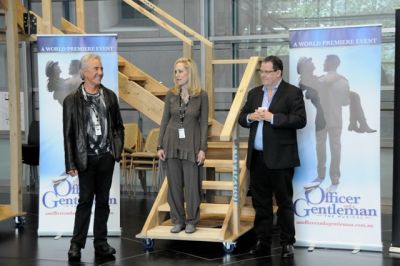 "And honestly, I'm really looking forward to the military and physical and combat training that you never get in a musical. It's so different and unusual, but so necessary for pulling off a piece where you're a candidate to be a commando or something like that."
For Zara, "First day of rehearsals is always about meeting everyone and getting on the road – what this journey's going to be. This is probably the biggest cast that I've ever worked with, because I do a lot of theatre generally, rather than music theatre. This is my first big music theatre show. It's about jumping in."
What are your feelings about moving into this new sphere?
"I'm really excited because it works very differently to what I'm used to in a very standard theatre way. Like Josh mentioned, I'm really looking forward to all the physical stuff we have to do, the military training, and we learn lots about guns and rifles and stuff like that, so it will be lots of new skills."
Josef Brown (Dirty Dancing, Man of La Mancha) is Charlie Redding, a somewhat older candidate with a family, trying to rise from the enlisted ranks. Bartholomew John (Doctor Zhivago, The Sound of Music, Titanic) plays Byron Mayo, Zack's father, as well as Admiral Worley. As Sgt Emil Foley, the screen role which won an Academy Award for Lou Gossett Jnr, will be Bert LaBonte (Guys and Dolls, Next to Normal, 25th Annual Putnam County Spelling Bee).
Based on the Academy Award-winning film, this new musical has been adapted for the stage by the original screen writer Douglas Day Stewart and co-writer Sharleen Cooper Cohen, with music and lyrics by Ken Hirsch and Robin Lerner. It will be produced by Sharleen Cooper Cohen and John Frost, and directed by Simon Phillips (Priscilla Queen of the Desert The Musical, Love Never Dies).
Andrew Hallsworth (Choreographer), Dale Ferguson (Set and Costume Designer), Matt Scott (Lighting Designer), Dave Skelton (Musical Director) and Dean Bryant (Associate Director) complete the creative team.
Images: (from top) Ben Mingay and Amanda Harrison; Cast, creatives, producers and NSW Minister for Tourism, Major Events and the Arts, George Souris, Zahra Newman and Josh Piterman; Douglas Day Stewart (writer), Sharleen Cooper Cohen (writer / producer) and John Frost (producer), and John Frost with the entire cast at the first day of rehearsals. Images: Lindsay Kearney, Lightbox Photography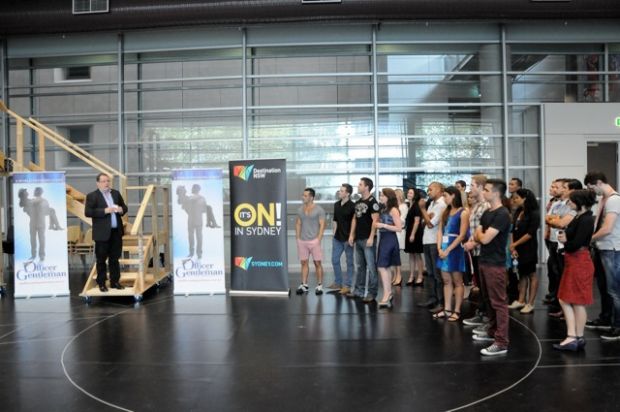 More reading.
Our earlier report on the show
Our interview with Alex Rathgeber, Kate Kendall - link
Bookings: Ticketmaster 1300 795 267.
Official Website - link