Rohan Browne is only the third man to play the coveted role of Peter Allen in a professional production of The Boy from Oz. Rohan is well qualified to step into the shoes of Todd McKenney and Hugh Jackman for The Production Company's 20thanniversary season, as he has a special connection to the musical. David Spicer reports.
It was 1998 and The Boy from Ozwas in one of its first previews when 18-year-old Rohan Browne was working his first (and last) shift as an usher at Her Majesty's Theatre in Sydney.
"There was a real buzz in the audience that they were seeing something that was new and something that was Australian. The lights went up, the music started and I was mesmerised for the next two and half hours," Rohan said.
"I thought it was the best thing I had ever seen. I had never heard Australian accents on stage before. Yet three months later I was on that stage - in the show."
Rohan admits he was a "awful" usher.
"I was so enthralled in the show. I am sure there were people wanting to go to the toilet, and I just sat there watching."
He did not get sacked for incompetence – rather he immediately got employed as a dancer. Just a few weeks after enrolling in the Brent Street dance school he quit class and his part-time job to become a full-time performer.
"I didn't get fired. I got booked for the Grease Arena Spectacular, which I auditioned for. I started after lunch (the next day) because there was a guy who hurt himself, so I booked that job."
A different injury soon brought Rohan back to Her Majesty's Theatre. He auditioned for a vacancy as a swing member of the chorus in The Boy from Oz.
"I got the job and travelled around Australia for the next two years. It was my first theatre show as an 18-year-old dancer. I loved it and watched Todd from the wings every night.
"It was such an incredible cast (including Chrissy Amphlett and Angela Toohey). It broke the mould of Australian theatre at the time.
"The Boy from Oz keeps coming back into my life. I have managed to keep my hand in it every time that it has come here. I worked with Hugh in his last concert as a featured artist."
When Rohan looked up at the stage at The Boy from Oz as an usher, and later from the wings, he never imagined that one day he would be a leading man.
"I trained as a dancer and had only just started singing and acting lessons. I never thought I would be the guy out the front singing. My only aim was to be on stage dancing.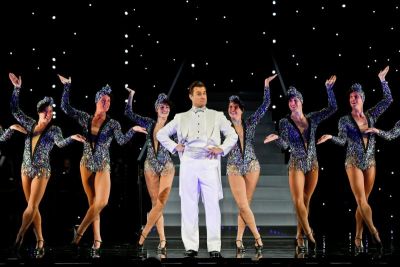 "Once I got an opportunity to sing a solo song, then I liked doing that and thought this is wonderful."
Rohan first started thinking that performing was wonderful when he was three years of age.
"My sister started doing ballet. My mum would go and watch her. I would get up and show off. Say you can do that … I can do this. My sister's ballet teacher said, 'He's got some natural talent. Does he want to start doing ballet?' My mother said, 'I don't think so. He's just showing off.' And I said 'yes.'
"Unbeknownst to me, mum actually said to the teacher we can't afford it. My parents weren't earning much at the time. They had two kids and were building a new house. My ballet teacher said, 'Don't worry about it,' and my parents never paid for a dance lesson when I was growing up."
Rohan said he was stunned when he found out years later that his teacher, Yvonne Mahr, a former dancer with the Royal Ballet, would rather have had him learn to dance than receive income.
Yvonne, now retired, will be coming to see The Boy From Oz and no doubt will be just as proud as Marion Woolnough was of her own son, Peter Allen.
Free lessons were also provided by a tap dancing teacher, Isabel Ryan, when Rohan was a teenager.
"She wanted me to come to all these classes. It meant traveling back to Frankston (from school in the city). I would do my classes, hang out, then I went home.
"I see the people who looked after me as often as I can to let them know I wouldn't be here without them."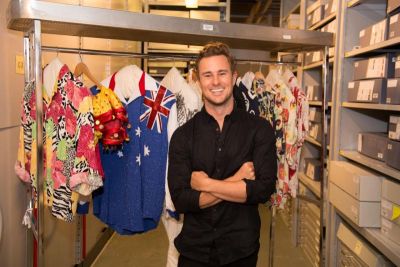 Many children start ballet lessons, but most give up before they become adults. Rohan was drawn to dancing and couldn't stop. The lyrics in the song from A Chorus Line resonate deeply with him.
I'm watchin' Sis go pitterpat
Said, "I can do that, I can do that."
Knew ev'ry step right off the bat.
Said, "I can do that, I can do that." …
I got to class and had it made,
And so I stayed, the rest of my life.
All thanks to Sis
(now married and fat)
I can do this.
That I can do!
I can do that.
Rohan was often one of the only boys dancing in a class. Brought up in a house with two sisters, he was used to being surrounded by women and enjoyed their company.
"I was going to the Victorian College of the Arts High School and my mates saw the girls I was hanging out with - oh that looks fun. Do you get to do that every day?"
It is probably safe to assume that the school girls at the VCA also enjoyed hanging out with Rohan, who is blessed with good genes.
Now aged 38, he is happily married to fellow music theatre star Christie Whelan-Browne. When I suggest to Rohan that they are one of the most photogenic couples on the red-carpet circuit he brushes me off.
"We all have our flaws and all see them. We are getting older. I am sure there will be other people to take that mantle."
Rohan and Christie met through mutual friends in the industry.
"She has a great sense of humour; we sparred off each other with our wit and fell in love."
2018 has been a tough year for their couple. Allegations raised by Christie Whelan-Browne on the ABC and Fairfax about the conduct of Rocky Horror star Craig McLachlan have resulted in her being personally sued for defamation.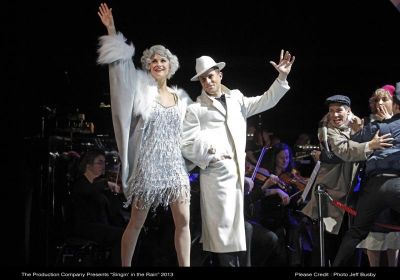 "It's been intense. We both realised how much we can rely on each other, how much love there is, how much support and understanding. It has brought us closer together; that is what tragedy, or those things, do."
As the character of Judy Garland says in The Boy from Oz,enduring hard times can make an artist.
"When I go out there. I show them where I have been. What's become of me, who I am. They get the whole story. Now clear the runway."
It is a sentiment Rohan is hoping to imbue in The Production Company's 20thannual season.
"The Boy from Oz broke the mould with Australian musicals. It is about this man who was so rambunctious, tenacious and incredibly witty. He brought all that joy and essence of life about being Australian to his work.
"Peter Allen became a huge success in America. It is about the celebration of life. My only reference to him was Todd McKenney. Then I watched (Peter Allen's) videos. He was such an incredible performer; he threw everything at it and was never afraid to do and say whatever he wanted. People fell in love with that."
Since Rohan toured with the original season of The Boy from Oz for two years he's rarely been out of work and never needed to study at college.
"I am uncertified," he jokes.
His biggest break at establishing himself as one of Australia's leading triple threats was when he stepped into the role of Don Lockwood - the star of Singin in the Rain– when once again injury left an opening for him.
The Boy from Oz is the musical he holds special.
"It celebrates a great artist. Nick Enright's writing is so eloquent, the orchestrations and songs are incredible."
The production, will which hopefully be seen across Australia, promises to be different.
"I think Australian theatre has grown a lot in 20 years. With growth comes risk, so I think it will be quite daring.
"It is going to be a huge celebration of Peter Allen, and of being Australian, and of being yourself."
The Production Company's season ofThe Boy from Oz runs from August 11 to 26, 2018.
David Spicer is the agent for The Boy from Oz.
Images: Rohan Browne in The Boy From Oz (Photographer: Jeff Busby), Rohan and the Peter Allen Archive (Photographer: James Terry), Rohan and Christie Whelan-Brown in The Production Company's Singin' In The Rain (Photographer: Jeff Busby).
More Reading