A group of out-of-work actors put on a short play in front of their friends and family in a pub and just a few years later it is a global phenomenon. David Spicer speaks with two of the founders of the Mischief Theatre Company - Henry Lewis and Jonathan Sayer - ahead of their play's Australian debut and national tour.
Naturally something went wrong when I tried to interview these two men. The telephone hook-up was just after midnight London time, after they had finished a performance in the West End – but there was mishap.
No, I didn't slip over, or fluff my lines, and a few days later I got to ask the duo some questions. First off the bat was, have they been in a play where something has actually gone wrong. Immediately they started giggling.
"I was a Lost Boy in a production of the original JM Barrie edition of Peter Pan. It has strange stuff that was left out of the Disney version," said Henry.
"The Lost Boys shoot down Wendy because Tinkerbell tells them to. Then she is lying on the ground with an arrow in her and they decide to build a 'Wendy house' around her.
"We had this flat pack 'Wendy house' which we had to construct. On the opening night it was the first time we had seen this set. We had to put it together around her and build it. Unfortunately it did not easily slot together. It had many wing nuts and other fiddly bits. It was not at all obvious how it was put together.
"So while this song was going on we had to build it, but we just couldn't do it. We were meant to build it, then escape through the trap door. What happened is that we left through the trap door carrying bits of it off stage with us."
Jonathan Sayers said, "I have heard the story four times and I still laugh."
"My most embarrassing moment was when I was at drama school. We were performing Medea. The director did not rate me that highly as he said I always played things for comedy. I said that was unfair, as I really wanted to do a straight play.
"I was cast as one of the children. All I had to do was skip across the stage, and then be dragged off dead. The director wanted the children covered in 'blood' that was made from corn syrup and flower. We had not used it until the day of the performance.
"All my class mates and teachers were watching. As Medea dragged me across the stage the blood became really sticky and started to catch on my back on the stage. I just stuck completely dead (to the floor). I could feel the girl playing Medea really struggling, trying to drag me across the stage. I kind of slowly, discreetly arched my back (as a dead person) so I could be moved. I left a pool of this sticky blood stuff on the stage.
"Unfortunately, as my back managed to leave the stage, the sticky stuff caught my trousers. As she pulled me, like a hand coming out of a glove, I was pulled completely out of my trousers. Then I could feel my underwear coming off. As a dead body I had to slowly pull my pants up. It brought the house down, and the director / teacher was proved right."
The Play That Goes Wrong has now been running for three years in the West End, will open soon on Broadway and has been staged in more than a dozen other countries.
It's about the Cornley Polytechnic Drama Society attempting to put on a 1920s murder mystery, but as the title suggests, everything that can go wrong, does. One of the many funny moments is when they have to repeat some dialogue in fast motion, because an actor has spoken a line from earlier in the play.
Henry said, "I was a member of an amateur group for years. I had plenty of experience of things going wrong and the whole politics of amateur theatre and why people do it and why it means so much to people. Knowing the pain of when things go wrong is important to what makes it funny."
So what happens when something goes wrong in The Play That Goes Wrong?
"If it's something we can play with we like it. If it plays against a joke that can be awkward, such as if something goes right when it was meant to go wrong."
I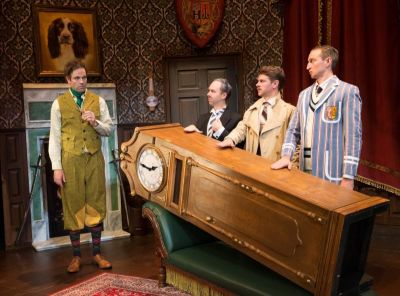 t's also important that things go right.
"We work quite hard; some things go perfectly while others don't. That contrast is very funny, if everything is awash then it is chaotic."
The stage directions are very detailed, like an old silent movie script. The pages are very specific. They need to be, as the play is on the dangerous side.
"We have had a broken bone. I have had a few concussions and general bruises. There have been three dislocated shoulders. It is a contact sport, " said Jonathan.
"Anyone who does that type of work does incredible things to be safe. But injuries are par for the course. Buster Keaton broke his neck. Jackie Chan had so many different injuries."
There are also copious stage directions for the star of the play – the set.
"Watch out for the set," said Jonathan. "The set is a character as much as the performers. The set keeps the audiences as much on their toes as the text does."
Henry Lewis first became interested in the genre of high farce when he read a book by Michael Green called The Art of Coarse Acting, which was all about his experience in several amateur theatres.
A coarse actor was defined as:
• One who can remember their lines but not the order in which they come.
• One whose eyebrows are attached to their feet (so every facial expression involves the whole body as well).
• One who limps on both legs simultaneously.
• One who knows everybody else's lines better than their own.
"He wrote short plays and I got to work with him on a sketch that I had written.I thought this was such a fun genre. The idea of completely subverting theatre, turning theatre on its head and playing with the audience. It is the genre of comedy that has the most immediacy. People tap into so quickly."
Jonathan was on the same page. "I have always been obsessed with the amazing gags of Keaton and Chaplin. Big visual gags make you laugh but always make you scream. The danger genuinely makes you cling to your seat. You can't have a big laugh in first few minutes of a regular play. In this genre, within one or two minutes you can have a big hysterical moment."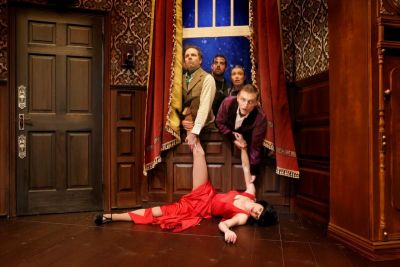 They first tried out their work in a small pub attended by forty or so people – mainly their relatives.
"It started as a fringe show where we did everything ourselves from marketing to building the set," said Henry.
"We are big advocates of people making their own work. There is no other way of getting opportunities as good as that."
Everything seems to be going right for the company behind the play. The Mischief Theatre Company was formed in 2008. At one gig in 2009 the cast outnumbered the audience, but awards at Fringe Festivals over the next few years kept up their enthusiasm.
In 2014 The Play That Goes Wrong opened in the West End, where it is still going 1000 performances later. Other plays they have written, Peter Pan Goes Wrong and The Comedy About a Bank Robbery, have also had West End outings.
Jonathan said, "We are just doing what we enjoy doing, making people laugh. We are just trying to have fun."
Where to see it: Melbourne - Comedy Theatre from 22 February; Adelaide - Her Majesty's Theatre from 28 March; Sydney - Roslyn Packer Theatre from 5 April; Canberra Theatre from 25 April; Brisbane - Concert Hall, QPAC from 4 May and Perth - His Majesty's Theatre from 31 May.
Photos from the Australian production. Photographer: Jeff Busby.
Feature originally published in the March / April 2017 edition of Stage Whispers.