Michael Brindley reports
On a beautiful mild Melbourne day, over three hundred people – patrons and supporters – showed up for the launch of The Production Company's 2019 Season. It may be its boldest yet. There'd been some tantalizing pre-publicity; now Artistic Director Ken Mackenzie-Forbes was able to confirm that the first show, opening in May, will be the David Bowie & Enda Walsh music theatre piece, Lazarus. Mr Mackenzie-Forbes also revealed the second and third shows of the season – kept under wraps until now – Thoroughly Modern Millie and Ragtime. Both Lazarus and Ragtime are, of course, Australian premieres.
Chairman of the Board Jeanne Pratt – the sine qua non of The Production Company – gave a warm welcome and, lest anyone was in the slightest doubt, confirmed her love and support for music theatre, its musicians and performers and those behind the scenes.
There was a hint of trepidation – possibly shared by the Board – about Lazarus which makes it all the more commendable that The Production Company is taking it on. On the one hand, the show had 'mixed reviews' in New York (2015) and London (2016), but on the other hand had sold-out seasons. I'd predict it will sell out here, given the importance of Bowie in so many people's lives and the grief at his death. But it is certainly not your usual music theatre show. It's more rock opera meets sci-fi and, apart from Bowie's songs, there will be huge – and important - video projections – dreams, hallucinations and memories.
In his introduction to the piece, appointed director, Michael Kantor (Artistic Director, Malthouse Theatre 2005-2010), described Lazarus to us as 'a blueprint for the process of leaving this world'. It's Bowie's last work, with book by renowned Irish playwright Enda Walsh (Once). And it's a sort of sequel to the cult movie The Man Who Fell to Earth (Nicholas Roeg 1976) in which Bowie starred, based on the sci-fi novel by Walter Tevis. Lazarus picks up the characters from the movie but depicts them many years later. The Man Who Fell to Earth himself, the 'alien' Thomas Newton, cannot return to his home planet but nor can he die… In The New York Times, regular critic Ben Brantley said about Lazarus, 'ice bolts of ecstasy shoot like novas through the fabulous muddle and murk of Lazarus, the great-sounding, great-looking and mind-numbing new musical…' Mr Mackenzie-Forbes bravely quoted this – hence the trepidation.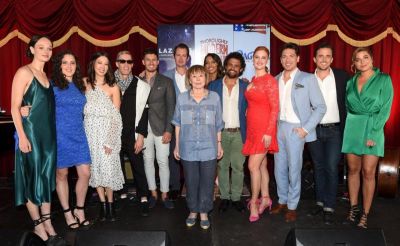 Some nay-sayers call it a 'jukebox musical', but it contains four new songs and thirteen thematically linked songs, some from Bowie's last album, Blackstar, but selected by Bowie from over forty years of his work. When I spoke with Mr Kantor afterward, he described the piece as a 'letter' from to us from Bowie, who was at the time, of course, aware that he was dying. I quoted Michael Billington's London Guardian review that Lazarus is an 'exploration of the existential angst that pervades Bowie's music: the story of a man never wholly at ease in himself or his surroundings…' Mr Kantor agreed; in his reading of the text, Thomas Newton is not an alien, but very much a human in a human predicament. I mentioned that I'd read the text and found it… Mr Kantor continued: 'Elusive? Yes, on the page it can be, but it all makes sense when you see it.'
A stellar cast is in place for this challenging production. Chris Ryan (A Gentleman's Guide to Love & Murder) will essay Thomas Newton, Phoebe Panaretos (stage version of Strictly Ballroom) is Elly, iOta makes his Production Company debut as the serial killer Valentine, Emily Milledge (La Cage aux Folles) is the Girl and multi-talented Michael McLeish (Beautiful) is Newton's friend Michael.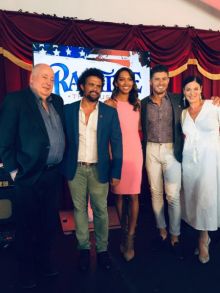 The video material is being produced by award-winning filmmaker Natasha Pinkus (Gotye). She says she is not following or reproducing the video material from previous productions and that Mr Kantor has pretty much given her carte blanche. However, there will be some archival material and some very 'impressionistic' echoing and illustrating of the drama. Stephanie Lake is Choreographer, while set and costume design will be by Anna Cordingley.
This all sounds gloriously risky and exciting and let's applaud TPC for doing it.
Meanwhile, there's the second show of the season, Thoroughly Modern Millie, the jazz age musical based on the 1967 romantic comedy movie of the same name and Broadway's most awarded new show of 2002. Opening in August and to be directed by former leading man Chris Parker, who had a big success with TPC's Oklahoma, it features Annie Aitkin (a 'show-stopper' as Cunégonde in Candide with the Sydney Symphony Orchestra) and Michael Falzon (Evita) as the leads - and they do look and sound very good together.
Ms Aitkin is a VCA graduate, a mere twenty-four, and with a sensational voice. I asked her how come she is so good and so young? Was there that much voice training in the VCA Music Theatre course? She said, quite a lot, but when she went to VCA at seventeen, she's already had years of voice and dancing classes. Yet again, proof that the 'overnight success' leaves a lot of backstory out of the story. Now, she told me, she is terrifically excited to be playing the title role, her first lead in a fully mounted and resourced production. Other roles will be played by the ever-popular music theatre star, Marina Prior, along with Trevor Graydon and Claire Lyon.
Musical Director is Peter Casey, doing his ninth show for TPC. Choreographer is Christopher Horsey, the tap king. Costumes will be designed – and made Ms Aitken told me, thrilled at the idea – by Isaac Lummis. Set design is by Christina Smith with Lighting by Gavan Swift.
Finally, the third show, opening in November, Ragtime, based on the novel by E L Doctorow and, for me, another bold move for TPC (although not quite as bold as Lazarus!) in being a triple stranded portrait of America in 1906 – and not quite so upbeat and optimistic as many music theatre shows. There's the repressed and controlled white upper-class wife, there's the ambitious Jewish immigrant and there's the black couple from Harlem, a piano player and his fiancée.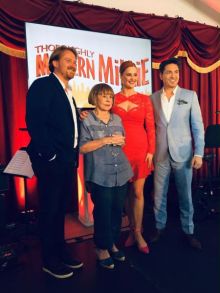 In his introduction to the piece, director Roger Hodgman told us that when he and his wife, Pamela Rabe, saw a pre-Broadway try-out in Toronto in 1998, they realised at the end that they'd been in tears for most of the show. When I spoke to Mr Hodgman later, he agreed that yes, there is a certain sadness to the three iconic stories, but he added that 'the music is uplifting'. It's also unusual in that there are more 'anthems' than usual. On the subject of the music – by Stephen Flaherty, lyrics by Lyn Ahrens – Mr Hodgman reassured me that, yes, there are tunes aplenty: as the setting is New York in 1906, the three story strands provide the 'ragtime' Harlem, the Jewish klezmer, brass band marches and genteel turn of the century waltzes.
Josh Piterman plays Tateh, the Latvian-Jewish immigrant on the way up by way of chutzpah, pushy ambition and an eye for the main chance – and he gave us a bright, energetic taste of his character with a patter song about how he went from penniless guy just off the boat to businessman to film producer and director… I asked him if would keep up the marvellous Yiddish schtick all through the show. He said he'd only learned that much to do the song for the launch but as that is his heritage, it shouldn't be too much of a stretch. He'll be accompanied by Kurt Kansley as Coalhouse Walker Jnr, the Harlem piano player, and Chloe Zuel (Dusty, Beautiful) who sang hauntingly Your Daddy's Son from the show. Mr Kansley has been lauded by Melbourne critics for his Che Guevara in Evita. When he sang we got the feeling that his Coalhouse was just the kind of proud Afro-American who'd get 'uppity' and into trouble in 1906.
Costumes will be again by Isaac Lummis, set again by Christina Smith with lighting by Nigel Levings.
All in all, three shows that whet one's anticipation – and curiosity – adding the spice of adventure to the 2019 slate.
Images: John Piterman, Annie Aitken and Mike McLeish; 2019 Production Company cast members; Roger Hodgman, Kurt Kansley, Chloe Zuel, Josh Piterman and Dana Jolly; & Chris Parker, Jeanne Pratt, Annie Aitkin and Michael Falzon
More Reading