It's a cast with impressive credentials, not to mention serious box office pulling power. In Melbourne's Plaza Ballroom this morning (Monday 30th April) prolific producer John Frost and Opera Australia's Artistic Director Lyndon Terracini were on hand to announce the Australian cast for the Lincoln Center Theatre Production of Rogers and Hammerstein's South Pacific. Lucy Graham was there.
The Plaza Ballroom in Melbourne's Collins Street is a lavish space for a big announcement. There were in fact two of them. And with Orchestra Victoria on hand and 'celebrity media 'in attendance, it promised a great deal.
It's a dream cast, supremely talented and bound to draw a crowd. But this event was more than a cast announcement, impressive as it was.
'This is a launch not only of South Pacific,' said Chief Executive of Opera Australia Adrian Collette, 'but of this partnership with the Gordon Frost organisation because we intend over the coming years to produce some of the great classical musicals that have been written with the highest musical values, the highest theatrical values, and partnering with John [Frost] …our sustaining commerciality.'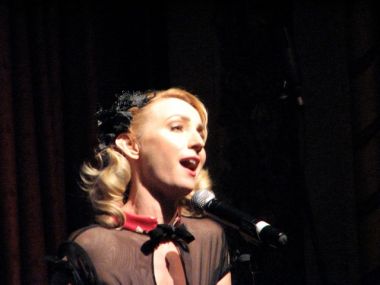 Colette continued, 'For Opera Australia this is all about throwing open our doors and engaging with the broadest possible audience we can through the length and breadth of Australia …. We know that by engaging with this extraordinary musical, at the highest possible level, we will engage a much broader audience.'
But it didn't end there.
Having introduced internationally acclaimed opera star Teddy Tahu Rhodes (Emile de Becque), the darling of Australian stage and screen Lisa McCune (Nellie Forbush), the effervescent Kate Ceberano -in absentia (Bloody Mary) and the irrepressible Eddie Perfect (Luther Billis), Orchestra Victoria struck up under the baton of Andrew Greene and Lisa McCune sang 'I'm in love with a wonderful guy' followed by Teddy Tahu Rhodes – What-A-Voice – singing 'Some Enchanted Evening'.
And suddenly it didn't feel like a Monday any more.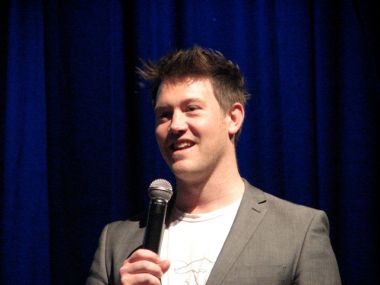 When South Pacific opened at Lincoln Center Theatre in 2008 under the direction of Bartlett Sher, it played to sold-out houses in New York for two and a half years before touring the USA. South Pacific is currently enjoying a sell-out season in the UK.
Set on an island in the Pacific Ocean during World War II, South Pacific tells the romantic tale of two couples threatened by the realities of war, racism and prejudice. Written by Rodgers and Hammerstein it was first performed on Broadway in 1949, just four years after World War II ended, and was based on the Pulitzer Prize winning novel Tales of the South Pacific by James Michener.
'Director Bartlett Sher, fresh off the plane on Anzac Day, said it was, 'actually kind of nice to arrive on Anzac Day because doing South Pacific and then arriving and doing all this remembrance stuff was a pleasure.'
'South Pacific is one of those rare musicals that was written immediately following actual events,' said Sher. 'It's almost like a national memory, an expression of survival, and for this reason it is a profoundly resonant show.'
With a cast of 40, and an orchestra twice the size of most musicals, familiar songs include 'I'm gonna wash that man right out of my hair', 'Some Enchanted Evening', 'Bloody Mary', and 'There is Nothin' Like a Dame'.
Eddie Perfect, known for stand-up and taking the mickey, and the most recent addition to the cast having signed up just last week, drew laughs from the assembled media as he speculated on being in a serious musical production.
'Its exciting,' Eddie said. 'I'm wearing a suit and there's an orchestra, and I'm in a musical. So its very exciting to be losing my virginity with you guys and it's a terrific role.'
When South Pacific opens at the Sydney Opera House on the 8th of August (38 performances), at Melbourne's Princess Theatre from 13th September (85 performances), and then from December 27, 2012 until February 3, 2013 at QPAC, Brisbane, it will be the first Lincoln Center production ever to tour Australia. There will be an encore Sydney season at Sydney Opera House in from September 13 to November 2, 2013.
The opening night of the 2012 Melbourne season marks the 60th Anniversary of the first Australian performance, which was on 13 September, 1952. The 2013 Sydney encore season is timed for the 61st Anniversary.
Principal Cast (Sydney and Melbourne, 2012) - Emile - Teddy Tahu Rhodes, Nellie - Lisa McCune, Billis - Edde Perfect, Bloody Marry - Kate Ceberano, Cable - Daniel Koek.
For the Brisbane season Teddy Tahu Rhodes, Lisa McCune and Daniel Koek repeat their roles, while Gyton Grantley replaces Eddie Perfect in the role of Luther Billis, while Christine Anu will take over the role of Bloody Mary.
Director: Bartlett Sher
Musical Director: Andrew Green (Sydney), Vanessa Scammell (Melbourne).