By Louis Nowra. Sydney Theatre Company. Directed by Sarah Goodes. Drama Theatre, Sydney Opera House. Nov 1 - Dec 14, 2019
Sitting in the theatre next to a former psychiatric nurse, she was struck by how accurate the illnesses portrayed in the play were to real life. One "patient" in the drama was suffering from depression, another was bipolar, one suffered from an eating disorder, there is also drug addiction, pyromania, a patient afflicted by obsessive compulsive behaviour and another with a chronic shyness and social anxiety disorder. Any closer to home and my companion might have hopped onto the stage and completed a pill round.
The close resemblance to reality is due to the playwright Louis Nowra's first-hand experience at attempting to direct an operetta at a psychiatric hospital, when he was fresh out of university in the 1970s. In the play, his perspective is taken up by the character of Lewis (Sean Keenan), who comes close to giving up when a patient suggests they stage the Opera Così fan tutte.
When Louis Nowra directed his cast, the show was the Gilbert and Sullivan operetta Trial by Jury, but in the drama he substituted this for Mozart's opera, as it traverses the more fertile ground of love and fidelity.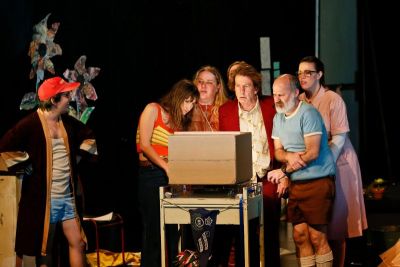 First staged by the Belvoir Street Theatre in 1992, Cosi has become a favourite of amateur theatre directors, who are drawn to the themes, humour and large variety of characters from different walks of life. As the play centres on an amateur production this is a perfect match.
This return to the professional stage is most welcome. The cast attack the play with joyous relish. Robert Menzies is commanding as Roy, the patient who steers the crew to the opera. Bessie Holland is a scream as Cherry, veering from creepy to sweet pussycat. Glenn Hazeldine shines as Henry, the desperately shy patient who slowly comes out of his shell. Esther Hannaford (Julie) and Sean Keenan (Lewis) whip up a cosy chemistry. Other patients Katherine Tonkin (Ruth), Rahel Romahn (Doug) and Gabriel Fancourt (Zac) each have their moment to jolt or intrigue the audience.
It was soothing to have a naturalistic setting designed by Dale Ferguson. The rehearsals for the opera take place in a burnt out room that is portrayed by large blackened peeling rectangles. When the cast opened the doors the stark light of the outside world intruded. The costumes by Jonathon Oxlade were suitably fruity and playful.
Almost thirty years after it was written Cosi stands the test of time with flying colours.
David Spicer
Photographer: Jeff Busby