COSI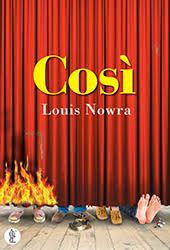 by Louis Nowra
Nowra's vibrant play is set inside a psychiatric institution institution in 1971. Lewis, a young director, takes on the task of mounting a production of Mozart's Cosi Fan Tutte in the burnt-out theatre. He becomes emotionally involved with his patients-cum-actors as his operatic production lurches forward and anti-Vietnam protests rage outside.


First produced in 1992, COSI has become one of the most successful Australian plays produced in the last two decades. A terrific play about madness, illusion, sanity… and theatre.
Read the first ten pages at the attachment below.
Stage Whispers Books Rewards: Buy one book and receive three e-editions. Buy three and receive three print and e-editions. Buy five or more and receive a one year print and electronic subscription. Buy eight or more and receive a two year print and electronic subscription. See details of our latest issue here.
Bulk Orders