Book, Lyrics and Music by Joanna Weinberg. Director: Lisa Freshwater. Glen Street Theatre, Belrose, February 15 – Mar 3, 2012; Laycock Street Theatre, North Gosford, March 26 – 28; Riverside Theatre, Parramatta, March 29 – 31.
At first blush the challenge to create a musical about sideline parents at a soccer match with a cast of just four would seem a huge challenge.
Yet from a ten minute seed of a musical, a full length production has evolved with some nice tunes, more than a few laughs and the odd tug on the heart strings.
The obvious gags are ably exploited; getting lost finding this week's match, parents behaving badly and complaints about bad refereeing.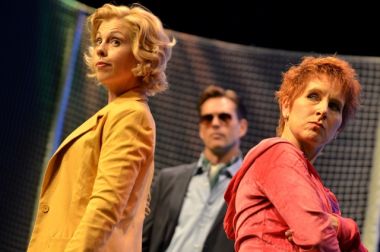 If that was all there was, then the audience would have blown the whistle very quickly on this production.
What makes Every Single Saturday a delight is the spark caused by the introduction of a father with no interest in soccer at all.
Scott Irwin portrayed Neil, an opera conductor with no knowledge of the game, but ironically he is the father of the star player.
With great sweetness, he reads Soccer for Dummies and practises some referee signals on his orchestra.
His pairing with another single parent, Katrina Retallick as Liz, worked a treat.
Christopher Horsey, as Carlo the soccer coach, whose son is into dancing, and Maria de Marco as Sandy complete the polished quartet.
The musical has a slow opening which could be strengthened with a song.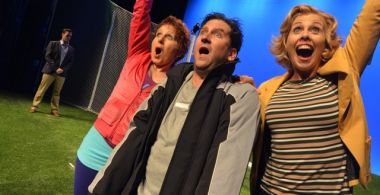 But it's not how a game starts but how it finishes that matters.
Some cute choreography, a simple but effective set comprising mainly artificial grass and a magpie, and a small but lively band, soon hook you in.
The musical began as a ten-minute excerpt in Short and Sweet and has developed greatly since its follow up workshop at NIDA.
A few more tweaks and it could roll on and on, to more fields of dreams.
David Spicer
Images (from top): Maria De Marco, Christopher Horsey and Katrina Retallick; Katrina Retallick, Scott Irwin and Maria De Marco; Scott Irwin, Maria De Marco, Christopher Horsey and Katrina Retallick & (below) Maria De Marco, Christopher Horsey, Katrina Retallick and Scott Irwin in Every Single Saturday. Photographer: Cam Feast.
Further reading
Interview with writer / composer Joanna Weinberg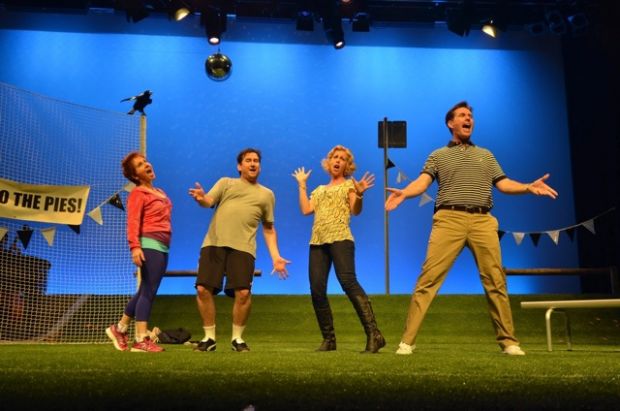 To keep up with the latest news and reviews at Stage Whispers, click here to like us on Facebook, or follow us on Twitter.