Conceived and written by Bryce Hallet and Tim Draxl. Melbourne Arts Centre 16th-20th October, 2012
Freeway is a stunning cabaret piece which has been rightly acclaimed. I wish I had seen it at a jazz club, with a glass of wine, at a rickety table and a sense of intimacy all around. The Fairfax is a small theatre, but it's still a theatre, and Freeway isn't yet a theatre show, in spite of its charm.
Co writer Bryce Hallett has said "The tone of the show is understated….relaxed and celebratory." A noble intent, but it's well known that the underbelly of Chet Baker's life was nasty, fraught with craziness and addiction and the harm he did to others as well as himself. On the surface, Chet Baker was a lovely singer with a great appeal to the ladies, largely because of his looks. He was an average trumpet player (nowhere near as good as young Eamon McNelis) and a good interpreter of other composers' ballads. "My Funny Valentine", "But Not For Me" "My Buddy", he had impeccable taste in song choices. And he was cool, in a time when "Cool" was everything. But the real interest lies in contrasting the sweetness and innocence of Chet Baker's music, with the bitter taste of his real life. That would form a much greater connection with the audience.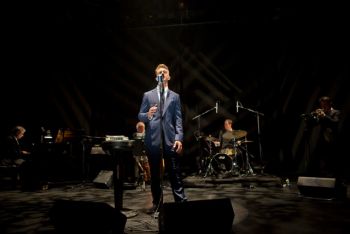 Consequently, despite the music being lovely (I could listen to Tim Draxl's CD of the show all night, with candles burning and someone I loved….it's hopefully romantic) the show lacks dramatic bite and a cohesive thread. It doesn't matter in a cabaret setting, but it does in a theatre. It's not surprising then that what works best, apart from the songs, are the vignettes of Tim as Chet….Chet's voice, Chet's persona, in a blue spotlight. Tim Draxl is a very good actor, and is more than capable of handling the persona of a disintegrating Chet. Yet these vignettes are few and far between, and I found myself hanging out for them, wanting more insight into what made Chet Baker self destruct. There are anecdotes that Tim tells as himself….but they're quite generic and the kind of stuff we could find on Wikipedia or album covers…like Chet's father originally buying him a trombone which was too big for him to play. They simply distance us from the man. This lack of drama means everything plays very much on one level: Pleasant, but never exciting, never reaching deep inside of us.
As a writer, I couldn't help but salivate at the possibilities of what could have been tackled dramatically, and the missed opportunities…For example, I could all but see Tim play the scene (repeated many times in Chet's career) when Chet was so stoned at a club in Germany that he didn't know where or who he was and had to be helped onto the stage. Once there, he played and sang like an angel. On stage, he was un-touched by the demons. Avoiding this side does both Chet Baker and Tim Draxl a dis-service (particularly Tim, who misses the chance to really connect at a far deeper level.) An injection of the real Chet would have given the show light and shade and made his death at such a young age more poignant.
The music is as good as you would expect. Ray Alldridge is a great pianist and Musical Director, The great Dave Ellis on bass and Ben Hendry on drums, do justice to the charts and young Eamon McNelis is a trumpet player to look out for. I'd love to hear him with a harder edge. Tim Draxl is the full package, looks, talent, style. His version of "You Don't Know What Love Is" is spine tingling stuff. The only time he seems a little forced and uncomfortable are in those moments where he tells us about Chet, as himself. Even his reading from a book praising Baker would have sounded better if "Chet" had been reading it with that sense of world weary ennui and cynicism he had about things. Most of the younger women in the audience (and some of the younger men) were clearly Draxl fans, ( not Chet Baker's) and rightly so. But the show may just as well have been "Tim Draxl sings Chet Baker"…I would still have paid to see it. I certainly didn't leave wanting less of Tim Draxl, I just wanted more of Chet Baker the man…and a theatrical experience.
Coral Drouyn