Book, Music & Lyrics: Jim Jacobs & Warren Casey. Additional songs: Barry Gibb, John Farrar, Louis St. Louis, Scott Simon. John Frost / David Ian Production. Director: David Gilmore. Musical Director: Stephen Amos. Choreography: Arlene Phillips. Her Majesty's Theatre, Melbourne from January 5, 2014.
Get out your poodle skirts and your black tee-shirts, girls and boys: Grease hit town last night and what a joyful, joyous romp this production is, easily the best ever seen on these shores. Buckets of praise must go to a great cast who perform with so much energy, director David Gilmore who has brought a fresh take to the show, Arlene Phillips' simple yet stylish and authentic choreography, and a brilliant set, sound and lighting. It was an exhilarating night despite what is, paradoxically, possibly the worst book in the history of musical theatre (Okay, I exaggerate…but it's certainly up there with the worst).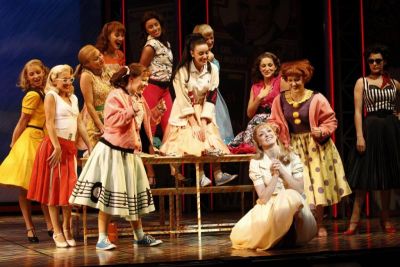 The show opens with the iconic Bert Newton as 50s DeeJay Vince Fontaine. It would be un-Australian to "diss" Bert, but suffice to say the role is so poorly written that even Bert and the 50 year old gags can't save it. Val Lehman, though adding some style and stage presence, suffers a similar fate in leading the audience participation in the singalong songsheet….staple fare of many a theatre restaurant and pantomime. But just as you're getting ready to cringe, the show bursts into glorious, exhilarating, satirised 1950s life. Rob Mills was born to play Danny – I'd say the role might have been written for him, except that he brings far more to it than was ever on the page. He's in great voice and seems to have been working on his dancing, bringing him that much closer to becoming a true triple threat. Gretel Scarlett (Sandy) sings up a storm, far surpassing Olivia Newton-John, but she's less comfortable and convincing with dialogue. Lucy Maunder is a great Rizzo, but it does help that this is one character that does have real depth and development. Nevertheless she has true star quality, a great voice, and masses of stage presence. I watched her all through her WAAPA degree and she simply goes from strength to strength. She excels in Rizzo's "There Are Worse Things I Could Do", bringing true poignancy to the number. Stephen Mahy, another WAAPA graduate and brilliant in Jersey Boys, is equally impressive as Kenickie. The T-Birds and Pink Ladies all impress, there's not a single weakness among them, and the rest of kids show just how great our ensemble performers are. Anthony Callea (Johnny Casino) almost stops the show with a fabulous version of Born To Hand Jive, only to be outdone minutes later by Todd McKenney's outrageously OTT Teen Angel. It's a fabulously indulgent performance in which Todd channels Bob Downe on Speed, sends up his "Boy From Oz" persona with maraccas, and then scores 0 from the jury for his dancing…totally delicious entertainment.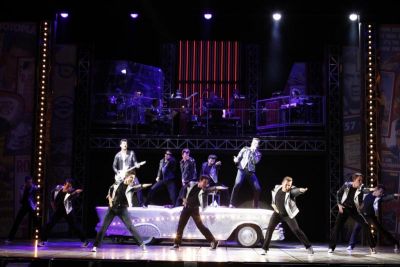 The chewing gum holding this marvellous melange of confectionery together is a fabulous band led by Stephen Amos – they drive the music along and it's impossible not to tap your feet or dance in your seat. And here's the other paradox. The songs which are the best musical offerings, that define the musical for us, are not part of the original show, which might explain its initial failure. "You're The One That I want" and "Hopelessly Devoted to You" were written for the film by Moonee Ponds guitarist John Farrar (of the Strangers and later The Shadows) and Barry Gibb wrote "Grease (is the word)", so there's a strong Australian connection to the show (Louis St Louis and Scott Simon wrote Sandy). The further we get from the fifties, the more nostalgia there is for a time which seems simpler and much more fun than today's stressful living. You can't help but embrace the nostalgia, and if you don't leave the theatre smiling and singing "You're the One that I want" – even to strangers on the street - well then there's something wrong with you.
Coral Drouyn
Photographer: Jeff Busby
More Readng
Summer Nights