Australian Premiere. By Michael Bate. Room 8 and AT Management (Vic). Athenaeum Theatre, Melbourne. Director Michael Bate. 20th – 29th July, 2012.
A country music fan I'm not. Yet there is something magnetic about this musical tribute to Gram Parsons despite a prevalence of twang, yodel and pedal slide.
Grievous Angel: The Legend of Gram Parsons is predominantly a biographical study in concert form. Constructed around thirty-three songs, it's punctuated by scripted dialogue as the characters of Gram Parsons and Emmylou Harris are brought to life.
Jordie Lane gives an assured performance as Parsons. His voice runs like a honey-river over the lyrically intriguing melodies. Even if you are not a country fan, here's a voice worthy of undivided attention, and a talent we simply must meet again. But it's not only about the voice – this guy can really play up a guitar-storm.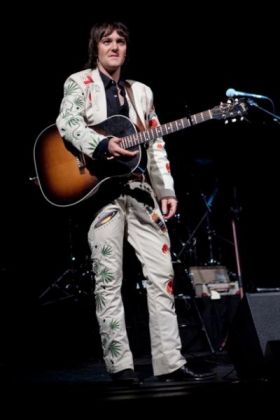 Clare Reynolds graces the stage after interval, offering up a warm, empathetic Emmylou Harris. Vocal harmony work is tight and top-notch, and includes band members on tour for the show from Canada and USA (Pat McLaughlin – guitar and mandolin, Chris Breitner – bass, Al Bragg – pedal steel, and Tom Martell – drums). Who wouldn't love that deep sonorous bass singin' y'all.
For mine the highlights included the old gospel rendition of Keep Your Lamp Trimmed and Burning, a nod to Elvis Presley in That's Alright Mama, Dark End of the Street, the wonderfully pensive She, the best Parsons reckons he wrote - Hot Burrito #1 (I'm Your Toy), Love Hurts, and the encore number Ooh Las Vegas.
Towards show's end I began to drown in the sorrow of it all. Personally I am becoming weary of references to binge drinking and drug abuse as comedy. These things are not funny, and audience laughs were ironically startling given the multiple human tragedies that litter this story.
Country music fans are sure to relish this show, but will have to move quickly to get a seat.
Lucy Graham