By Robert Cockburn. Epicentre Theatre Company. Zenith Theatre, Chatswood. Oct 18 – 27, 2012.
In the tradition of the ancient Greeks, Shakespeare and Brecht, The Hotel Hibiscus reflects society, sends a political message, advocates action. Using the setting of an imaginary island off the coast of New Guinea, it tells the story of the Australian-backed Papua New Guinea Defence Force's dirty war for Rio Tinto Zinc on Bougainville Island in the 1990s – and the 15 year wall of silence that ensued.
Written by journalist Robert Cockburn (BBC, The Times, ABC, SBS), the play is hard hitting and controversial. It pulls no punches – about Australia's complicity in the cover up of the alleged war crimes, or the genocide that was caused by the operation of the mine itself and the way it was closed.
It is a story that needs to be told, but not one that is usually told in a community theatre. Epicentre is to be congratulated for its courage in bringing it to the stage.
The setting is The Hotel Hibiscus, owned by a former RAAF pilot and now run by his daughter, Dr Patty Carmichael (Amanda Jermyn). The so-called 'cease fire' is about to be signed by local soldier Major Ramara (Sopa Enari) and Australian soldier, now turned diplomat, Colonel Baulkham (Dominic McDonald).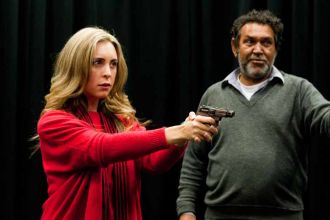 Baulkham is corrupt. Under his orders Ramara has captured and killed, amongst others, a local priest and some of his congregation and blown up the village pharmacy and all the medical supplies. The mortuary is filled with bodies and soon there will be no power on the island. Once the cease fire is signed, Baulkham will leave (with Patty) and there will be a total blockade of the island. Heavy stuff!
The dialogue is just as heavy. The sound effects equally real. The set, using the full extent of the Zenith stage, is effective. The play is well written and tells its story relatively economically considering the many messages it conveys.
And with only six weeks rehearsal, director Greg Friend and his cast have done well to reach and sustain the pace and energy necessary for such a hard hitting political drama. There are, however, some problems with vocals. If using fast-paced, natural dialogue, voices need to be clear – and when so much detail is being conveyed, the ends of sentences are just as important as the beginnings. The audience needs to hear every nuance.
Newcomers to the Zenith stage, Sopa Enari, Billy McPherson and recent high school graduate, Sudanese-born Mandela Mathia, give empathetic performances as the local Hibiscus Islanders. McDonald and Jermyn bounce off each other in their very tumultuous relationship, and as the young Australian journalist, Liz McBride, Charlotte Hazzard becomes fiery and zealous.
This is a demanding play and its strong messages are well told in this, its premiere production.
Carol Wimmer
Images: (top) Dominic McDonald and Sopa Enari and (lower) Amanda Jermyn and Billy McPherson.