Music: Bob Gaudio. Lyrics: Bob Crewe. Book: Marshall Brickman & Rick Elice. Dodger Theatricals, Rodney Rigby, Dainty Group, Joseph J. Grano, Tamara & Kevin Kinsella, Pelican Group and Michael Watt. Director: Des McAnuff. Choreographer: Sergio Trujillo. Musical Director: Luke Hunter Lyric Theatre, QPAC. Opening Night 15 July 2012
If the audience reaction last night is anything to go by then Brisbane is going to love Jersey Boys. The story of Frankie Valli and The Four Seasons has it all – the mob, prison, insatiable adultery, and great music. And what great music - "Sherry," "Big Girls Don't Cry," "Walk Like a Man", "My Eyes Adored You," and "Can't Take My Eyes Off You," are almost a rundown of the 60s most memorable hits.
From their beginnings in New Jersey to their time in the spotlight, the story is full of personal drama and first-time book writers Marshall Brickman and Rick Elice are not afraid to show the dark side to all the characters. It's what gives the piece its spine. Drama-wise it's a bit like The Sopranos meets the music industry. Still running on Broadway after seven years, this production, by the director and choreographer who steered it to Broadway, Des McAnuff and Sergio Trujillo, comes to Brisbane after playing Melbourne, Sydney and Auckland. It's in good shape.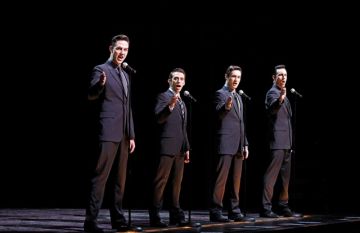 Three of the guys playing the quartet are new to their roles; Graham Foote (Frankie Valli), Anthony Harkin (Tommy DeVito), and Declan Egan (Bob Gaudio). Glaston Toft as Nick Massi is the one holdover from the original Australian cast. Playing the quiet guy, and the one who walked out on the group, it's a performance that registers strongly. The same could be said for Harkin, who eats up the bad boy role of DeVito. Egan also defines the songwriter Gaudio with a boyish charm, while the diminutive Foote one of two actors who play the Valli part, had no trouble finding the dreamer in the piece. The vocal performances of the group were first rate except for Foote whose voice had an unpleasant harshness in its middle register.
The set of iron scaffolding with various walkways and stairs functioned well for the story, with Roy Lichtenstein pop art visuals setting the 60s period nicely. From the moment the show started with a thumping bass 2000 version of "Oh What a Night" musically we knew we were in good hands with the kick-ass band conducted by Luke Hunter.
Peter Pinne
Images: Glaston Toft, Dion Bilios, Declan Egan and Anthony Harkin and (Lower) Declan Egan, Dion Bilios, Anthony Harkin and Glaston Toft. Photographer: Jeff Busby.
Further reading