Book, Music and Lyrics by Dan Goggin. Rockdale Musical Society (NSW), Bexley RSL Club. August 31 – September 9, 2012.
They don't make musicals which send up religious practises like they used to. In the audience for Nunsense were some real life nuns in civilian dress. They loved every minute of it.
Would the same happen today with Mormon clergy attending the much sharper and less affectionate Book of Mormons, currently on Broadway? Perhaps not.
Being gentle enough for nuns to giggle at without blushing means that Nunsense lacks a little edge. A great deal of material about the Catholic church is left untouched.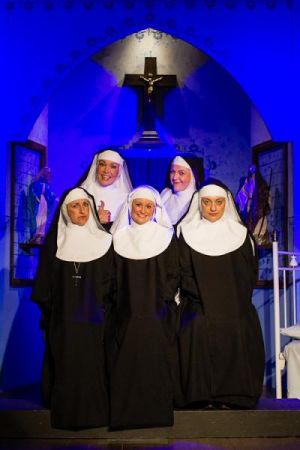 The musical made its wholesome off Broadway debut in the mid 1980's. It has become a phenomenon, selling more than 500 million dollars worth of tickets and giving birth to more sequels and spin offs than a good catholic family practising the rhythm method has children. There's even a Nunsense set in Las Vegas and a Jewish version ofNunsense set on a cruise to Israel.
Somehow I have remained aNunsense virgin up until now.
Overall it was an enjoyable evening with plenty of gags and some nice tunes.
The production by the Rockdale Musical Society had a stylish set built by Bob Peet which outshone the club venue which the musical society has been banished to, since the Rockdale Town Hall was condemned.
The direction from James Worner was affectionate, the music crisp and choreography from Ste Casimiro was on the swish side.
The five nuns, Leonie Johnson, Renee Bechara, Rozlyn Vidal, Virginia Natoli and Lauren Mellor, dished out plenty of smiles and lashings of good humour.
Delivering audience pleasers with tight direction is a good habit to get into for any community theatre company.
David Spicer
Photos by Grant Leslie, Perfect Images.