By Adam Gwon. Squabbalogic / Darlinghurst Theatre Company. January 19 – February 19, 2012.
Four strong musical theatre voices are accompanied by a grand piano, without a sign of electronic intervention between the performance and the audience, just good projection and diction.
Do you share my idea of musical theatre bliss?
Unplugged musical theatre. It's such a refreshing sensory experience.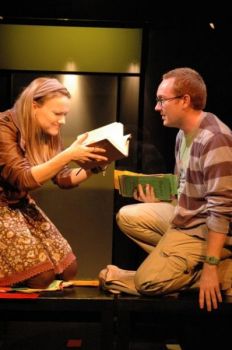 The intimacy of the Darlinghurst Theatre is a great match for this chamber musical. Boutique musical theatre production company Squabbalogic have produced yet another in a steady stream of simply yet effectively produced Off-Broadway musicals.
Ordinary Days is a distinctly Manhattan little musical.
Four singles, anxious to find themselves, find love and personal truths in the fast lane existence of New York.
Not an entirely original plot idea, I know, but it's told with plenty of idiosyncratic wit and humanity in this generlly engaging, mostly through-sung, 90 minute musical. Bright, clear, pacy direction by Grace Barnes leaves little time to dwell on the odd cliché. Though like any sung-through score, Ordinary Days has its pedestrian musical moments, especially where dialogue would be a better alternative, at the high points you can clearly see why Adam Gwon is regarded as a rising musical theatre talent.
A small independent production this may be, but Squabbalogic has brought together some fine musical theatre firepower.
Two top-notch, well-established musical theatre talents Rachael Beck and Michael Falzon, half of the impressive ensemble, give credible performances on an often bitter-sweet journey as the slightly older, more conventional pairing of the piece, Claire and Jason. They get the more serious, sentimental, and sometimes least thankful bits.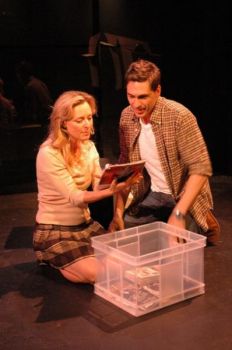 Most of the broader, up-front comedy of the musical falls to the younger quirkier pair, Deb and Warren. Erica Lovell is an impressive young talent with a big, big Broadway Belt voice, and a bewitching flair for comedy. Performer / co-producer Jay James-Moody engages with another off-beat, engaging musical theatre character. The pair share some delightful, showstealing moments.
The characters all prove likeable once young American composer / lyricist Adam Gwon's optimistic musical breaks down their anxieties, and the barriers they throw up.
It's one of those shows, too, where a tear might well at the emotional peak, notably nailed by Rachael Beck in the powerful 'I'll Be Here'. This song, though is really the culmination of a substantial musical and dramatic journey she takes us on across some of the best numbers of the show, in its latter stages.
It's not just in acoustic vocals that simplicity proves an absolute virtue. James Browne's design is as simple as a paneled window wall, while two neutral benches and two stools neatly and effectively supply most of the needs for all locations.
Musical director / accompanist Paul Geddes puts in an impressive, nimble-fingered keyboard marathon, adding an occasional cameo to the action.
See (and hear the acoustic joys of) Ordinary Days, it's a pleasant, intimate musical, with strong performances, plenty of humour, heart and much to identify with for city dwellers.
Neil Litchfield
Images: Rachael Beck and Erica Lovell; Erica Lovell and Jay James-Moody; Rachael Beck and Michael Falzon and whole cast.
Further reading - Musicals in 2012 and Beyond
To keep up with the latest news and reviews at Stage Whispers, click here to like us on Facebook, or follow us on Twitter.