Book, Music & Lyrics: Richard O'Brien. Ambassador Theatre Group/Gordon Frost Organisation. Director: Christopher Luscombe Crown Theatre, Perth from Feb 14, 2014, then Festival Theatre, Adelaide, from Mar 21 and Comedy Theatre, Melbourne from Apr 26.
The Rocky Horror Show has jetted into Perth, in just the second leg of the national tour.
This 40th anniversary production is fresh and energetic, with the opening scenes having a bright almost cartoonish feel, contrasting beautifully with the heavily decorated old-fashioned, gothic decor of the later castle scenes in a cinematically inspired set by Hugh Durrant.
The performances, without exception are superb. Characterisations were noticeably different to the movie and to previous Australian productions of this show.
Brad and Janet were played by former Hi 5 member Tim Maddren and Christie Whelan Browne. These were vibrant and unique interpretatations, creating very likeable characters with a fascinating journey.
Craig McLachlan was clearly having a ball as Frank n Furter, playing off and ad-libbing with the audience, many of whom were obviously big fans.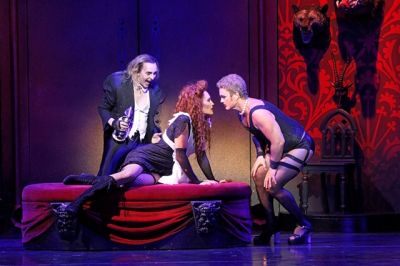 Nicholas Christo, who grew up and trained in Western Australia, made the dual roles of Eddie and Dr Scott his own, in two very exciting performances.
Great performances from Kristian Lavercombe, Erika Heynatz and Ashlee Pyke as Riff Raff, Magenta (and the lovely Usherette) and Columbia while Tony Farrell was suitably dignified as the narrator and Brendan Irving was sweet and literally physically perfect as Rocky.
Choreography was fun and creative with choreographer Nathan M. Wright giving extra spark to The Time Warp. Lighting by Nick Richings was conspicuously fun and the visible live band led by Dave Skelton felt very 'Rock and Roll".
Even if you really do "remember doing the time warp" and think you've seen Rocky Horror, I suggest taking a look at the fresh and really, really fun 40th anniversary production.
Kimberley Shaw
Photographer: Jeff Busby
Related Reading
Rocky Horror Creatoor Richard O'Brien joins cast in Adelaide
Earlier Rocky Horror coverage and more detail
Our Facebook cover pic of Richard O'Brien and Craig McLachlan