Book and Lyrics by Joel Paley. Music by Marvin Laird. Seymour Centre & The Theatre Division. Reginald Theatre, Seymour Centre (NSW). June 19 – July 12, 2014.
How many divas can you fit onto the intimate stage of The Reginald at Sydney's Seymour Centre?
Given the pure force of the theatrical energy they radiate, Ruthless! The Musical joyously pushes the boundaries with four divas of note, a diva-on-the-rise and a pocket diva thrown in for good measure.
Affectionate musical comedy lampoon Ruthless! mashes The Bad Seed with All About Eve, throws in lashings of Gypsy and Mame, then garnishes it with allusions to musicals and films galore, all driven by a cute as a button sociopathic twist packaging a combination of Annie, Dainty June and Shirley Temple.
Along the way, its smart satire deliciously skewers agents, stage mothers (and grandmothers), critics, school drama teachers, over-sized theatrical egos, precocious showbiz brats and so much more.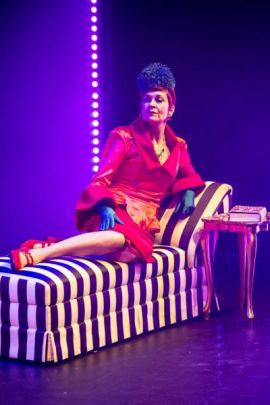 Four established Musical Theatre divas, Geraldine Turner, Katrina Retallick, Margi De Ferranti and Meredith O'Reilly, each of whom individually grabs their chances to make this intimate space their own, comfortably matched by diva-on-the-rise Caitlin Berry, find themselves in the limelight-battle of their lives with stunning child triple threat Madison Russo, who alternates with Jade Gillis in the role of Tina Denmark, the eight-year-old who would literally kill to play the lead in the primary school musical.
Combine these six forces of nature and it's Diva Heaven.
Way sweeter than apple pie at first glance, Madison Russo's cute Tina just loves to entertain. But scratch that sugar-coating and nasty, creepy little nuances build till you finally meet the pint-sized sociopath.
Katrina Retallick delights as OTT all-American mom Judy Denmark, possible refugee from Desperate Housewives, but that's just the delicious entrée for her startling Jekyll and Hyde transformation in Act Two, delivering the great comic timing and vocals Sydney has recently become accustomed to from her.
Meredith O'Reilly brings a deliciously wry comic style toenigmatic theatrical agent Sylvia St Croix.
Margi De Ferranti nails two distinct comic characters as the primary school teacher / school play producer, and an archetypal gossip columnist.
As acid-tongued theatre critic Lita Encore, Geraldine Turner launches quickly into the song 'I Hate Musicals'. Long a cabaret staple, and it's a made-to measure comic Broadway Belt tour de force for her. Her super-bitch characterization and one-liners are pure delight.
Caitlin Berry makes up for her limited Act 1 opportunities with a vengeance as Tina's rival for the lead in the school play with her sometimes ditzy, always ambitious, 'All About Eve' style PA.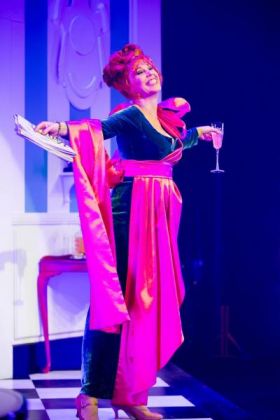 Lisa Freshwater's direction is slick and snappy, Christopher Horsey's choreography is smart and witty, the musical accompaniment from Musical Director Brad Miller's small combo is exemplary, and Mason Browne's set and costume designs are constantly in on the gag.
Ruthless! isn't just for the Musical Theatre in-crowd, though there's a whole extra layer of fun for them (us). Like every good story of ruthless, backstabbing theatrical ambition that's been a hit on stage or screen, there's usually something more there that anybody can identify with, and Ruthless! is certainly no exception..
Ruthless! takes a splendid 180 degree turn in Act 2, as Judy finds her true self, but any more detail would count as a spoiler. Suffice to say the twists and turns come thick and fast as the whole show goes from dark fun to even funnier, and even darker. And nothing is what it seems.
Outrageous, unashamedly campy fun, larger than life, larger than theatre, you don't want to miss Ruthless! The Musical.
Noël Coward warned, 'Don't put your daughter on the stage, Mrs Worthington'. For Ruthless! that's ditto, on steroids.
Neil Litchfield
Ruthless! The Musical has now extended by one week, to July 12.
Images: Blueprint Studios.
More Reading
Katrina Retallick and Meredith O'Reilly interview.