A star was born in Melbourne at the premiere of the Australian edition of Love Never Dies. That star was the lavish set. The nine million dollar production made jaws drop. Lucy Graham spoke to the woman most responsible, Costume and Set Designer Gabriela Tylesova, as the Melbourne season opened.
When the curtain came down on the opening night at Melbourne's Regent Theatre, Sir Andrew Lloyd Webber came out beaming.
"This is one of the finest productions I have seen anywhere. I wasn't all that happy with it in London and here it is exactly as I hoped it would be," he told the audience.
Later the praise from him continued.
"This production is extraordinary. What (the Director) Simon Phillips has done is beyond anything that I could have hoped. As a production it is up there with the very, very best I have ever seen."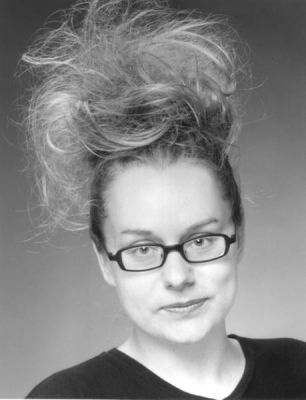 "People might not like my bit. But the actual production is outstanding," he said.
The woman most responsible is the set and costume designer Gabriela Tylesova.
'I got this job about 6 months ago and basically since then I have haven't stopped working,' explains the mother of two. 'In the initial stages I had about six model makers, two working full-time from 9am until 2am every day. I had a few people doing technical drawings.Basically my whole house in Surry Hills turned into a massive studio. I moved the children into my partner's and my bedroom, so we were like gypsies camping in one room, and the other two rooms were transformed into a massive office.'
Last Summer, faced with mixed reviews in London, composer Andrew Lloyd Webber met with director Simon Phillips, and granted him freedom to create an entirely new production - in six months. What audiences are seeing now at Melbourne's Regent Theatre is in no small way a result of Gabriela Tylesova's creative genius.
Located on Coney Island in 1907, the stage design whole-heartedly embraces the amusement park concept, including a carousel, red and white striped big top, scaffolding, freak show, and a mini-stage. Set construction was undertaken in workshops in Sydney, Adelaide and Melbourne in order to meet the short construction deadline.
At stage level, three-ring revolves rotate quirky carousel figures, and effortlessly transform imposing theme park structures into intimate settings such as balcony, hotel room and pier.
'We have a very physical set, whereas the London set had a lot of projection,' explains Gabriela. 'They had big walls which they projected on. They still had set pieces like trucks which came on, but we've got a 3D rollercoaster that is part of the set, so there is a definite 3-dimensional environment.'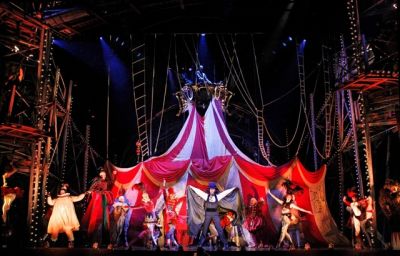 'When I was designing it I was in New York working on Priscilla, so we went to Coney Island to have a look. Coney Island had a lot of different towers and lots of different architecture in 1907. There is still one rollercoaster there. It's similar to the [wooden] one at Luna Park in Melbourne. The arch to Coney Island is completely made up.
'Simon Phillips originally wanted to use the entrance to Luna Park, with the big face, but when we did the research we found that there wasn't such a thing on Coney Island in 1907. The next idea was to actually do the Phantom's mask.'
Periodically during the performance the rollercoaster, constructed by Stageweld in Melbourne, rotates. Its flipside, reminiscent of Melbourne's Luna Park, is a giant fibreglass replica of the Phantom's mask and dominates the structure. Across the rollercoaster/mask a curtain falls, decorated with an adaption of a 16th century engraving which includes alchemic imagery.
'I was thinking the Phantom could have been into alchemy, so I used some alchemic references. We've played around with it [the engraving]. The eye in the middle is my drawing and I've cut some people's heads off and put rabbits heads on, made it a bit circus, a bit lighter, but its very much based on the engraving.'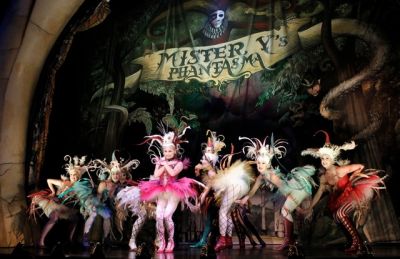 As a former cinema, one of the challenges the Regent Theatre presents is that it has a shallow stage and limited wing space. Manipulating perspective was one device used to create an impression of depth.
'The whole rollercoaster works in false perspective,' says Gabriela, 'so it sort of zooms in and gets smaller. Then we've got a massive backdrop entirely created by lights. I think we've got 9,000 lights in there, and the lighting designer has worked extensively with me creating the back wall and that is again in false perspective so objects gradually get smaller and we actually create depth. Nothing is recycled. It's all brand new, because nothing is really straight. Everything is on strange angles.'
Originally from South Bohemia, Tylesova's career began in Prague where she worked as a designer, illustrator and puppet-maker. In 1996 she travelled to Australia to work with Terrapin Puppet Theatre in Tasmania, and has since been engaged by iconic Australian companies including Melbourne Theatre Company, The Australian Ballet, Bangarra Dance Theatre and Opera Australia. She is the recipient of 2 Helpmann Awards and 2 Green Room Awards.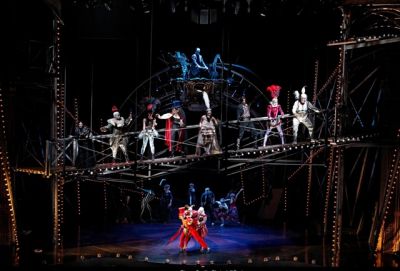 As if set design wasn't a big enough task, Gabriela has also designed the lavish and eccentric costumes for Love Never Dies, a duel task she has undertaken before. Calculating just how many people were involved in fabric printing, embroidery, and manufacturing wigs, hats, jewellery, shoes and costumes is difficult, but Gabriela imagines it is a 'massive' number.
According to Gabriela, 'everybody who works in the Australian costume industry has been doing something for Love Never Dies for the last 4 months.' Major principals' costumes were produced by Anthony Phillips Costumes in Sydney, with Anthony Phillips himself crafting Christine's dresses. Other costumes were made by Opera Australia, Siam Costumes, Leonie Grace Costumes, Annette Ribbons and four milliners manufactured the extraordinary hats. Credit for the freak show costumes with prosthetics, big heads and the enormous skeleton goes to Jo Woodcroft's Creative Works Australia.
'I actually enjoy doing both together because you get more creative control I suppose. It can be great, but you really need to get a good collaboration and understanding, so this has been good because we didn't have any time to get it together. Time wise it has been madness to try to control it all.'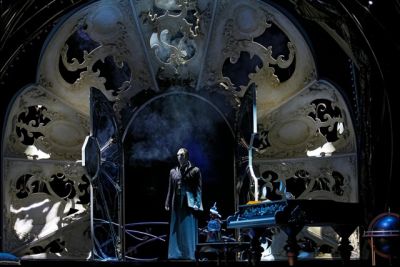 Backstage a fly crew of 10-12 operate the flylines by hand, and around a dozen dressers assist performers, including the five boys alternating as Gustave, and an additional 20 children in the show.
'It's almost like a school when they come in,' smiles Gabriela.
For now, Gabriela Tylesova seems reluctant to look ahead to the next project.
'It's been such a massive project for us, and so intense. You feel like you've lost a baby or something when you leave after opening night. It's out there, and it's not yours anymore.'
To help cure a case of post show bluesshe headed to her native Czech Republic for a well deserved holiday.
Love Never Dies concluded its Melbourne run on December 18, 2011. The Sydney 12 week season begins previews at the Capitol Theatre on January 8, 2012, opening on January 12 and playing until April 1.
Originally published in the July / August 2011 edition of Stage Whispers.
Production images by Jeff Busby.
Our earlier coverage
Behind the Phantom Mask: Meet Ben Lewis