Producer John Frost today (June 7, 2012) announced Michael Cormick and Bert Newton will join the cast of the sell-out Australian tour of Annie. Michael Cormick will take the role of Daddy Warbucks on August 7 when Anthony Warlow heads to New York to play the same role in the new production of Annie on Broadway. Bert Newton will replace Alan Jones as President Roosevelt from July 24 when Alan heads to London to broadcast at the Olympic Games. They join Nancye Hayes as Miss Hannigan, Todd McKenney as Rooster Hannigan, Chloe Dallimore as Lily St Regis and Julie Lea Goodwin as Grace Farrell.
"I'm thrilled that Michael Cormick is taking over from Anthony," said John Frost. "As much as we're sad to see Anthony leave the show, Michael is the perfect replacement. He has the commanding presence on stage that is needed for the role of Warbucks, and will fit in beautifully. And when I needed to find someone to replace Alan, I knew immediately it had to be Bert Newton, one of the most loved stars of stage and screen. From the first preview in Sydney last December, audiences have been flocking to Annie, proving again it is one of everyone's favourite Broadway musicals. And with our outstanding cast of Nancye Hayes, Todd McKenney, Chloe Dallimore, Julie Lea Goodwin and now Michael Cormick and Bert Newton, it will continue to thrill in Melbourne and then in Perth."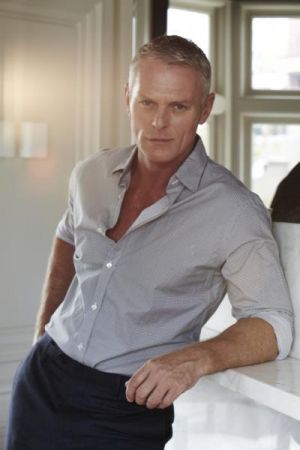 Michael Cormick's Australian theatre lead credits include Mamma Mia!, The Rocky Horror Show, Cats, Joseph and the Amazing Technicolour Dreamcoat, Grease, Sunset Boulevard and the lead role in Beauty and the Beast, for which he received a MO Award. His international roles include the lead in Phantom of the Opera, Calamity Jane, Chess, Evita and most recently End of the Rainbow for the Edinburgh Festival and Andrew Lloyd Webber's West End production of The Woman in White.
Since television began in Australia, Bert Newton, with his twin talents as a natural comedian and compere, has been a favourite with the viewing public, visiting celebrities and critics alike. His remarkable career has been recognised by the awarding of 18 Logies including five Gold. Theatrically Bert has appeared in the title role of two productions of The Wizard of Oz, with Nikki Webster, Nancye Hayes, Pamela Rabe and his wife Patti Newton. He played Uncle Max in John Frost's production of The Sound of Music with Lisa McCune, Rachael Beck, Anne Wood, John Waters and Rob Guest, then played Franz Liebkind in Mel Brooks' The Producers. For the past three years, Bert played The Wizard in Wicked in throughout Australia and in Singapore.
The Regent Theatre, Melbourne
Currently Playing
Bookings: 1300 111 011 or ticketmaster.com.au
Burswood Theatre, Perth
From Friday 24 August
Bookings: 1300 795 012 or ticketek.com.au
Earlier Annie Coverage.