Book by Thomas Meehan, Music Charles Strouse, Lyrics Martin Charnin. John Frost, Power Arts, Queensland Performing Arts Centre, Two Left Feet Productions. Regent Theatre, Melbourne (Vic). Director: Karen Johnson Mortimer. Costumes: Kristian Fredrikson. Musical Director: Peter Casey. Choreography: Kelly Aykers. From 29th May, 2012.
Playing to an audience, with all the generations covered, highlights were aplenty at Melbourne's Annie opening at The Regent tonight (29th May). Everything a musical theatre lover demands was in evidence including super tight singing, creative choreography, well-executed dance, eye-catching costuming and effective set design.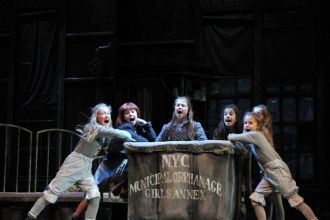 The cast were exuberant - there was clearly no place they'd rather be. Musical highlights included Hard-Knock Life by eight supremely talented orphans and Easy Street with three stars at the top of their game: Nancye Hayes (Miss Hannigan) Todd McKenney (Rooster) and the most amazingly leggy Chloe Dallimore (Lily St Regis).
Alongside the old hands, Caitlin Marks, one of the three Annies for the Melbourne season, performed with confidence and sang strongly and cleanly. Tonight's Orphans (Lucinda Armstrong Hall, Eliza Carlin, Kandice Joyce, Amy Lyon, Isabella Meilak, Bronte Muir, and Maddison Padula) brought the house down with their stunning reprise of You're Never Fully Dressed Without A Smile. Had they been real orphans I have no doubt they'd all have been adopted tonight. Delightful.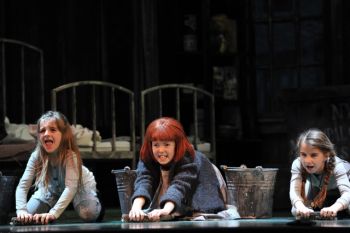 As expected Living National Treasure Anthony Warlow's (Daddy Warbucks) lyrical rendition of Something was Missing effected the vulnerability, affection and strength of the gruff and troubled billionaire, and was completely endearing.
Who could resist four-legged star Buddy (Sandy), who I suspect need extra coercion tonight. If I am correct, it was barely noticeable and achieved smoothly. Buddy elicited audible sighs from the audience whenever he graced the stage.
If there was a disappointment, I felt the screened images fell well short of equalling what was a wonderful musical theatre experience.
Producer John Frost had asked his artistic team to 'deliver a new energy to the show and at the same time pay homage to the glory days of the great theatre chain J. C. Williamsons'. My guess is he's delighted.
Lucy Graham.
Photographer: Jim Lee.
Earlier Annie Coverage
Dancing with Todd: How his Annie dancing partners rate him
Annie Australian Cast Recording