Music: Charles Strouse. Lyrics: Martin Charnin. Book: Thomas Meehan. John Frost/Power Arts/QPAC/Two Left Feet Production. Director: Karen Johnson Mortimer. Musical Director: Peter Casey. Choreography: Kelly Aykers. Lyric Theatre, QPAC from April 12, 2012.
Miss Hannigan hates 'em, but last night the audience adored them. Annie's orphans, headed by Chloe Thiel in the title role, and the scene-stealing moppet Kennedy Foley as Molly, walked away with the show. Their precision-drilled routines, their powerhouse vocals, and their drive gave the show its momentum and its heart.
Anthony Warlow made Oliver Warbucks a likeable curmudgeon, Nancye Hayes was a salty Miss Hannigan, with Todd McKenney (Rooster) and Chloe Dallimore (Lily St Regis) a couple of stylish con-artists.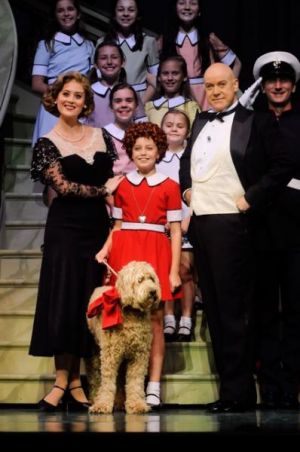 After the Orphans "It's a Hard Knock Life" and "You're Never Fully Dressed Without a Smile," Hayes, McKenney and Dallimore's "Easy Street" was the undoubted hit of the night. With a full bare stage to fill, their dancing skills were showcased to maximum effect bringing the house down.
Good Support came from Julie Goodwin who made a charming Grace, Jack Webster as a twinkle-toed Drake, Luke Joslin mugging shamelessly as Bert Healey, and Anna Freeland as the "star to be" who sang the heart of "N.Y.C." Surprise of the night was theatrical-virgin Alan Jones as F.D.R. who sang and acted like he'd been on stage his whole life.
Sets and costumes were period-perfect and inventive as was the choreography. Peter Casey's musical direction was crisp, a word you could happily apply to the whole production.
Peter Pinne
Earlier Coverage
Casting of Children for Brisbane season
Dancing with Todd: How his Annie dancing partners rate him
Annie Australian Cast Recording