Lucy Graham reports.
You'd have been excused for thinking there was a party at Melbourne's Regent Theatre this afternoon (April 21, 2012), as twenty-four exuberant girls were introduced to the media. And in a way you'd be right.
Annie's Executive Producer Walter van Nieuwkuyk was on hand to introduce Melbourne's three Annies, and the twenty-one orphans who will constitute the three different casts for the season.
'Today's rather a special day in the history of Annie,' he said, 'because, to the day 35 years ago, Annie had it's world premiere on Broadway. So Happy Birthday Annie.'
Such is the interest in Annie that 2,500 children have been auditioned across Australia, of which twenty-four in each state have been successful in the role of Annie and the Orphans.
Van Nieuwkuyk revealed that for the Melbourne cast 'we had 1 000 submissions of which 350 were invited to audition. Out of that 65 were shortlisted, and out of that 24 have been successful, all from the suburbs of Melbourne.'
Three of those girls are to share the role of Annie: Hattie Hook (10) from Brighton, Caitlin Marks (11) from Airport West, and Monique Heath (10) from Donvale (pictured above l - r).
And its unanimous – they all love dogs and can't wait to work with Sandy.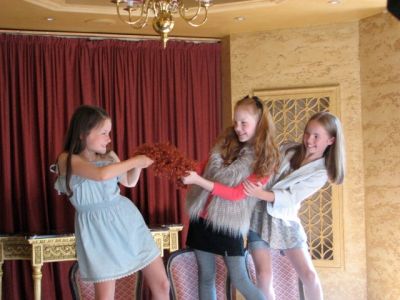 But what about the Annie wig? What do they think about it?
Hattie thinks it will be 'pretty cool because there is a curly wig and a straight wig', Monique says that while she is a 'natural redhead', the wig is quite a bit redder than she is used to, and Caitlin, who has glossy straight hair, thinks it will 'be cool to have curly hair' for a change.
Understandably the girls are very excited and found the audition process 'nerve wrecking', especially as they saw their peers gradually withdrawn from the process.
The Orphans will be played by Lucinda Armstrong Hall, Georgia Barbuto, Teagan Bartolo, Quinn Cameron, Eliza Carlin, Stella Carroll, Claudia Chayna, Sarah Croce, Wren Gillett, Jasmine Goldberg, Cheyenne Griggs, Kandice Joye, Madison Lu, Amy Lyon, Paris Mahar, Isabella Meilak, Bronte Muir, Maddison Padula, Maxine Palmerson, Mietta White and Mackensie Young.
Annie boasts a stellar adult cast with Anthony Warlow, Nancye Hayes, Todd McKenney, Chloe Dallimore, Julie Goodwin and Alan Jones as President Roosevelt.
Annie began as a popular Harold Gray comic strip, "Little Orphan Annie", and after the musical opened on April 21st, 1977, Annie ran on Broadway for six years, and has enjoyed success in more than 22 countries since.
Annie opens at the Regent Theatre from 24th May.
Photographs: Lucy Graham.
Earlier Coverage
Dancing with Todd: How his Annie dancing partners rate him
Annie Australian Cast Recording