A CD featuring five songs, plus video clips, from An Officer and a Gentleman The Musical is free now with the May / June 2012 edition of Stage Whispers.
www.stagewhispers.com.au/news/our-amazing-print-and-first-ever-e-edition
Our earlier coverage of the music downloads.
Producers John Frost and Sharleen Cooper Cohen announced on January 27, 2012 that fans of their World Premiere musical An Officer and a Gentleman would be able to download new music clips of songs from the show.
On February 16 and 17, fans had a 48 hour window to download "I Wanna Fly", sung by Ben Mingay, and "Up Where We Belong", performed by Ben Mingay, Amanda Harrison, Kate Kendall and Alex Rathgeber, before these songs became available to view on YouTube from February 19. This follows the earleier preview on February 2 and 3 of "If You Believe In Love", sung by Amanda Harrison. The link for the download is facebook.com/AnOfficerAndAGentlemanMusical
Ken Hirsh and Robin Lerner, who have written the music and lyrics for An Officer and A Gentleman have formidable track records as songwriters. Most proud of having avoided having a real job for over 30 years, Ken Hirsch is the co- writer of the hits "I've Never Been To Me" for Charlene, "Two Less Lonely People In The World" for Air Supply, "No One In The World" for Anita Baker and "If I Could" for several artists including Barbra Streisand, Ray Charles and Celine Dion. He has co-written with some of the world's most renowned lyricists including Hal David, Gerry Goffin, Paul Williams, Howie Greenfield and Ron Miller and his songs have also been recorded by numerous artists including Grammy Award® winners Stevie Wonder, Mary J. Blige, Gladys Knight, Harry Connick Jr., Dolly Parton, B.B. King, and Placido Domingo. The songs of Robin Lerner have found success in the pop world with Sheena Easton, Chaka Khan, Patti LaBelle, Jermaine Jackson, Luther Vandross and the Backstreet Boys. Over the past 15 years, her songs have been recorded by great country artists such as Randy Travis ("Out Of My Bones", #1), Tim McGraw ("She's My Kind Of Rain", #1) and Faith Hill ("This Kiss", #1), which was nominated for a Grammy Award® and was awarded single of the year at the 1999 Academy of Country Music Awards.
I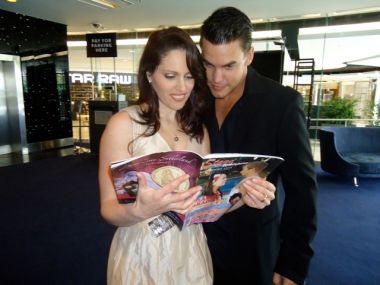 n An Officer and A Gentleman, Ben Mingay (Jersey Boys) plays Zack Mayo, the role that brought a young Richard Gere to the attention of film audiences around the world. Mayo is the classic angry young man who grew up in a "sewer" and dreams of flying jets and parlaying this skill into a better life. Amanda Harrison (Wicked) stars as Paula Pokrifki, the young factory worker who dreams of becoming a nurse and finding a better life without selling out for it, like everyone around her. This role was played by Debra Winger in the film. Kate Kendall (MTC's Next to Normal, Stingers) is Lynette Pomeroy, Paula's best friend who is determined to marry a flier to escape her dead end life, no matter what it takes; and Alex Rathgeber (The Phantom of the Opera, MTC's The Drowsy Chaperone) is Sid Worley, the likeable son of a Navy Admiral who is the class "superstar" at the Naval Academy.
Based on the hugely successful Academy Award® -winning film, this new production has been adapted for the stage by the original screen writer, Douglas Day Stewart and co-writer Sharleen Cooper Cohen, with music and lyrics by Ken Hirsch and Robin Lerner. It will be produced by Sharleen Cooper Cohen and John Frost, and directed by Simon Phillips (Priscilla Queen of the Desert The Musical).
The World Premiere of An Officer and A Gentleman will be held in Sydney at the Sydney Lyric, The Star on Friday 18 May, 2012.
Image: top - left to right - Alex Rathgeber, Kate Kendall, Amanda Harrison and Ben Mingay. lower - Amanda Harrison and Ben Mingay check out Stage Whispers.
Our earlier coverage.
Interview with Kate Kendall and Alex Rathgeber