Saturday night was balmy in Melbourne. Approaching the Princess Theatre there was a definitive predominance of pink frocks amongst the crowd. Legally Blonde is, after all, a celebration of the assertive feminine, and pink is main character Elle Wood's 'signature colour'. A red carpet had been passed over in favour of pink, and there were A-listers aplenty in attendance from recent South Pacific stars Lisa McCune, Teddy Tahu Rhodes and Eddie Perfect, acting royalty Alison Whyte, and old faithfuls such as John-Michael Howson, Derryn Hinch, and Bert and Pattie Newton.
Standing outside it was amusing to see the startled faces of AFL supporters rounding the corner into Spring Street on their way to the Hawthorn vs Sydney Swans at the MCG. It was a case of footy fans meet the glitzy pink persona that is Legally Blonde.
Inside the Princess Theatre the foyer was, as expected, standing-room only. With very little breathing space, the urge to enter the theatre space was overwhelming. Those who know the theatre will recognise the logistics of seating an audience presents a challenge here. With no central aisles it is a lesson in negotiation and collaboration that has patrons conversing with total strangers.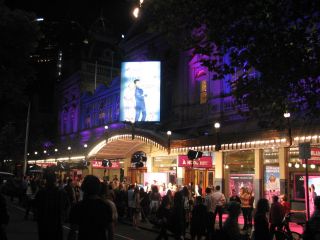 Rows and rows of young things, poking incessantly at the mobile devices pre-show, dominated the audience. One wonders how long it will be before phones are compulsorily checked in at cloak rooms.
The show itself lived up to all expectations. It is everything you could ask for in musical theatre: strong singing, slick dancing, witty lyrics, seriously hilarious laughs, gasp moments, superbly paced drama, live-dogs on stage and a happy ending. What more could you want? This show will warm even the coldest of hearts.
Teenaged hopefuls waited in vain at the stage door after the show for the performers to emerge, and left disappointed. On an opening night, the after party generally wins.
While the show's appeal is directed at young women, my view is that this is by no means an exclusive demographic. Anyone who has a daughter, employs or teaches a young woman, or believes there is a 'right' way to dress should consider getting along.
OMG you guys! Legally Blonde is an excellent choice for families – just get a ticket!
Lucy Graham
Our Earlier Coverage
With Legally Blonde now open in Melbourne it seemed like time do a retrospective look at Stage Whispers coverage of the show from the initial announcement by John Frost and Howard Panter in 2010, with some handy hyperlinks to our many interviews and articles.
When the casting of the show had been postponed by a week due to a leadership challenge in Canberra, we added the news to the top of that original announcement. With the casting announcement postponed by a week, British producer Howard Panter, who had flown to Australia for the event, used some of the suddenly available time in Sydney to speak to David Spicer about the show. Link
A week later, with the Labour leadership settled, the principal cast was announced, with subsequent casting added to this article as it was announced. Link
Prior to rehearsals we chatted to David Harris (Emmett) on a brief stopover between the Asian legs of the Wicked tour. Link
We were there to catch the buzz on the first day of rehearsals. Link
We spoke to Lucy Durack as the cover story for our September / October 2012 edition read here, a story we later updated online. Link
At the media launch we chatted to some of Elle's sorority sisters. Link
David Spicer soke to director / choreographer Jerry Mitchell about what makes a hit musical. Link
We've chatted to Rob Mills (Warner) link, and with the announcement that he will be Danny in the new production of Grease, speculated on who will be the new Warner.
During the Sydney season, the $30 ticket lottery also created great excitement.
There's also a gallery of the cast partying after the final Sydney performance.
We annonced that the show would open in Brisbane and Melbourne
Most recently, Coral Drouyn spoke to Cameron Daddo about his return to Mellbourne, in the current edition of Stage Whispers.
We've also reviewed the priduction in Sydney and Brisbane.
And there's just too many photos to mention on our Facebook page, but here are a couple of favourite links - featuring Rob Mills, Cameron Daddo and other cast members at the media launch and Lucy Durack checking out the edition where she appears on the cover.
At the Sydney Media Preview
Images: Lucy Durack (Photographer: Brian Geach) and Princess Theatre on Opening Night (Lucy Graham).
Further reading