Behind the Scenes with Debora Krizak - Sound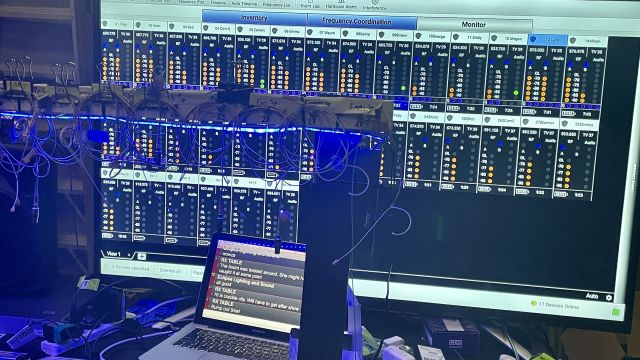 Acclaimed performer Debora Krizak is writing a special series on the unsung heroes of live theatre. For this edition she is focussing on sound operators.
When it comes to performing, that age old saying is true - "you're only as good as your soundie". Over many years
touring the country in rock bands, major musicals and cabaret, my overall experience on stage has often been dictated by whether I can hear myself clearly - as well as my fellow actors and musicians.
It's a delicate balance that takes great skill to get right. What the audience hears and what a performer hears are often vastly different.
Having just completed a season in Packemin's We Will Rock You at Riverside Theatres in western Sydney, I spoke to sound designers Chris Neal (We Will Rock You/Eclipse Lighting and Sound) and David Grigg (Pippin/Sydney Opera House).
Chris operates his own audio/visual company and has produced We Will Rock You in an arena. David – a working musician - has emerged as one of Sydney's most in demand sound designers.
Chris says, "On stage, I'm acutely aware of the challenges performers have hearing themselves. We now have in-ear monitoring which eliminates the need for bulky fold back wedges on stage and helps to control the spill of sound from the stage to auditorium."
In WWRY, where we had a live rock band on stage, hearing myself and being able to pitch a tune was paramount. Initially there were some challenges, but by our first preview, Chris had our voices equalised, effects were programmed and by incorporating some vocal into the side of stage speakers, we were able to sing comfortably, without the risk of blowing out our vocal cords.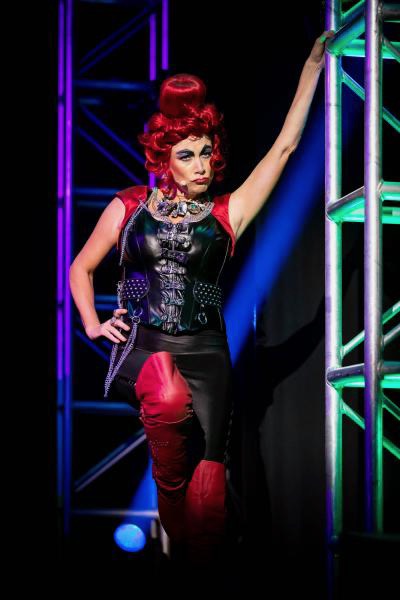 Image: Deb Krizak mic'd up as Killer Queen
When a performer can't get enough volume to sing over a loud band or orchestra the audience notices bigtime.
In a rock band, this is commonly overcome with the use of on-stage fold back monitors and a cord/cordless handheld mic. The performer can directly hear themselves in the foldback wedge and the sound engineer has control of the volume of the monitor. In-ear monitors are an added technical innovation as the singer can control the exact mix of voice and instruments they require in their fold back.
While the consensus is that they're great, I've never been a fan of in-ear monitors as they create a slightly more superficial environment. There is something about being connected to the audience, and being able to hear what is happening around me.
"Not everybody understands the craft of what we do as sound designers - they just expect the end result to be good," says Chris Neal. He adds that to achieve the right sound balance, it's important to consider the positioning of the speakers in relation to the performer.
"You never want speakers positioned behind a performer. If we have the capacity to place a lot of speakers throughout the theatre at a low volume, we can achieve the same natural aesthetic without losing any energy or clarity."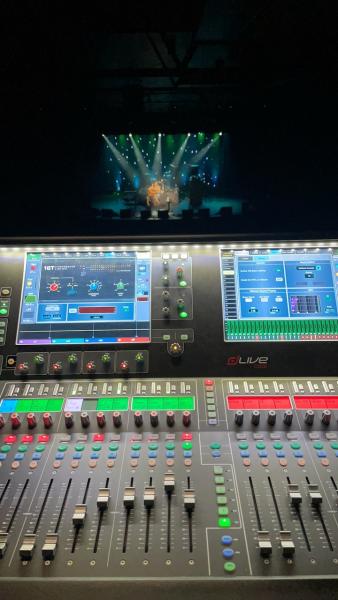 Image: FOH Sound Desk - Chris Neal
Often this must happen in careful negotiation with directors and choreographers, as speaker positioning can impact sightlines. Audiences need to see the performers from every angle and no choreographer wants to set a ten-minute tap routine where feet are obscured. So, who and what wins out in the end?
"It's a negotiation process between us all and ultimately we have to decide what's best for the show," states Chris.
I'd love to be a fly on the curtain for that debate, however Chris and I do agree on amplification. Too often I see a musical and the first thing that lets it down is the sound balance.
Different styles of musicals can require more conservative sound mixing but I still like to hear the singers ringing straight through the middle of a swelling orchestra. Perhaps it's the former rock chick in me.
A musical requires designing a system for amplifying a live orchestra or band, usually in an orchestra pit beneath the stage, with live vocals from the cast moving around a stage.
David adds that this means every instrument has one or multiple microphones positioned in front of them, and each cast member has a wireless microphone positioned on their head somewhere. Whereas a live band may use a handheld mic, theatre performers have radio microphones carefully positioned in wigs at the top of the hairline or what's referred to as a "Madonna mic" at the side of the mouth.
Image: FOH Sound Desk - David Grigg
Often there are several mics for each lead performer in case one becomes redundant (malfunctions) due to sweat, loss of battery or even physical damage. When this happens it's the sound operator's job to switch mics and communicate to mic technicians that there's a problem with a particular mic.
During my stint in Cabaret, we lost microphones in the thick of the show on opening night. With many sound desks now being digital, it can take time to re-boot. In this case they stopped the show. The lead performers left the stage, to pick up where they left off ten minutes later.
David adds that there are plenty of other challenges that sound designers face.
"You're trying to get the show sounding the same from every seat in the theatre, with the music having plenty of impact, yet having clear and easy to understand vocals. At the same time, you also want to avoid feedback which is caused by amplifying microphones too loudly into poorly positioned speakers. Once you have that designed, next comes the creativity of vocal and music effects, triggered sound effects, and programming."
David recently made the transition from musicals to straight theatre which he says requires more creativity. There are no live instruments, so most of the design is in the sourcing of music, atmospheres and sound effects that help support the storyline. With a play the sound bed is pre-recorded or pre-programmed. The potential for error or last-minute changes are real.
"During the final rehearsals you may have to record sounds, shorten a piece of transition music, or even change the location of a scene. All of these are time consuming, and you become particularly good at letting your creations go if things get cut".
Well, getting "cut" goes hand in hand with our profession. It's good to know that putting yourself out there doesn't just resonate with performers.
"Sound is incredibly personal. You have got to have a thick skin. What one person says sounds fantastic, another may say is too loud. Achieving optimal sound balance is ultimately a collaborative effort and it's our job to manage all of that. When a show settles and everyone is working at their peak, that's when we achieve the perfect balance." said Chris Neal.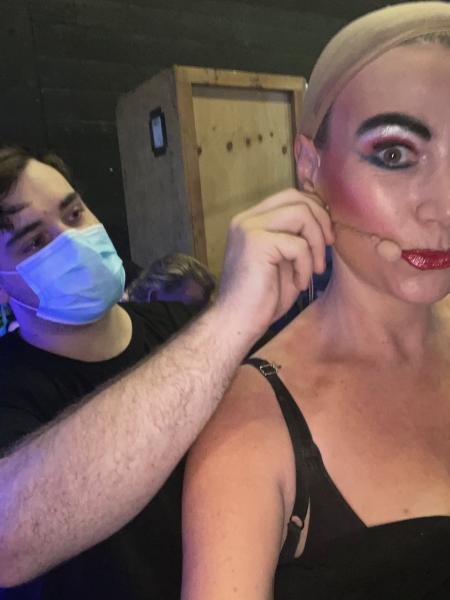 Image: Deb Krizak getting mic'd up.
MIC DROP
What's it like working with stage and musical performers?
David: "For the most part it's a joy. You're working with passionate people to achieve their vision and when you have mutual trust, it's an absolute ball."
Any advice for up-and-coming soundies?
David: "Networking. Say hello to everyone and be a good energy to be around. Get to know everyone you work with and be kind because I promise you, you will see them again.".
Chris: "Get yourself involved in live theatre. Find a theatre group – watch, help get involved. Break down the things you like and don't like. Watch and learn."
Most valuable personality trait?
David: "Patience. Remember you're making art. Art takes time and patience."