Clearlight Shows News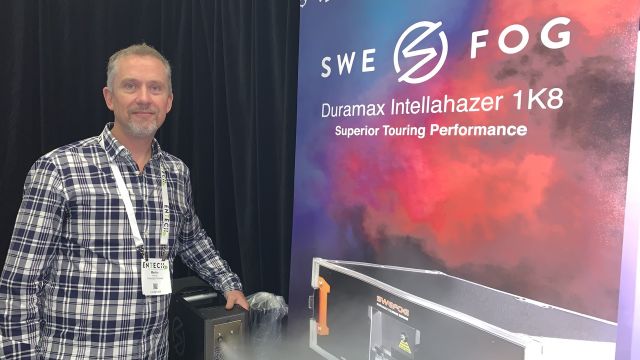 Clearlight Shows' Hire Manager Martin Bowman is celebrating 25 years in the job. He's pictured here at the Entech Roadshow giving the company's latest product – a Swefog haze machine - a work out.
Martin says the industry has changed radically since he started, nominating the introduction of LED fixtures in the early 2000s as the most exciting new development of his career.
He says the job of Hire Manager requires a good problem-solving brain.
Martin says the most common mistake that customers make is that they focus so hard on their lighting rig that they forget to order those necessary extras: cabling leads, spare bulbs and colour filter.
Clearlight Shows offers one of Australia's largest range of theatrical lighting equipment for hire.
"It's ultimately my client relationships that I enjoy the most. Hearing about their families and what they do in their spare time etc. I love solving problems, like when a certain piece of gear is needed and then being able to work out what would suit them best," Martin said.
"Hearing that a hire (especially a long term one) was flawless is the ultimate feeling."
Clearlight Shows Pty Ltd has now been trading for 40 years under Director John McKissock.
It carries a large range of the latest LED fixtures and moving lights, through to consoles and followspots. The company prides itself on meticulously maintained and competitively priced equipment, backed by a well-stocked sales department offering gels, gobos and tapes.
Clearlight Shows has a special offer for Stage Whispers readers. See the 20% discount code (and terms and conditions) in the ad below. Call today to claim your hire gear discount.
Check out our 2019 Hire List at https://clearlight.com.au/wp-content/uploads/2019/01/Clearlight-Shows-Hire-List-2019.pdf or contact Martin in our Hire Department hire@clearlight.com.au