Hearing the People Sing Again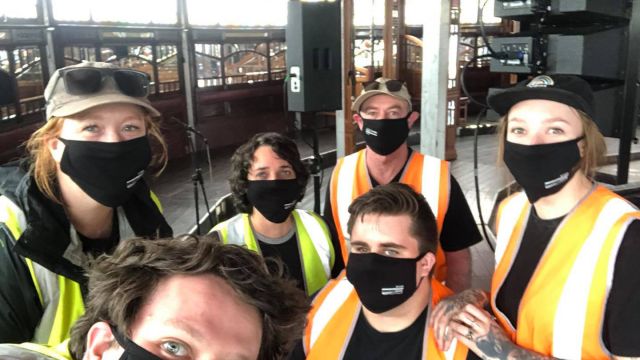 What does an audio event company do when it goes from expecting its busiest year ever to zero bookings? David Betteridge from Loud and Clear Audio in Sydney explains that kindness and Government policy saved his business. Read on** to see how productions have crashed again with the June-July lockdown.
When asked to reflect on the impact of COVID-19 on our industry, as technical suppliers to the arts sector, it struck me how important the mantra is, that a business is defined by its people.
Building the right team and sustaining them leads to passion and growth, and loyalty to your brand and one another.
We have a core staff of five in the office here in Sydney, and like many in our industry, have a huge list of freelancers. Our primary source of work is musical theatre, both full production and hire, with a small amount of corporate event work, and a growing pro audio sales division.
On paper 2020 was looking like the busiest year in our history by a big margin – and we were suitably hyped and preparing ourselves, about to invest in more equipment, hire and train more staff.
Then came those crazy few weeks at the beginning of March when the news was of nothing but the rising pandemic, and the phones started ringing and ringing. Within two weeks our planner was completely empty. Not a single job on the books.
As a business owner the first thing that comes into your mind is how to protect your staff. And to this end I congratulate the Federal Government for their response. I know many will disagree with me – but for us, it was tailored correctly and implemented quickly.
Yes, we were one of the first industries to shut down completely, purely based on the nature of what we do, and will likely be one of the last to fully open again. Yes, it would be nice if there was some additional means testing specific to our game to extend it further. Yes, it was a bit glitchy at the very start – but without it, we would no longer be trading. JobKeeper provided just the right amount of wages support to reflect the work we found to do.
We did what nearly all in the biz did – reduced hours, talked with banks and suppliers, and learned to manage a world of uncertainty.
The warehouse team cleaned everything we owned, at least twice. The accounts managers spent their days re-booking and cancelling and re-booking work. Suppliers were amazing, extending deadlines. But what about the banks? Ours was bloody useless! It managed to screw up just about everything it promised to do.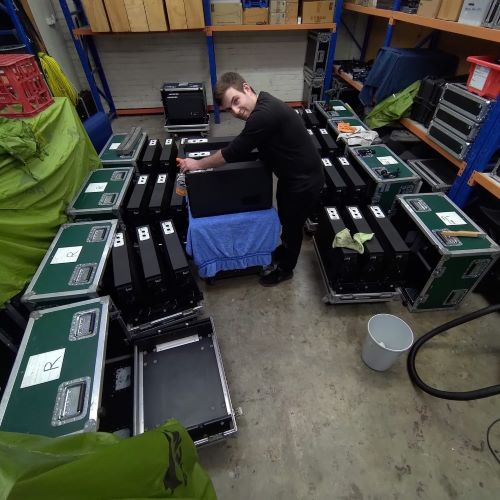 Looking forward it would be helpful if JobKeeper was extended, and we would most likely still qualify but (and I speak only for myself here) eventually someone, and that someone is each and every one of us, has to repay that debt.
And as much as we love our industry, just like sound is one department of many in a full-blown musical production, we are just one industry in a nation of many – working towards the same goal.
I think we can survive from here, now that things are beginning to slowly open again. I do want to thank many of my colleagues with small businesses that we collaborate with, who throughout the whole period would call to see how we were, drop in for a chat and a coffee. They supported us with solidarity, encouragement, and friendship.
Another significant factor in our survival was the loyalty and kindness shown by our customers. So many asked, "What can we do?"
I suggested to some that they look at replacing old and worn-out equipment, and sales increased dramatically in some months.
We also collaborated with companies to live stream events, all fully within the social distancing restrictions in place.
A select few schools were determined to produce their shows, no matter what. How do you produce and perform a full-blown musical production when you can only have five singers, all spread apart from each other, and when musicians cannot play together?
Well, you record the whole thing, piece by piece, master it down, and then mix the entire thing with whatever live portions the rules allow! Pre-production took two or three weeks alone for each show, but the results were amazing and allowed some of our customers to give their casts the opportunity to stage shows that looked impossible on first pass.
We are blessed in having a lot of diversity within our customer base. Between professional, community, school and corporate there was always a sector that needed a solution. Early in 2021 a lot of work continued to play the cancellation game, but in equal measure a whole raft of new work sprang from nowhere.
Also encouraging is the speed and efficiency of the health system in identifying new outbreaks of the virus and containing them within very short windows.
And so, to today. The cancellations have (almost) stopped.
I am still fearful for so many of our community theatre groups - some faced with even more issues than just COVID, such as losing their venues at the same time.
I do know that their customers, the theatre going public, are desperate to get out and see their work again. I hope that all the suppliers who contribute to making their work a reality (venues, rights holders, tech suppliers like us to name but a few) will stand by them and help them all to recover as quickly as possible. If ticket sales to Notable Theatre Company's production of Les Misérables a few weeks back (our first community show since it all began) are anything to go by, then I already see the public are there in force to support them.
2021 is going to be a hard slog for us. But I believe that it will pave the way to 2022 being our biggest year ever. Everything that 2020 promised, just 24 months late.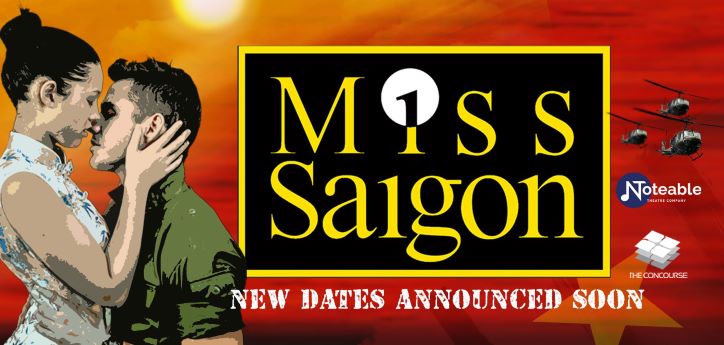 **Update July 2021.
Before the latest lockdown virtually every show in the last couple of months (in school and community theatre) were sold out. The public has had a big appetite to come back to the theatre. We were very excited about the immediate future.
(The lockdown) has been a kick in the guts to lose so much work. We have had some major bookings postponed, including Notable Theatre Company's season of Miss Saigon. If it goes too long it is going to be tough. We just bought a batch of new radio microphones. Before we had Jobkeeper - now might get $10,000 from the NSW Government.