The Kaleidoscope of Dorian Gray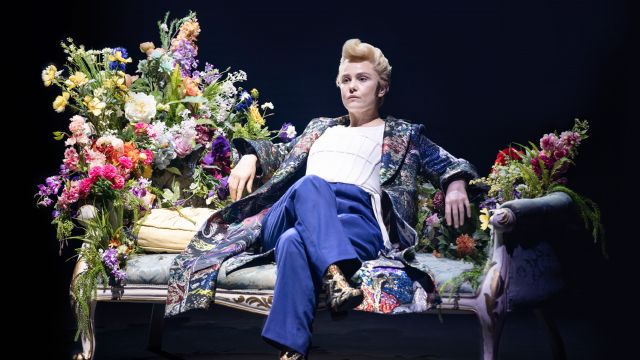 Actor Eryn Jean Norvill plays all 26 roles in the Sydney Theatre Company's extraordinary production of Oscar Wilde's classic The Picture of Dorian Gray. Designer Marg Horwell tells David Spicer how the fusion of live theatre and film worked out.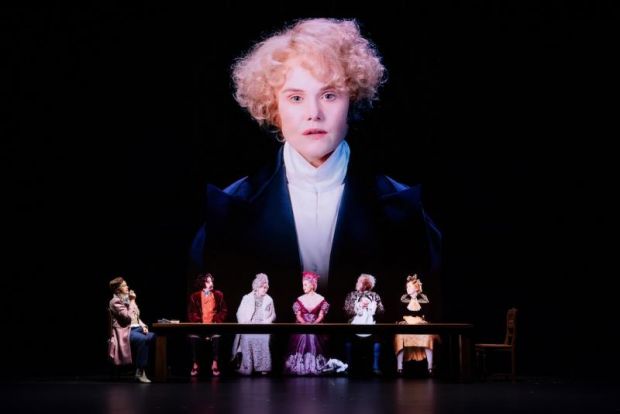 "Director Kip Williams told me about a scene he wanted to do at a dinner party, where Eryn Jean would sit down to dinner with five versions of herself," Marg Horwell tells me. "They would play that scene as normal and react to each other.
"Eryn Jean filmed each of those characters in real time. We would record her as one character listening to herself in one ear.
"It's a fun scene with extreme costuming, including latex face modifications, wigs and an age range from 19 to 90. The extreme differences had to be knitted together.
"The main thing was to sell that illusion. We approached filming in a theatrical way with single takes and not a lot of editing.
"The character of Lord Henry (which is the only one performed live) had to be perfect to be inserted into dialogue. She had to be really sharp.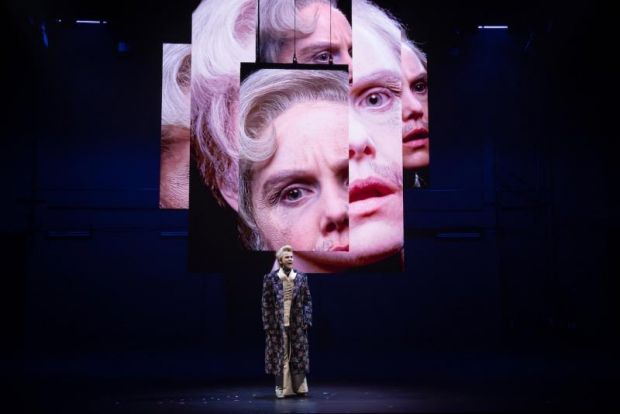 "This whole story is based around looking at a portrait that is aging and becoming hideous.
This is a wonderful image of Eryn, in the role of Lord Henry as an old man on her own, with all these angles of an old face. The collage of her face was filmed live by five cameras," Horwell explains.
"Her movements are choreographed with 13 people (camera operators and stagehands) who make up the show. There are so many that they have to be careful not to be picked up by other cameras.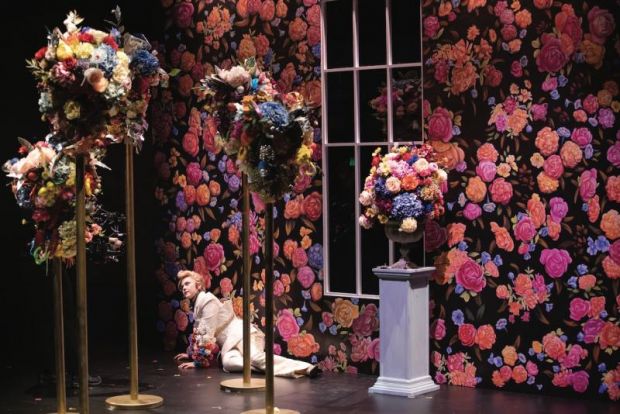 "For all its technical challenges, a lot of the smaller on-stage things were old school and created manually. All the backdrops were painted.
"What you are seeing (above) is a set which was facing in the opposite direction of the audience, who only saw this landscape projected on a screen.
"What the audience saw directly was this perspective through the window. For that reason, all of those pedestals were designed at height.
"The room is full of flowers that were hand made by STC props. They were predominantly things from a junk shop including toys, plastic tiaras and a very silly pinata. Even her sleeves blend into the imagery of excess.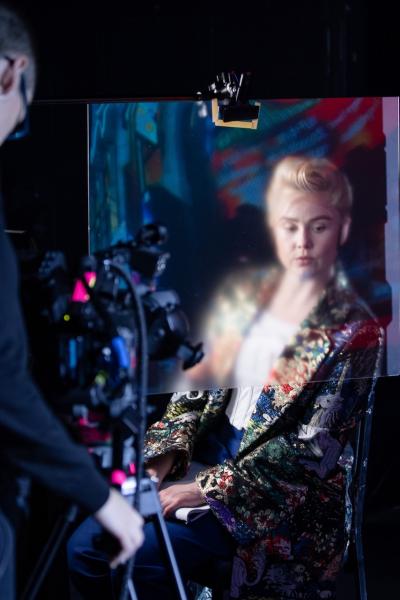 "This image was filmed through a glass screen.
"In this scene she was in a carriage going to an opium den. It looks like window of a carriage but the way she is facing it gives it the motif of a portrait.
"The scene was facing backwards so we got the reflection of a city street landscape changing around her. We drew on period imagery of old London streets which flashed forward to the future to include neon Tokyo streets.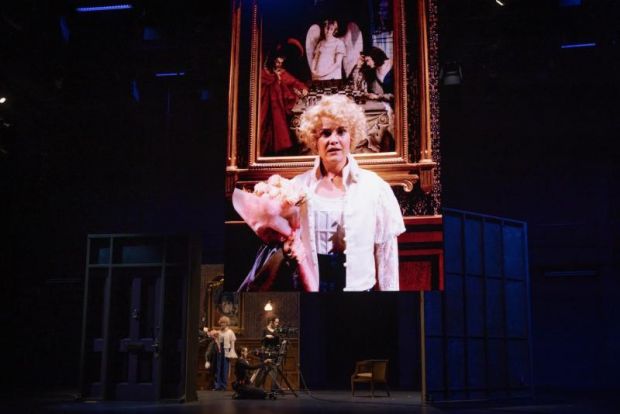 "The production is brutal for Eryn. In one scene she is shot wearing three costumes at once, plus a fur coat, whilst delivering monologues to herself and moving.
"My favourite scene is when she has a costume change and all 13 stagehands are involved in the choreography until she lands on her doorstep.
"We had to rehearse for the stage and delivery to camera. It is an incredible feat for a performer to remember where she is looking at any time."
The Picture of Dorian Gray opened at the Adelaide Festival, prior to a return season at the Sydney Theatre Company from March 28 to May 7. A Melbourne season follows from June 5. The production is expected to tour to other cities around the world.
Photographer: Daniel Boud