Lighting Mega-Musicals or Micro Musicals!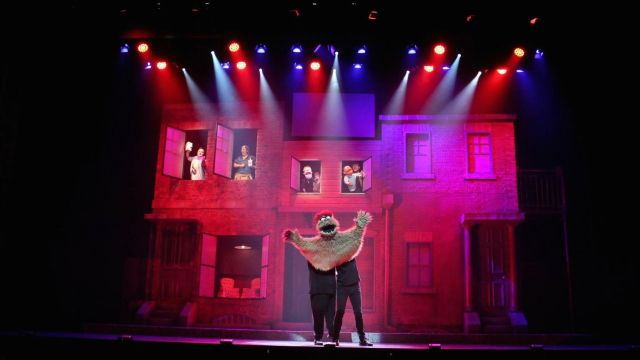 Jason Bovaird from Moving Light Productions gets asked regularly to quote on both large-scale musicals and boutique works. He explains the challenges posed by different scaled productions.
The first questions I ask our clients when quoting for a show are what are the key elements to the production and what style they want. This will determine the size of the lighting rig, lighting equipment required, and the crew needed.
Let's look at the large commercial production of Avenue Q for Prince Moo productions we designed in 2016 for Her Majesty's Theatre in Melbourne. The producers of this show were new to the game of commercial musical theatre, so there was already a huge pressure of them getting the show "right".
As the lighting designer of a commercial musical, the most important thing you want to do is to be able to surround yourself with a great lighting team. I engaged our resident Associate Lighting Designer Maddy Seach and Head of Lighting Declan O'Neill to ensure that it looked great and would be replicated in a transfer to the 3000 seat Burswood Crown Theatre, Perth.
We brought in a mixture of moving light technology and conventional lighting. Our fixtures onstage consisted of Mac 700 Profile spots spread across 5 bars. This allowed us to be able to create decal washes, individual specials, and the "fantasy looks" required during the show. We also used a mixture of 12 Moving Head Washes onstage that allowed us to light the set and create silhouettes onstage and strong backlight.
Our FOH rig was the most important clever part of the design in that on our low perch shots we used the new Chauvet LED profile, having 6 per side. This allowed us to create saturated colours during the musical numbers, and fantasy, as well as creating skin tone colours during the dialogue and quieter moments. Also useful in musical theatre design is the Advanced FOH Truss. This allowed us to rig large spot movers and washes to be able to create the face fill upstage or downstage.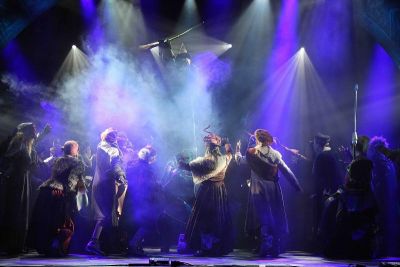 For a production of Wicked by the Encore Theatre Company at the Princess Theatre in Launceston, which recently won Production of the Year at the Tasmanian Theatre Awards, our team used a lot of the in-house stock, which saved money for the company in the long run. This meant I was able to use a lot more moving lights in the design and create both a new look for Wicked and still retain the commercial "look" the audience expected. A show like Wicked needs to have a lot of WOW Factor lighting and still be able to tell a great story.
The biggest challenge with Wicked was being able to create the 'flying' moment in "Defying Gravity", where Elphaba had to look like she was flying with no wires being seen. This was achieved with a huge amount of backlight moving head spots creating a huge beam effect through the smoke and haze and creating a large amount of timed lighting cues with the orchestral music. Adding to that we were able to use 12 x Maveric Spots, 12 x Bumble Bee 330-watt spots, 24 x LED Cans, 10 x 60 LED Movers, 6 x Chauvet LED Profiles and 12 Moving Wash Units from our stock, shipped over to Launceston. The ability to be able to also light the set was a major component of the design, creating the huge, bold visual looks that you come to expect of Wickjed.
One of the key factors with this lighting rig was being able to light behind the large rotating walls and create huge shafts of light creating shadows.
Large budgets are able to provide this type of rig and allow you, as a designer and production company, to tour around Australia. Other smaller shows want to create the large bold looks of a musical on a smaller budget.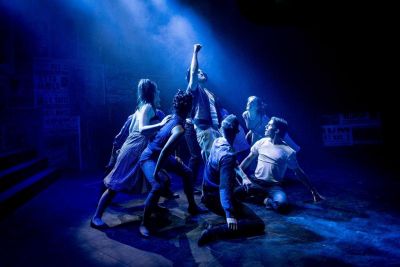 For Stage Art in Melbourne, Memphis – The Musical was an Australian premiere at Chapel Off Chapel. I opted for a much more compact lighting rig using the stock at Chapel and only brought in eight Spot Moving lights and eight Wash Moving heads. Memphis needed to look like the 1950's, with loads of saturated colour and block colour, as well as keeping the black and white feel for dialogue scenes to transport the audience through time. This was the same for a production of Bowie Rising last year.
The in-house rig already had plenty of LED Cans onstage and 2 Robe 700 spots FOH, along with Source Four Zooms. By using a lighting rig like this, already in place at Chapel, it made the bump in cheaper and quicker.
Moving Light Productions has a busy schedule of diverse projects that range from a national tour of Peppa Pig "Surprise" to the Australian tour of Around The World In Eighty Days and corporate clients. We also enjoy working with schools.
Over the last two years the team from MLP have been working closely with the staff from Mentone Grammar School and theatre designer Richard Stewart in providing the initial lighting consultation and implementation for their multi-million dollar performing arts precinct, culminating in lighting designing for the full version of Les Misérables, which opened the venue in August.
Moving Light Productions looks forward to working with new clients and can be found at www.movinglight.com.au