Lighting up a Stage with no Facilities
Rodney Bertram from Rod's Sound and Lighting Services reports.
So what do you do when your venue has no lights and no lighting bars on stage?
The answer is you make the set light up.
This is exactly what Osman Kabbara (Director) of Rockdale Musical Society (Sydney) designed for their latest production of Songs for a New World.
With the use of 26 x 1 metre LED Tubes (Happy Tubes) and 5 Honeycomb LEDs, the set came alive. The tubes look like traditional tubes used everywhere but are made of LEDs. The set was like a big bookcase, painted white on the inside, black at the back and covered at the front with a white canvas. Each of the 'bookcases' had five sections with one Happy Tube on each shelf.
Minimal front-of-house lighting meant the set was used to create moods, movement and symbolization. The most ambitious was creating an American Flag. In the song "Flagmaker" the star spangled banner appeared in the background. In other cases we matched the colours to the characters on stage.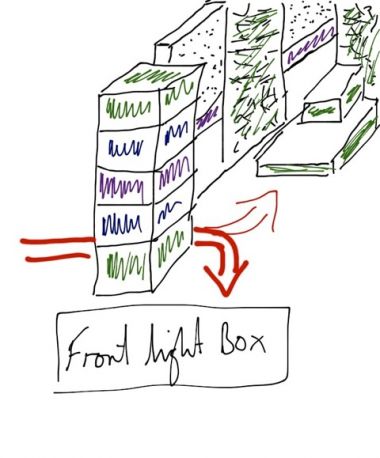 Programming the show was a challenge as the Happy Tubes sometimes had a mind of their own. They are a cheaper light; each tube is 48 channels of DMX. Each section needs to be programmed to switch on the same colours and this is very time consuming. By using a DMX signal, you program which colours are switched during the whole performance. But once this was set up, the rest of the process was straightforward.
Some of the highlights with this production included the song "River Won't Flow" where the set was split blue and red and then each panel started changing to purple. With the use of the Happy Tube movement we were able to create a circular pattern with the lights, as the cast circled the stage.
Lighting plays an integral part in any production. We were extremely proud of this one, considering that it was done on a minimal budget of approximately $3,500.
For more details on how Rod's Sound and Lighting Services can light your next production visit www.soundandlighting.com.au
Originally published in the May / June 2012 edition of Stage Whispers.