New Theatrelight LED Shines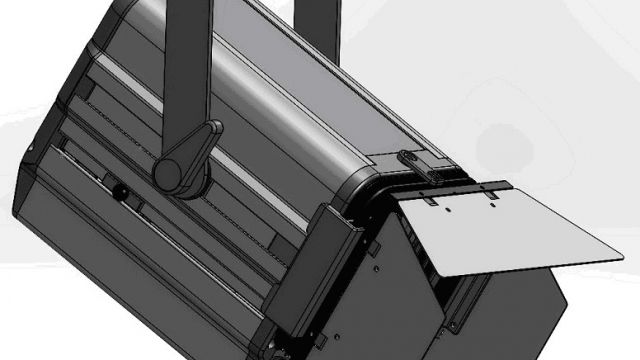 Theatrelight NZ's new F500 LED Fresnel is proving a hit with theatres, schools and museums.
Designers enjoy the way the tungsten colour of the light blends well with existing traditional theatre lanterns. In fact telling the difference can be a challenge with both light sources measuring close to 3200K.
The cool beam from the LED source also ensures faded gels become a thing of the past.
F500s can be rigged in hard-to-reach places while an optional integral wireless DMX receiver is available, helping to reduce data cabling.
Theatrelight has pursued excellence in the design and specifications of the LED light engine at the heart of the F500. Their engineers have produced colour rendering reaching an impressive CRI of 96.9, while achieving a high average lumen output of over 3,000 lumens. By comparison, a typical 1200w tungsten Fresnel from another manufacturer has an output of 2,300lm and their LED version also only reached 2,600 lumens.
An intelligent cooling system ensures the long life LED light engine (20,000 hours) is kept cool yet quiet at the same time - quiet enough for television studios where programs such as New Zealand's TV3 program The Project sees them light up the studios every night.
Schools have found the cool operating surfaces of the F500 far safer around children. The case temperature reaches only 35-40°C compared to the scorching 160° plus of an equivalent tungsten spotlight. The low maintenance and reduced power bills also combine to make the F500 a winner.
Beam design has been redefined with the F500 employing a sharper and crisper edge to the beam (5°- 50°) than a traditional diffuse edged Fresnel. This allows the light to be used not only over the stage but in front-of-house positions where the rotatable four-leaf barn-door produces clean cut-offs to ensure little spill on the proscenium arch.
Theatrelight can supply diffuser gels for a softer beam, or you can simply drop a piece of Rosco 119 Hamburg frost in the colour frame.
The F500 can be set to mimic the thermal inertia of incandescent filaments from 500w to 5kw, and has a number of effects including Fire Flicker and Strobe. Coupled with its surprisingly low cost the F500 is suitable for almost any job from the foyer to the stage.
Talk to Theatrelight or your nearest Theatrelight agent for a demonstration. Check out full F500 LED Fresnel details at www.theatrelight.co.nz