New Wireless Intercom Solution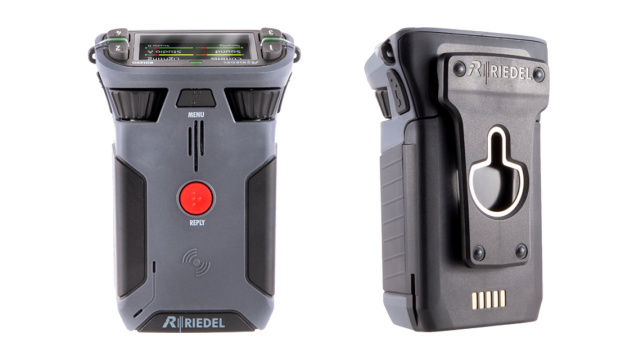 Riedel Communications has launched what it describes as a "game changing" new wireless intercom solution.
Called Bolero, it offers a wide range of features and connectivity that can be applied as a feature rich wireless beltpack, as a wireless keypanel, and — in an industry first — as a walkie-talkie radio.
"When we designed Bolero, we wanted to make life as easy for the use as possible," said Jake Dodson, Director of Product Management at Riedel Communications.
"With existing products in the market, registration of beltpacks can be laborious, requiring a user to go into the menu and apply a pin code so the beltpack can be registered to the antennas. This can easily take two minutes each. Imagine doing that for 25 beltpacks?
"Bolero incorporates Near Field Communication technology. The user needs only to touch the beltpack to the antenna to complete the registration process."
Boleros also support Bluetooth 4.1, allowing either a Bluetooth headset or a Smartphone to be connected.
When a Smartphone is connected, the beltpack can act like a car's "hands free" setup so the user can receive calls on their phone and talk and listen via their headset. Users can also make calls and then connect that person into the intercom matrix, eliminating the need for a telephone hybrid.
The beltpacks have been designed using a combination of premium materials, including high-impact plastics and rubber overmolds, to create a tough device that provides easy use and handling. The display can be inverted so that it is readable in any orientation.
The beltpacks have six buttons for each of the six intercom channels, plus a separate "Reply" button that easily facilitates a reply to the last channel that called. Finally, in an industry first, the beltpack can be used without a headset like a walkie-talkie radio, utilizing an integrated mic and speaker.
Specifications
It operates in an expandable, full-roaming, DECT-based intercom system, in the license-free 1.9GHz frequency range.
Bolero runs over an AES67 IP network. Decentralized antennas connect to an AES67 network then to Artist frames equipped with AES67 client cards, providing a fully integrated point-to-point intercom ecosystem with seamless roaming capabilities.
Bolero features Riedel-exclusive ADR (Advanced DECT Receiver) technology, a diversity receiver technology specifically designed to reduce sensitivity to multipath RF reflections, allowing the system to operate in the most challenging RF environments where other systems often fail.
The Bolero high-clarity voice codec provides both higher speech intelligibility and more efficient use of RF spectrum supporting twice the number of beltpacks per antenna for the same audio bandwidth as other DECT-based systems.
The codec has exceptional latency characteristics while having a low FPGA footprint, providing excellent beltpack battery life and maximising DSP processing power for other functions.
Bolero will be available in Australia in the second half of 2017.