Sound Advice From Outlook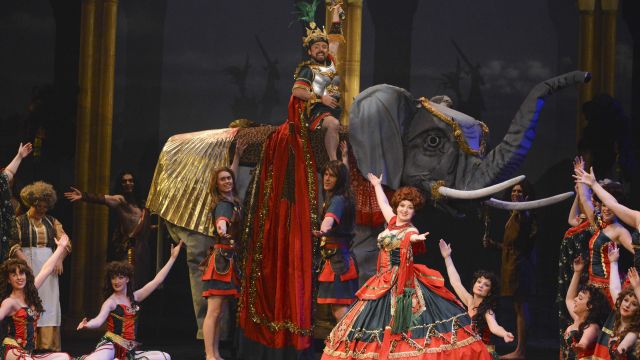 Greg Ginger from Outlook Communications in Melbourne has provided sound production and design for over 800 musicals over the last 20 years. A recent highlight was Ballarat Lyric Theatre's production of The Phantom of the Opera at Her Majesty's Theatre Ballarat in 2014
My highest priority in good sound design for Musical Theatre is for the sound system to be transparent. I do not mean in a physical sense, although a neatly presented system is desirable. I mean irrespective of the style of the show, Rock or Classical, the audience should feel like they are in the room with the performer. The sound should sound like it is coming from the performer, it should be clean and clear (no hiss, hum, buzz distortion, etc.) and the level and focus (or volume and imaging) can be carefully used to take the audience on the emotional journey created by the director.
As a technical hint for those who are looking to do sound for non-professional companies, whatever the show, there are two very important steps.
• You must be very well prepared before the bump in, your sound mixing script must be accurate to what is being said on stage, clear of unnecessary clutter, easy to read in low light conditions and marked up with all the sound specific mic numbers and cues.
• Your Radio mic plot and pack changes should be proofed back to the mixing script in full run rehearsals before you even get to the theatre.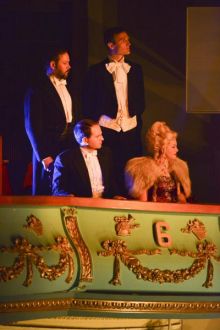 • Create a good working relationship with a sound hire company. This step can provide useful technical advice, special discounted equipment hire rates, and opportunities to explore creative treatments which you would not usually be able to afford. It's worth keeping your options open with equipment; many companies have quality well-maintained equipment which may not be the latest model but can still provide good reliable service at a much cheaper price.
Over the past 20 years we have provided sound design and production services for over 800 musicals and hundreds of one-off events along with equipment hire and sales. We service Melbourne, all of regional Victoria and touring productions around Australia.
Her Majesty's Theatre Ballarat is a historical landmark and The Phantom of the Opera has been a significant technical challenge, not least of which has been for sound.
For this production we used 28 radio microphones, a combination of Sennheiser SK5212 and SK500G3 transmitters with Sennheiser MKE1 & MKE2 microphones. This includes a spare microphone and transmitter on the lead characters.
The mixing console was an Allen & Heath ML5000/52, with a Midas Venice320 as an orchestral submix - a total of 84 input channels.
The complex web of routing, muting, VCA switching and matrix Mixing allowed the Phantoms voice to appear all over the theatre through 16 Zones and a total of 32 speakers.
The Orchestra was located in the pit, which was almost fully enclosed except for the conductor's head. We used a kit of Schopes CMC5Ug/MK4, DPA 4023 and AKG C414 condenser microphones and BSS 133 Active Direct input boxes for the keyboards. The combination of high quality microphone selection and careful placement provided a lush full orchestral sound for the audience to be immersed in.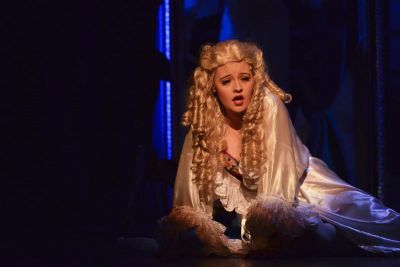 For sound effects, we used Q-Lab with an RME Fire Wire interface giving us 8 channels of sound effects replay, which allowed us to pan and rout effects easily and quickly during a short production period.
Speaker placement, directivity and adjustability is essential. The high frequency coverage of your audience is essential to providing an engaging performance experience. Every seat must be in pattern of the HF driver and if not add another speaker (I have sat in several shows and been totally disconnected without realising why and at interval moved to a vacant seat a few metres across and been mesmerised in the second half of the same show. This was all because the vocals had no clarity). Just as critical is to keep the HF off the walls and other hard surfaces where the audience's ears are not. This creates reflections which in some cases can be as loud as the original source and make your vocals unintelligible.
Speaker Time alignment is critical; when using multiple speaker positions in a distributed speaker system, a system delay must be used. This is the best tool for imaging, the use of delay will minimise hearing the same source multiple times from every different speaker and correct some of the phase anomalies created by positions in space and time.
Greg Ginger – Sound Designer Ballarat Lyric Theatre Company and Managing Director – Outlook Communications Pty. Ltd.
Images of Ballarat Lyric Theatre's production of The Phantom of the Opera by Ian Wilson Photography
Originally published in the March / April 2014 edition of Stage Whispers