The Wonder of Gobos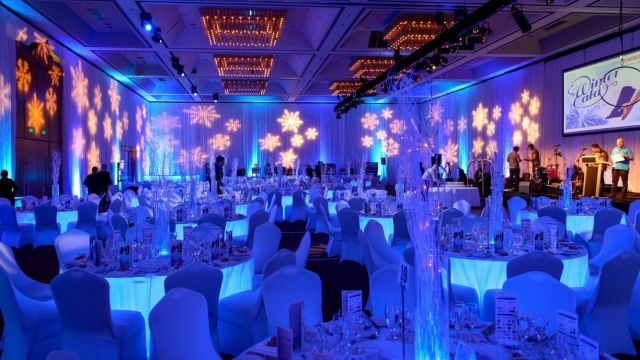 Patterns and images called gobos are often used to create dappled lighting onto film sets, theatre stages or used as mood lighting in otherwise boring halls and venues used for events and functions.
The gobo patterns can be selected from thousands of standard images, with foliage or leaf breakups amongst many of the designs to choose from, or you can design your own if you prefer.
The standard images are cheap gobo stencils that do the job well and can last indefinitely in modern profile spots, as long as they are treated with care.
The end result is up to the creativity of the user, who can colour the beams with cheap coloured gels to achieve great effects. See the custom image designed by Phil Lethlean to set a theatrical mood in a Melbourne laneway using a steel stencil.
Half Price Profiles
To project these patterns and images you need a light fixture that can focus on the inserted gobo; such a light is referred to as a profile. A profile can have a fixed lens system or it will be a zoom profile that can enlarge or reduce the size of the beam. They should also have shutters to be able to cut off the image where light spill is not desired.
A profile is used to create the sharp circular beam of light that highlights a lectern or a speaker. By simply removing the gobo you have a light that can shape its beam via the lenses or by utilising the shutters, to have the light only where it is desired.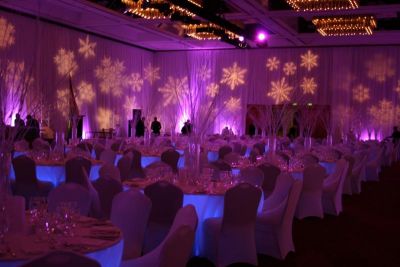 Ten years ago most profiles used high power filament globes and were connected to the dimmer rack in a venue. Many are still in use but more LED fixtures are coming into all types of venues. They don't require lots of power and don't emit a lot of heat, so not only are they safer to use but they save both the gobos and the electricity bills.
Gobotech is Australia's premier gobo manufacturer and can cater for any design you can imagine.
For a limited time they are offering an Italian made 80W LED Zoom Profile with built in dimmer and DMX for $788+GST (that's half price).
Included is your choice of a stock steel gobo from their extensive catalogue.
Breakup gobo photos courtesy of Staging Dimensions.