Chester the suitcase with his own baggage
Suitcases conjure up so much symbolism - travel, escape, journey. Brisbane-based independent Minola Theatre is a collaboration between Kat Dekker and Bianca Butler Reynolds, branded after their famous namesakes, Shakespeare's Minola sisters in Taming of the Shrew. Bianca tells Beth Keehn all about Chester, their beloved red suitcase and star of all their major productions to date.
"Chester is kind of a third party in Minola Theatre. In 2019 we were preparing for two productions, Highway of Lost Hearts by Mary Anne Butler, and my own one-woman show, Begotten. Both plays required a central suitcase prop. We set about casting a standout piece of luggage that would be versatile enough to suit both parts.
"We found Chester at the Camp Hill Antiques Centre. He was a bit bland and brown and in need of surgery, but we fixed him up, painted him red and, with transformed confidence, he was ready for a life on the stage! He's already starred in four Minola Theatre productions. And when he's not on stage, he's usually multi-tasking as our props storage, or acting as a bookcase at Kat's flat.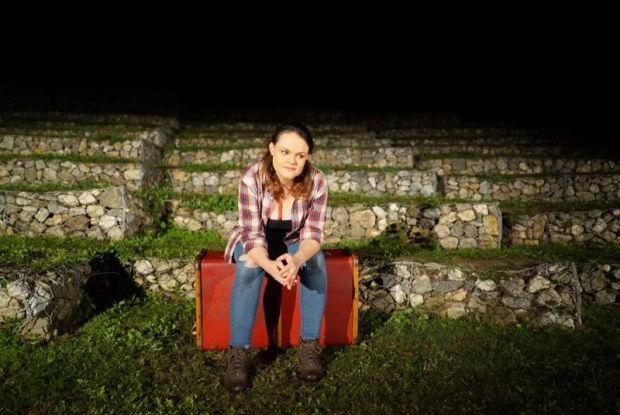 "We love Chester because he is larger than life, certainly bigger than today's average-sized suitcases, and he's quite sturdy as a supporting player. He has solid wood and steel reinforcements which make him more stable than most suitcases. He can carry weight - we can sit on him; we can stand on him – he's always reliable.
"Because he was an old suitcase, we have had to perform surgery on him a few times. His latches sometimes give out and his lid gets a bit squeaky, so he's definitely had some remodelling in the last two years.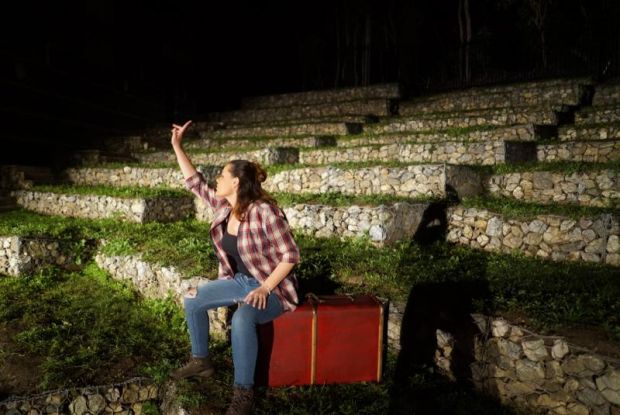 "As well as Highway of Lost Hearts and Begotten, Chester starred in our evening of three one-act plays, Love Triangle, including Half an Hour by JM Barrie. Chester was outstanding as an item of luggage belonging to one of the characters.
"When we were planning Begotten as a live show (after performing it as a radio play during lockdown), we used a big pile of clothes as a set piece, which we were going to store in a laundry hamper, but when we started blocking we realised that the laundry hamper just wasn't as versatile.
"Chester has so much more to offer our group and I'm sure he will return for other roles in the future."