CLOC's Strictly Ballroom Frocks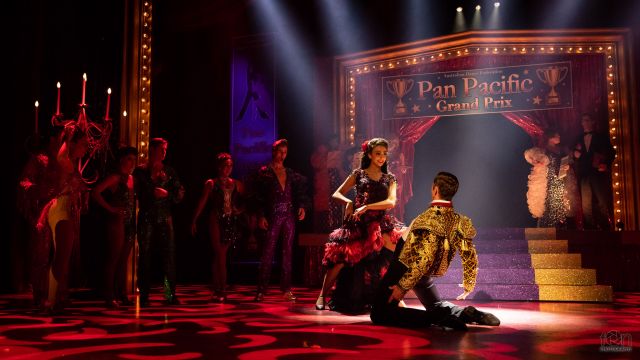 When CLOC Musical Theatre decided to stage one of the first Australian non-professional productions of Strictly Ballroom the Musical, they knew they had a monumental task ahead, in terms of producing the countless bedazzled, bejewelled and bedecked costumes that the show required.
No problem – Vicky Horne, CLOC's resident costume designer and lover of all things sequinned and sparkly, was up to the challenge.
Vicky and her trusty CLOC sewing team were eager to flex their inner glitz in a show where no amount of sparkle was too much. And boy, did they let loose. For six months, 20 hardworking, talented and artistic sewers and milliners beavered away amidst metres of tuille, frills, pleats, feathers, beads, diamantes and crystals to produce over 200 costumes.
Each costume was individually designed, crafted and made to fit a cast of 34, including eight ballroom couples, who were colour co‑ordinated, both to each other and the colours of the sets on which they were dancing.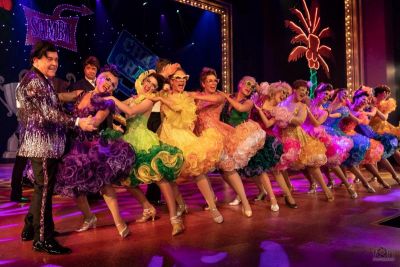 No two costumes were the same, and the male costumes had as much attention and detail as the females. Even the headpieces were individually designed and made to match the appropriate costume.
Some mind-boggling statistics – each ballgown contained 20 metres of feathers, 20 metres of pleating and 50 metres of petticoats.
The iconic Spanish costumes worn by the two leads were totally handmade and hand beaded, using literally thousands of crystals. Scott's famous Spanish bolero jacket was covered with so many beads and crystals (all individually applied by hand) that it was a feat of strength and muscle just to lift. Each costume had up to five people working on it at different stages to produce the finished result, plus the team of milliners to add the final touch.
And at the end, was it all worth it? With a proud and satisfied smile, Vicky says it was the very best work she and her team have produced. And going by the ecstatic audience reactions to the visual splendour and wonderment before them, the CLOC costume team nailed it.