Curtains for Shakespeare in Love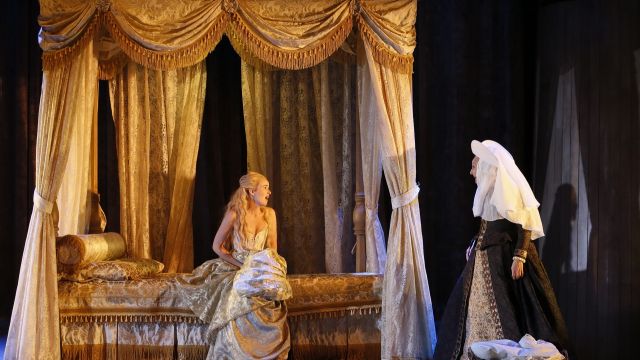 When the Melbourne Theatre Company needed lavish looking drapery for its blockbuster production of Shakespeare in Love in 2019, a local specialist company was on hand to assist with the design and creation.
Theatre Star Pty Ltd has a specially fitted out factory in Melbourne, with a large squeaky clean floor-space, huge cutting tables and a motorised bar for test hanging drapes.
The owner Rod Paton says whilst Gabriela Tylesova designed the lavish look for the MTC play, it was up to his company to work out how to create some of the more challenging aspects.
He says the components of the drapery in Shakespeare in Love included "big stylised pleats on the OP side, three enormous swagging velvet curtains above, a whole range of cut canvass cloths with scenic artworks to create depth, a huge scenic painted cloth at the rear, and various other gauzes and panels."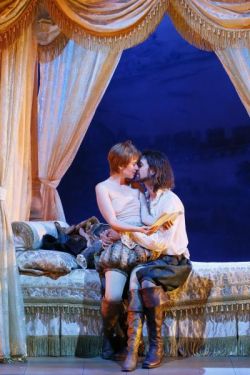 Rod says drapes play an important role in many shows and often add to the illusions used in theatre.
"Layer after layer of various speciality cloths are often used for various purposes such as filtering, reflecting or blocking light, adding depth, concealing and revealing scene changes, not to mention painted backdrops, projection surfaces and fancy front drapes."
Rod says his team of professionals have many years of experience.
"We manufacture for theatre productions, events, films, television studios, schools, universities, churches and festivals and have worked on countless productions all around Australia".
For those without the budget of the Melbourne Theatre Company, he has other solutions.
To assist with school and amateur productions, Theatre Star have recently introduced a new drape support product known as the Instaframe.
The Instaframes are a lightweight and portable drape or backdrop support which fold out for use and pack away for storage. The frames can support digitally printed backdrops as well as black masking curtains.
Rod says "not only are they portable, light weight, safe and budget friendly, but they are re-usable for years after."
For details about Theatre Star's DRAMA DEAL packages, which include Instaframes, digitally printed backdrops and black masking curtains, visit www.theatrestar.com.au/dramadeals or call (03) 8761 6927.
Production photos of the Melbourne Theatre Company's Shakespeare in Love by Jeff Busby.