Dressing Bangarra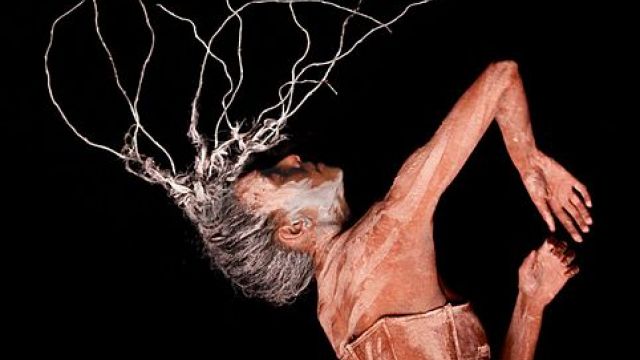 In Bangarra Dance Theatre's latest work, Terrain, choreographer Frances Ringsexplores the wonder and spiritual resonance of Kati Thanda (Lake Eyre), the place of Australia's inland sea: one of the few untouched natural waterways in the world. Costume designer Jennifer Irwin speaks to Neil Litchfield about designing for Terrain, and for 20 years with Stephen Page and Bangarra.
I began by asking Jennifer about the challenge of balancing practical demands with aesthetic in designing dance costuming.
"I've worked in dance since 1980, with Sydney Dance Company for 16 years, and then with Bangarra. I guess this one is different because it's in a white box and it's about Lake Eyre. Of course you can draw from all the beautiful images and the changing landscape of Lake Eyre.
"The way Fran has structured it, it's cut up into seven sections. It starts with the conflict of the city versus Lake Eyre, and the human element, then it moves into the people of the land, and becomes more abstract.
"I guess in my design there's always going to be the practical issue of Fran's choreography because the dancers intertwine all over each other, so it becomes what you can do, as opposed to what you can't do.
"It becomes really hard to costume people without having to obscure their movement so that they can't dance.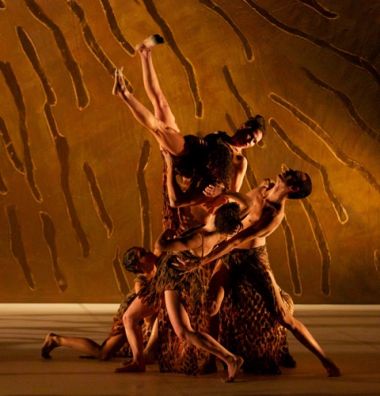 "I always design so that the ochre kind of adds into the costumes. I kind of design for destruction in many ways, because with their costumes they just become destroyed – but saying that, with Terrain it's really good because it's landscape. There's a salt section and there's a land section, so the more ochre that they add onto the fabrics, the better for me, because I like to see it transformed, and get a little bit older and crustier. It's a white set, and you can actually see the detail, which is fantastic for me because you can add more detail and let the ochre take hold.
"It's so different to designing for Sydney Dance Company, for instance, or the Australian Ballet, because you can add that the extra layer – the costume almost becomes the floor as well. With all the ochre it takes on another dimension.
"There's a spinifex section where I've done all these laser cut skirts so that you can see through their legs – and the photo they've been using for their publicity where they've all got big twigs in their hair – they're women of the land.
"I go for abstract images that can read from a distance"
After working with the company for 20 years, you must have an almost organic or shorthand way of working with the choreographers.
"They trust you, and that's what is wonderful. In a dance company you do need to trust each other. Because I know Fran and Stephen's work so well, they let me go off and create, and it's fabulous. I don't have any limitations with them. And dancers are so fabulous that they'll wear most things, unless it hinders them. Compared to drama, they don't need a character – it's all in the movement and what they're delivering. I design costumes that don't obstruct them, and I know their movement, it's very much knee-based and floor-based, as opposed to the Australian Ballet, which is very much 'up there'.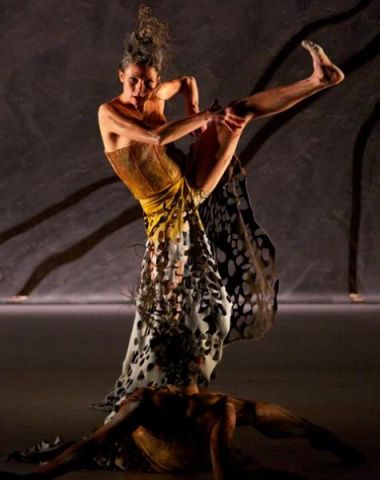 "Of course we all sit around at the beginning and say, what about this sort of look. Also, doing costumes for a set, I always look at the set first and see what can fit inside it. You want it to be cohesive – you don't want to go off on your own tangent.
"I try to re-invent the fabrics that we use. In this one I've certainly been far more sculptural than any other shows. We did Infinity with the Australian Ballet at the beginning of the year, which went to New York, and we added quite a bit of sculptural element into the costumes, so that they actually used the sculptural pieces. We've kind of gone down that track again with this, trying to add another sculptural element that cannot be just normal fabric. So there's a salt section that's got bits and pieces in it. They can pick up the light and become a little bit more of the terrain rather than human element.
"When I go looking for fabrics, I try to think of what I can do with the fabric, rather than be specific in a design and then go out and find something.
"So it's looking at new materials like plastics or, in one section, the water section, I've used a new way of pleating, which has texture to it, but also has stretch.
"So it's looking at new ways of picking up the light, that reads from a distance, and looks more interesting than just the average fabric."
Do you have to adapt costumes based on what happens in rehearsal?
"Not often, but you work right up to the end, while they're doing the steps, because there's no point in designing well ahead, then discovering they can't have lots of strapping there, or they can't use skirts, or it has to be really minimal. Dance is very different to drama because you can kind of read a script, but with dance, you really need to know what they're doing as the steps evolve. Every week you look at what they've done the week before, so you're working with them. With the Australian Ballet you have to design way in advance, but you've got to know your choreographer's movements and dance vocabulary.
"I've been designing for dance for 30 years, so it's kind of second nature to me really.
And it's got to be stretch, washable, and all those things, but fabrics have changed over the years – to our benefit."
Bangarra Dance Theatre is Australia's premier national Indigenous performing arts company. Under the brilliant and inspirational artistic direction of Stephen Page, Bangarra has strived to maintain the cultural integrity and spirit of Aboriginal and Torres Strait Islander tradition, combining it with contemporary expressions of stories, dance and music to create unique theatrical experiences, and to deliver these experiences to audiences across Australia and around the world.
Photographer: Greg Barnett
TERRAIN
Artistic Director: Stephen Page
Choreographer: Frances Rings
Music Composer: David Page
Set Designer: Jacob Nash
Costume Designer: Jennifer Irwin
Lighting Designer: Karen Norris
Seasons
Drama Theatre, Sydney Opera House- 18 July – 18 August 2012
IPAC, Wollongong, 24 – 25 August
Adelaide Festival Centre, 29 August – 1 September
Canberra Theatre Centre, 13 – 15 September
QPAC, Brisbane, 3 – 7 October