Making Your Own Costume Shine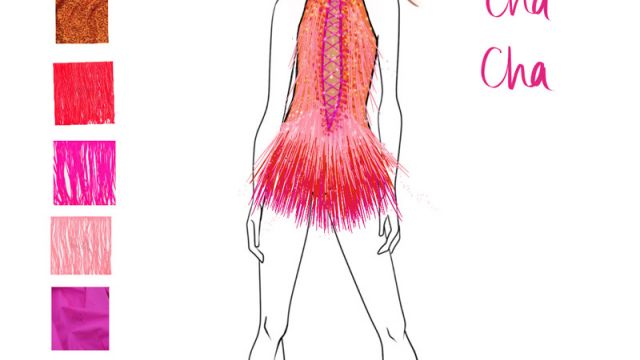 Tanya Szulc from Shine Trimmings & Fabrics says making your own costumes should not seem like a daunting task.
Taking an initial design through to a successful costume might feel like a difficult journey, however if you follow our guidelines, you will increase your chances of success immensely.
Initial Design
Research your theme and costume requirements thoroughly. Make sure your design will also match the music if required. Pinterest has some fabulous ideas, as does the Shine Instagram account. Discover what are the important design elements that your costume will need to portray the look, feel and/or era that you are looking to capture.
A costume may need to have a high shine/sparkle element, ensuring it looks effective under stage lights, or perhaps it needs to portray movement with draping/flowing fabric or trims, or capture the feel of an era gone by. Determining these factors and incorporating them into your design is a crucial step in developing your fabulous costume. Shine have excellent design templates you can download from our website.
Create a concept sketch of your costume. Include as many notations as you can into your concept sketch to help guide you through the construction process. These notations will ensure your overarching costume concept is not lost in creation. The colours, fabrics, trimmings and embellishments you intend to select for your costume should also be noted in your design.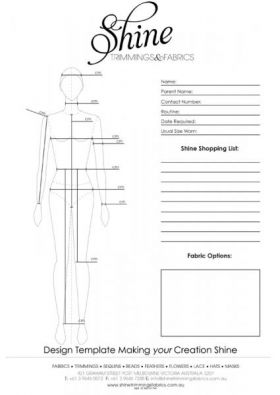 Measurements
An extensive list of measurements should be obtained from the intended recipient of the costume. Accurate measurements provide you with the information you need to calculate the lengths of fabric you require and also allow you determine the cost of your creation.
Ensuring a costume fits its recipient well is crucial. Again the Shine template you downloaded from our site is perfect for this step and provides you with a document that you can continually refer back to throughout the entire construction process.
Choosing your fabrics and trimmings
Take the time to thoroughly search for quality fabrics, trimmings and embellishments that will best achieve the design you have worked hard to develop. Obtaining samples will ensure that the fabrics and trimmings you have chosen for your costume are true to colour, have the necessary look/texture/feel/stretch required for your creation and are complementary to one another.
Once you have confirmed your choices it's time to order/purchase your selected fabrics, trimmings and embellishments. Shine Trimmings & Fabrics stock over 12,000 products which can be viewed on our website or in our Port Melbourne retail store. We ship direct to your doorstep worldwide.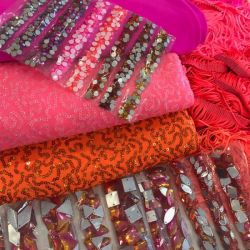 Construction
A dressmaker's mannequin is an ideal tool at this stage, however if you do not have access to one, the next best option is a dressmakers bodyboard. A bodyboard is a flat, stiff template which you can stretch your costume on, ensuring your costume will look great and will also fit the natural curves and shapes of a body. These are perfect when you commence beading & decorating the costume.
Plan how you are going to construct your costume before beginning construction. Ensuring you know which step you need to do before another will save you time and mistakes. If you're ever unsure how to proceed simply seek advice from an experienced costume maker/designer or Shine Trimmings & Fabrics. The team at Shine are highly qualified in costume making, fashion design or dance, and are always happy to help.
Looking forward to making your creation Shine.