MEET THE MAN IN COSTUME HEAVEN.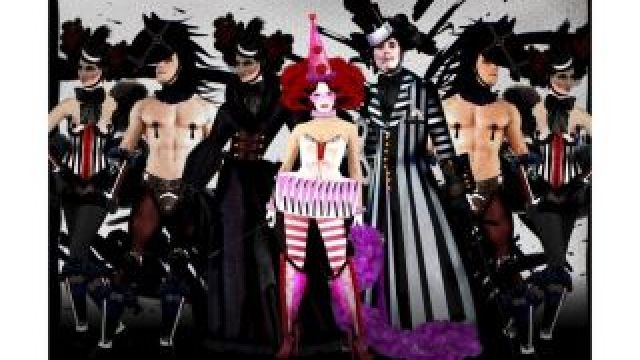 Imagine being able to design fabulous costumes 365 days a year! Matthew Aberline is the man. For the last three years he has been the chief costume designer for the Sydney Gay and Lesbian Mardi Gras. As if having a cast of thousands of extroverts, an audience in the hundreds of thousands and rivers of every shiny, sequiny thing imaginable isn't enough … Matthew has set up a website and each and every day he uses new digital technology to design a new costume for the world to see.
Stage Whispers spent a day with Matthew.
SW - So what's first?
MA - My morning ritual is to create a costume based illustration for my Daily Dose project, where I blog an illustration every day for a year. I've got a month to go before the year is up. Basically I drink a lot of coffee and take it from there. Recurring themes have been circus dwarves, incredibly obese people, and wayward Geisha. I've had a couple of thousand people look at the blog since I started, which is cool, and I'm so hot right now in Uzbekistan. Originally it was supposed to be a cool educational thing that students could look at and get excited about working digitally, but some of my concepts are quite … er … racy.
SW - Why use a computer to design a costume?
MA - I originally started exploring these ideas because I hated the way we were taught to illustrate at fashion school - the whole orange textas for skin colour thing. I started working on the project in a serious way at the Australian Film, Television and Radio School, where we created a very basic working version of the idea.
Basically, it works like an old-fashioned paper doll kit, except now its digital and there are thousands and thousands of choices. When you team it with Photoshop or other image manipulation programs, the options are virtually limitless. It means that now designers have the choice to illustrating in a metaphoric way, ie charcoal on parchment depicting satin blowing in the wind, or in a photographically literal way, ie: actual images of satin blowing in the wind manipulated in an illustrative manner. We're moving into a free development period that anyone can be a part of at: <http://www.ibufactory.com>
What it revealed is that people tend to freak out a bit when you talk about illustrating digitally. Often people think it's the end of working by hand. I think its just another tool for communication that you use when it's appropriate. I still do a huge amount of images by hand, but everything is finished digitally - it gives me so much more flexibility.
SW - We travel to the Mardi Gras costume studio in Petersham, which is bursting with shiny things. There we put the hard word on Matt. What is his favourite costume that he's made for Mardi Gras?
MA - We created a great Marie Antoinette costume for Cyndi Lauper to wear during a performance during the 30th Anniversary of Mardi Gras. This costume is very special to me because of my first fitting with Ms Lauper. We have a three-step design process for stars like her. Basically, it's a big yellow dress so we sent her reference materials of big yellow dresses, then a design of the big yellow dress, and lastly photos of the yellow dress being made. But something went wrong and on the first fitting, even before I had taken the costume out of the bag, she turns to me and says "this better not be f#@king yellow … "
SW - Did she wear it?
MA - Luckily it grew on her. The dress itself is bright yellow vinyl, and exposes the diamanté panniers and satin bloomers underneath. See wore it for her "Girls Just Wanna Have Fun" number. We lined the underskirt with metres and metres of white netting ruffles which we also glued sequins onto. Her fellow cast members were palace girls wearing the most scandalously tight candy pink vinyl corsets with mini bustles made from an explosion of netting ruffles, and drag queens dressed as Pompadours with pink hair towering three feet high.
One of the reasons why we did everything in vinyl was the show included a food fight and we wanted to be able to wipe it all clean afterwards!
SW - Late afternoon, we travel to Penrith for rehearsals of Lotte's Gift, the new David Williamson play.
MA - The production is traveling around Australia then touring overseas including the Edinburgh Festival. The star of the show, Karin Schaupp, is an internationally renowned classical guitarist and we needed to create a look that met her technical needs, but also supported the story as it shifted from pre WW2 Germany, to 1980s Brisbane. The look we created is actually really pretty. It ties together elements from a range of fashion periods into one contemporary, elegant look.
SW - Lastly, we travel back home to Bondi to download images and update the website.
MA - It's really important that all my web stuff is dynamic and constantly evolving. I like the idea that instead of just a portfolio, visitors can visit my design diary and see what we're building in the workshop, and informal photos of costume fittings, case studies of previous projects like my design secondment on Rio's Carnivale, and fun entertaining stuff like my Daily Dose project. It can all be found at www.matthewaberline.com
Stage Whispers, would you like a glass of wine now that the day is done?
SW - That would be lovely, thank you Matt.