Opera Goes Digital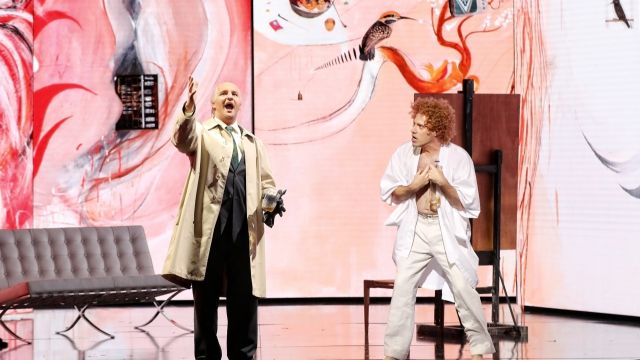 Opera Australia has recently invested in some stunning digital sets, with the risk having so far paid rich dividends for both the company and the patrons. Peter Novakovich reports.
Fourteen massive LED screens silently and smoothly float around the stage displaying backdrops, both static and moving. In some scenes the cast interact with the moving pictures.
Lyrics and birds take flight, trains pull into stations from which our cast alight, works of art fly onto the stage to overcome their artist in what looks like a colourful trippy launch into hyperspace. The screens could almost be given their own acting credit. Opera is no longer just a feast for the ears; the eyes now have it.
Opera Australia's Artistic Director Lyndon Terracini spearheaded this innovation. What motivated him to go down this path?
"Really just thinking about what the world is now and how we as an opera company can communicate with an audience in the 21st century. While it's highly important to have the best singers you can possibly get, after all Joan Sutherland said, 'Opera is about voice, voice, and more voice', nevertheless we live now in a society that's motivated visually, in fact driven visually," he said.
"So it's important for me as artistic director to think about what we can do to ensure a 21st century audience has the same excitement, thrills, and joy at seeing an opera as those of us who've been seeing opera (since) the days of fax machines."
Some inspiration came closer to home.
"Looking around and seeing my daughters, and younger people, their whole life is centered around a screen. If you go to a rock concert now, you look at the technology. It's pretty exciting, audiences are responding, and I think we've got a lot more to offer."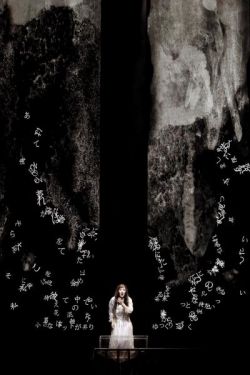 It wasn't a direct leap into LED.
"Originally, I started looking at projections, but then I realised that, firstly, there's nothing new about it and, secondly, the quality of the resolution wasn't really good enough. Then I investigated LED technology and I found, in fact I was stunned, that the quality of the technology had advanced and the resolution is extraordinary."
One word that cropped up a lot in our interview was the word "enhance". Terracini wanted to assemble people who could "use the technology, rather than the technology use them."
I think he succeeded.
It's tempting to be so in awe of the latest tech that we can let it overshadow all else, and have patrons focus on the scenery rather than the cast.
I've seen some non OA productions experimenting with new tech, yet while the visuals looked stunning, the show was ruined. It can create all the wrong expectations. When I told a friend that I saw the new-tech Madama Butterfly, he quipped about whether Pikachu and Pacman had played the leads (admittedly, with some modern interpretations I would not be surprised). We're in safe hands here. Terracini regularly states that the new tech is there to enhance what the cast are doing. Having seen OA's digital versions of Madama Butterfly and Whiteley, I can verify that claim.
And the results are impressive. Terracini said the new tech has yielded a massive 85% approval rating based on audience response and after showing the new tech in Aida, Opera Australia started seeing younger people coming.
Terracini is quick to point out that this does not mean the end of the traditional old-fashioned flown-in backdrop, or "analogue sets" as they're now called. Productions like Moshinsky's take on La Traviata and Graeme Murphy's Turandot are productions Opera Australia "is not going to get rid of. They're wonderful creations."
Ever conscious of budget, OA is wisely renting the screens. This allows for updated tech and call-out servicing, while OA can also hire year-old screens that do the same job at half the price of new ones.
"We currently have three productions this season using that technology (Anna Bolena, Madama Butterfly and Whiteley) and in each one audiences can see the range, to see what's possible, and get a feeling that every show is not going to look the same. They're not just flat panels."
Of course, having the dream is one thing. Realising it is another. That's where Production Manager James Wheeler comes into the picture (pun intended).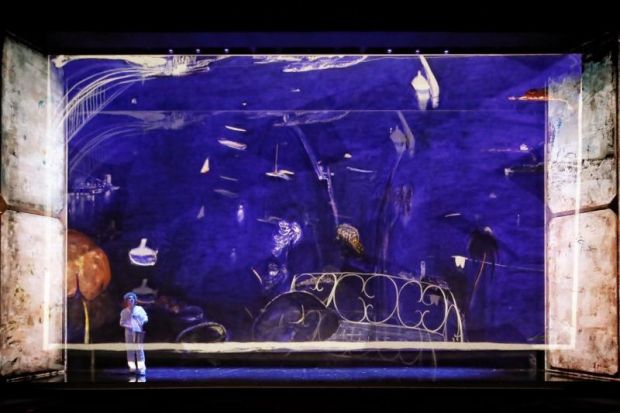 Wheeler's role is to make sure all the parts – both human and otherwise - are assembled and working in harmony, although he's quick to point out he's not the only one who has to ensure the ship sails smoothly. The Technical Director and Scenic Production Manager also play their part.
This was not without its challenges.
"The idea of the new digital technology meant we had to make a new space to allow that to happen," said Wheeler. "That meant having to commission and design a new double revolve, and making those screens fly and rotate as well using a new tracking system for content (the on-screen display) and lighting."
There is one challenge that is not new: time itself.
Wheeler continues, "Any production with automation or auto-flying means you need time to plot it and put the data into the system before you get the cast on stage."
It's labour intensive and the crew need to find time to do it, while ensuring other productions are running smoothly. "And then you need time to test it, at least once."
The challenge is compounded depending on how many cues are added. Back in the good ol' days the only things moving around on stage were the cast, and often the lighting cues were static for each act.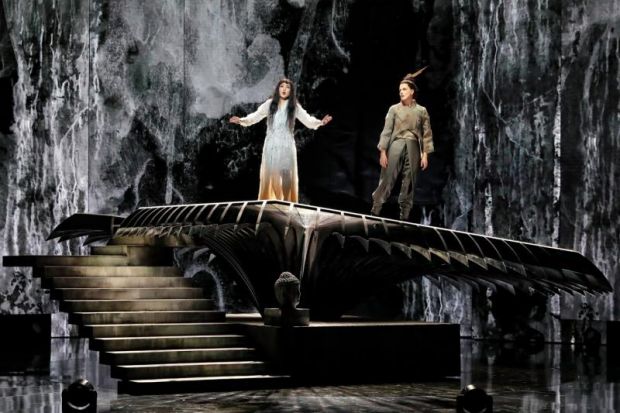 Wheeler notes that, by comparison, Whiteley had "about 39 separate automation sequences in it, as well as an equal number of fly cues" that had to be programmed and tracked.
What helped was that the Sydney Opera House recently updated their fly system, including the flybars. Wheeler says the update allowed OA to easily marry their new tracking system to the house's fly system.
As with Terracini, the word that keeps popping up is "enhance" and it is joined with "collaborate". I hear Wheeler's voice fill with pride when he speaks about the operators who make the tech happen at each performance, and the many staff (both tech and otherwise) who worked at getting the tech up and running in the first place.
Wheeler, also, does not rule out analogue sets. "Totally. We see the digital world as another way of presenting opera."
The other good news is that this tech can travel. Wheeler says these productions are being taken to other cities, so don't worry if you couldn't get to Sydney to see what the fuss is all about.
The use of the new tech has led to exciting times, not only for Opera Australia but for how these productions will impact theatre everywhere. We used to rely on Europe and the US to lead and innovate, but now it seems Opera Australia is the front runner.
The last word on this new tech goes to Terracini, who teases us thus, "We're working very hard on The Ring at the moment, and what people will see in The Ring will be a monumental leap forward again."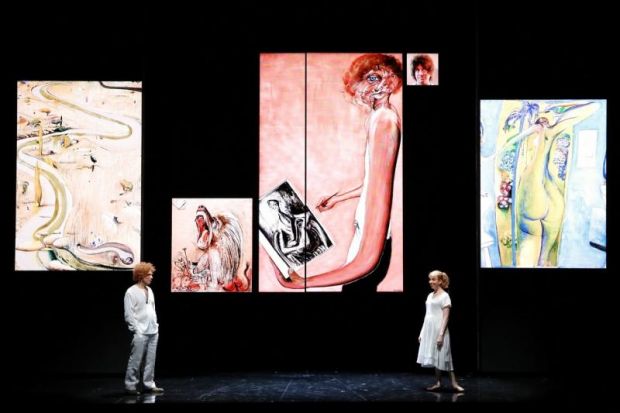 Images (from top): Bradley Cooper as Frank Lloyd and Leigh Melrose as Brett Whiteley in Opera Australia's 2019 production of Whiteley; Karah Son as Cio-Cio-San in Opera Australia's 2019 production of Madama Butterfly; Leigh Melrose as Brett Whiteley in Opera Australia's 2019 production of Whiteley; Karah Son as Cio-Cio-San and Sian Sharp as Suzuki in Opera Australia's 2019 production of Madama Butterfly; and Leigh Melrose as Brett Whiteley and Kate Amos as Older Arkie Whiteley in Opera Australia's 2019 production of Whiteley. Photo credit: Prudence Upton.