Scenic Studios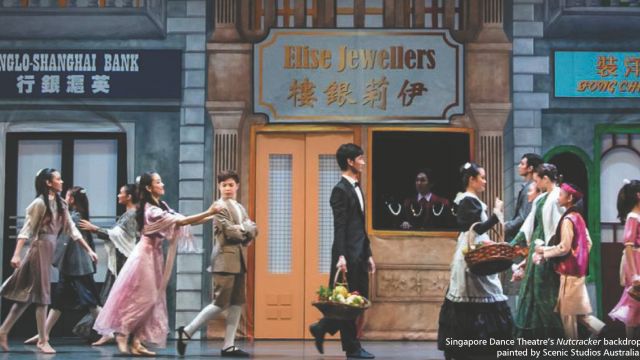 Scenic Studios was born from the JC Williamsons Theatres company and is proud to hold a collection of 10 historical scene books from the period when 'The Firm' dominated Australian and New Zealand theatre. The collection comprises thousands of images of JCW sets, backdrops and scenic details stretching back to the end of the nineteenth century. Recently Scenic Studios has been approached to include them in an upcoming nomination for the Australian Memory of the World register by UNESCO.
Scenic Studios specialises in theatrical painting of scenic backdrops and theatre scenery. It offers the highest level of craftsmanship in all fields of scenic art, passed on from scenic artists over generations. The company also manufactures scenic paints and hires scenic backdrops and drapes for school, community theatre, film and TV productions.

In the scenic hire range there are over 200 hire backdrops, which are professionally painted in their studios. The backdrops give depth to the scene and allow for lighting tricks, creating the atmosphere desired for a performance.
The company has standardised the size (12m wide x 6m drop), fitting most theatres and school auditoriums. So many different themes are available from traditional productions such as Beauty and the Beast, Nutcracker and Aladdin to ballrooms, forests & skies. All can be found on the website www.scenicstudios.com.au - under backdrop hire.
The company also has sequin drapes, slash curtains, lame curtains and crush velvet drapes to give your theatre production that something extra.
The company's Scenic Paints are designed to paint theatre backdrops and scenery. Over the Covid-19 lockdown Scenic Studios has created a new website for their paint products www.scenicpaints.com.au.
If you are painting a backdrop or scenery give the company a call. Paints are shipped Australia wide.
Follow Scenic Studios on Instagram #scenicstudios_australia.