Cen Fox Signs with DSP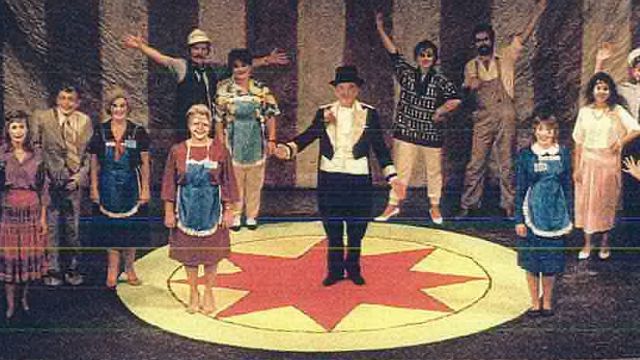 For decades Melbourne writer and composer Cen Fox has been writing popular youth musicals and comedies.
Now he's putting his feet up to allow up David Spicer Productions to licence his best selling productions.
Suburban Circus (pictured top) had its world premiere with the Nova Theatre Company in the mid 1980's and remains popular. It has 16 skits about suburban life. The garbos juggle your garbage. The school-crossing supervisor is on the high-wire. The parking cops are the clowns. The paperboys/girls are trick cyclists.
Scrubbers is a musical about five cleaning women who find happiness when they join a chorus line. Cen Fox will direct a production himself at Melbourne's STAG Theatre in May / June.
Cen's most popular musical Germs is set inside a human body. It's a medical musical which pitches Germs against a human. Over the years it's been staged in more than a dozen countries.
Perfect for Theatre Restaurant, This is Your Captain Speaking is part comedy, panto, musical, movie and circus. The audience moves around the simple set from the busy terminal through customs and onto the plane.
Other Cen Fox plays on the DSP books are
Murder mystery Remain Seated, with a twist which will appeal to all people involved in theatre.
Fogies, a musical comedy set in a retirement home.
And especially for primary schools, Rat Race, is set in a rubbish dump, and Fairytales, written before Into the Woods. Is Cen Fox's take on fairy tale characters trying living in someone else's fairy tale.
Read Scripts and listen to music at http://www.davidspicer.com.au/author/cen-fox