MAN OF STEEL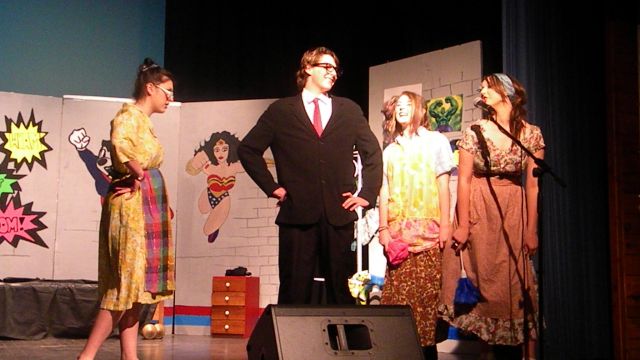 2013 marks 35 years since the publication and first performance of what is Australia's most performed school musical, Man Of Steel. Teachers who once performed in the musical that sends up the myth of Superman now direct it with their own students. Editor at Maverick Musicals Gail Denver reflects on its success with her brother, Simon, who wrote the musical in the 1970s.
Gail: You were only 18 when you wrote the script for Man Of Steel - what prompted you (and composer Ian Dorricott) to write a comedy musical?
Simon: I belonged to a youth group called "The Middle Stagers" at La Boite Theatre in Brisbane. We were all bursting with energy and more importantly we were all brought up on a strict diet of Monty Python, The Goodies, Norman Gunston and Aunty Jack. We wanted to do a musical – but the only one we all liked was Rocky Horror Show. The rights were not available, so the logical conclusion was to write our own.
Gail: What made you choose the super hero theme?
Simon: Now that was all Ian Dorricott's idea! He first talked to me about writing a serious musical on Superman. He very quickly discovered the high camp of the Batman TV show was where I held all superheroes. All I could see was "Bam", "Kersplat" etc. There were to be no grey areas – the goodies were good and the baddies were bad. No subtext, no hero's journey, and definitely no super powers caused by any form of radioactive slime.
Gail: Being so young, were you prepared for what happened next? Did its immediate popularity take you by surprise?
Simon: No! It came so out of left field. We performed it at La Boite and had a hoot and a half doing it. A couple of schools in Brisbane then did it. I was 19 by then, and having two schools in Brisbane do your musical was indeed a lofty perch. Other schools saw the first two schools and from then on a contagious infusion took over. I think what was really driving it was that the students loved it.
Gail: Why do you think that it is still popular with schools after 36 years?
Simon: I suppose that time has a strange sense of humour. What was once cutting edge quickly becomes the norm. But as a norm, Man of Steel still retains an almost innocent charm. It's as far away from the modern superhero movies as you can get. I think that even now it makes a quick and simple contract with the audience, that being – this is very silly, so you might as well enjoy it. I saw it last year for the first time in almost 20 years. A school in Noosa did it. It quite amazed me just how fresh it still seems.
Gail: What's it like being the founder writer of Maverick Musicals, that has been very successful marketing all of your musicals to schools around the world?
Simon: It's the part of my life that is constant. My relationship with Maverick has lasted longer than my marriage and is older than my children.
Production image from Hervey Bay High School, Queensland.