Music and New Musicals News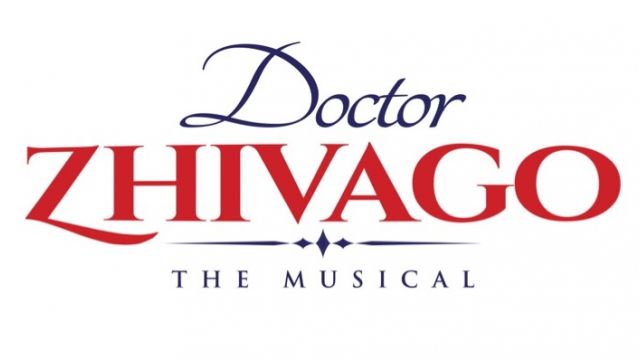 Music Theatre International New Releases
Doctor Zhivago
Available for licensing for musical societies.
First staged in Australia, based on the Nobel Prize-winning novel by Boris Pasternak, Doctor Zhivagois a heartbreaking epic romance, following the search for love during the Russian Revolution. Written by Academy Award nominee Michael Weller, Doctor Zhivago features music by two-time Grammy Award winner and Tony Award nominee Lucy Simon, and lyrics by Tony Award nominee Michael Korie and Emmy Award nominee Amy Powers.
For more information: www.mtishows.com.au/doctor-zhivago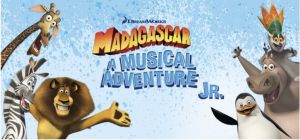 Madagascar: A Musical Adventure Jr
Now available for licensing.
Based on the smash DreamWorks animated motion picture, Madagascar: A Musical Adventure JRfollows all of your favourite crack-a-lackin' friends as they escape from their home in New York's Central Park Zoo and find themselves on an unexpected journey to the madcap world of King Julien's Madagascar.
For more information: www.mtishows.com.au/news/free-online-perusal-madagascar-a-musical-adventure-jr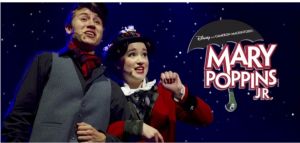 Practically Perfect! Mary Poppins Jr
Now available for school licensing*
*Restrictions may apply.
Your favourite practically perfect nanny takes centre stage in this Supercalifragilisticexpialidocious adventure based on the award-winning Broadway musical and classic Walt Disney film.
https://www.mtishows.com/disney-and-cameron-mackintoshs-mary-poppins-jr
ORiGiN Theatrical New Releases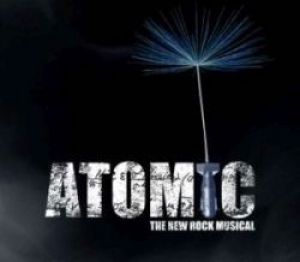 ATOMIC The New Rock Musical
ORiGiN Theatrical has announced representation of ATOMIC The New Rock Musical. Book and Lyrics by Danny Ginges, Music and Lyrics by Philip Foxman, Created by Danny Ginges.
Synopsis:Most people know about the atom bombs that ended WWII. However, the story of the scientists that created those bombs is a gripping tale of hope and fear that still remains largely untold. Staged in Sydney, New York and regional US.
"Compulsively watchable... blows the roof off the theatre" - Theatremania (New York 2014)

Flashdance the Musical
Music & Lyrics by Robbie Roth, Book by Tom Hedley, Book & Lyrics by Robert Cary.
Dance like you've never danced before! Flashdance the Musical tells the story of 18 year old Alex, a welder by day and 'flashdancer' by night, who dreams of going to the prestigious Shipley Dance Academy and becoming a professional dancer. When a romance complicates her ambitions, she harnesses it to drive her dream.
Based on the Paramount Pictures film.
Email "Flashdance" for a free perusal download enquiries@originmusic.com.au
David Spicer Productions New Release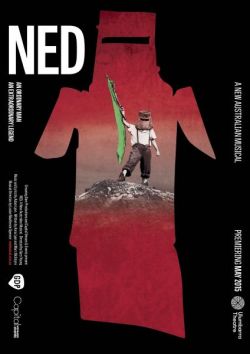 Ned the Musical.
Music and Lyrics by Adam Lyon, Book by Marc Mcintyre, Book by Anna Lyon.
NED explores the extraordinary highs and devastating lows of Ned Kelly's journey from local hero to felon to legend. Audiences will see themselves in the struggle of a poor family trying to make it through in a system that was stacked against them.
Adam Lyon (King Kong) has written a hauntingly beautiful score that captures the sounds of the bush and Irish ballads, while the libretto has all the raucous humour, warmth and tragedy audiences expect from this iconic story. NED is a truly Australian theatrical experience.
"Quite simply the best entirely Australian musical ever." Stage Whispers
See video, listen to music and read the script at
https://www.davidspicer.com.au/shows/ned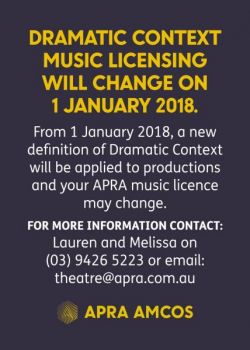 The Australasian Performing Rights Association has announced new rules for using music in school and theatre productions.
From 2018, the definition of a dramatic context performance has been widened to simply comprise the performance of musical works in conjunction with a live stage production that has a storyline, one or more narrators or characters or as a ballet.
Previously dramatic context fees were only charged if there was music on stage and theatrical effects such as costumes and dialogue.
APRA says the changes are good news for schools and community theatres with modest budgets as under the changes they will be able to quickly licence works without having to refer back to the copyright owners of the music.
For producers of tribute shows who did not previously need dramatic context permission the news is not so good as they face more hurdles in getting permission.
However, APRA says these producers now have more latitude to change production elements during their rehearsal periods without having to refer back to copyright owners.
For more information visit www.apraamcos.com.au (search for 'dramatic context').