ORiGiN™ Now Represent Tams-Witmark in Australia and New Zealand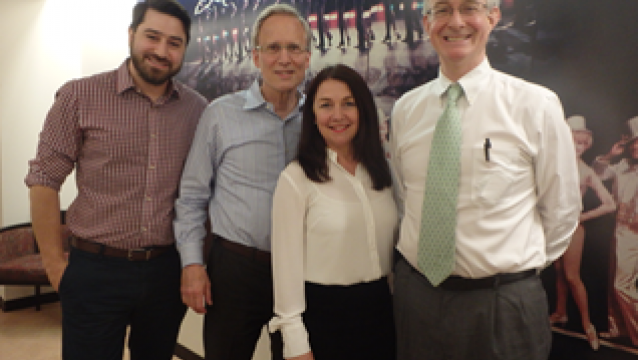 ORiGiN™ Theatrical has announced that they will represent the Tams-Witmark Music Library, Inc. catalogue of musicals in Australia and New Zealand effective from July 1, 2015.
Musicals include: Anything Goes * Cabaret * A Chorus Line * Crazy For You Dreamgirls * 42nd Street * Funny Girl * Gypsy * Hair * Hello, Dolly! * High Society * Kiss Me, Kate * Lysistratra Jones * Mame * Nice Work If You Can Get It * Nunsense II * Snoopy!!! * Sugar * Sweet Charity * Titanic * Victor/Victoria * The Will Rogers Follies * The Wizard of Oz * You're A Good Man Charlie Brown * and many more.
Kim Ransley – Managing Director, ORiGiN™ Theatricalsays, "We are thrilled to represent the Tams-Witmark Music Library and their representation of classic and contemporary Broadway musicals. We are looking forward to building our partnership with Tams-Witmark and maximising the licensing opportunities of their catalogue in our territory".
Sargent L. Aborn, President of Tams-Witmark Music Library, Inc., says "Tams-Witmark is delighted to begin this new relationship with ORiGiN™. ORiGiN™'s presence in the Australian market is customer-service driven, innovative and forward thinking and we appreciate that our catalogue will be represented with such care."
About ORiGiN™ Theatrical:
ORiGiN™ Theatrical manages the Australasian theatrical rights to many of the greatest musicals and plays in the world drawing on the rich catalogues of The Rodgers & Hammerstein Organisation, The Really Useful Group, Theatrical Rights Worldwide, Samuel French, Dramatic Publishing, Cressrelles Publishing UK and Warner/Chappell Music Australia. ORiGiN™ also represents Grease, Man of La Mancha, The War of The Worlds, The Mystery of Edwin Drood, Buddy and Australian written box office hits Shout! The Legend of the Wild One, Dusty The Original Pop Diva, Priscilla Queen of the Desert and Seven Little Australians. Origin is committed to working with Australian writers to develop new Australian plays and musicals and has signed works by Dorian Mode, Craig Christie, John Field, and Daniel Abineri.
In addition to licensing musicals and plays ORiGiN™ have over 900 concert works available for hire to Symphony Orchestras.
Cast and Crew:
Philip Walker, Philip Mortlock, Kim Ransley, Nick Young, Amber Quin, Julia Vitiello, Scott Bell, Ashlei Carroll and Damien Pinkuss.
For a full list of musicals now available from the Tams-Witmark Music Library-
About Tams-Witmark Music Library, Inc:
Tams-Witmark Music Library, Inc is a premiere musical theatre licensing company operating since 1870 and their catalogue includes some of the world's most adored classic and contemporary Broadway musicals.
Image: (left to right) Isaac Fleisher and Sargent L. Aborn (Tams-Witmark), Kim Ransley (ORiGiN) and Ken Duffy (Tams-Witmark)