Stephen Sondheim Turns 80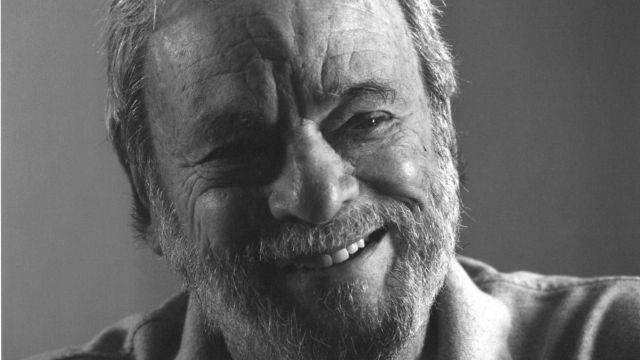 So what do you give the music theatre composer who has everything? He already has an Oscar, a Pulitzer, multiple Grammys and numerous Tonys. Supporters and fans of Stephen Sondheim came up with the ultimate accolade in March for his 80th birthday – they gave the legendary composer a theatre.
Well he doesn't get to keep it – like Andrew Lloyd Webber does in the West End. In Sondheim's case, he gets the naming rights. The Henry Miller Theatre on West 43rd Street will now be known as the Stephen Sondheim Theatre.
The announcement was made by longtime Sondheim collaborators James Lapine and John Weidman at the conclusion of a celebration of his work.
In March and April there was a lot of celebrating going on in New York and London. One concert was accompanied by the New York Philharmonic Orchestra. Tickets cost up to $250 each.
James Taylor in the Los Angeles Times wrote: "The mix of celebrity and nostalgia was potent, but what really made the evening feel special was the music. In recent years, the trend has been to scale down Sondheim's scores. The (recent) Sweeney Todd had the actors playing the instruments, and the current A Little Night Music on Broadway features only eight musicians in the pit -- whereas the original production boasted 25. Hearing Sondheim's scores played by a full orchestra -- the New York Philharmonic, no less - was a reminder of the richness of his music - not just his celebrated wordplay."
The man himself was interviewed by Matt Wolf in London. Here are some highlights.
How does it feel being feted to this degree?
"There's a bit of the drowning man's syndrome where I feel I'm seeing my life flash before my eyes. Sometimes I think if I hear one more song I have written, I will kill myself (laughs). Generally I'm obviously flattered by the attention. It's not only flattering but fun for me knowing the stuff is still alive."
Are you interested in today's technology?
"Sure, as you know I have a mathematical turn of mind and when I went to college I had every intention of being a mathematician. Had I been born two generations later I would have been a computer programmer. But when it comes to work I still stuck in a groove. I work with a pencil and yellow pad."
Do you give much thought to posterity?
"No one of the things I couldn't care less about is posterity. If you can't enjoy life while still alive what is the point."
Stephen Sondheim's first professional musical engagement, the unproduced musical Saturday Night, waited over 40 years to reach the stage.
Subsequently he worked with three of the greatest theatre composers, writing lyrics for West Side Story with Leonard Bernstein, Gypsy with Jule Styne and Do I Hear A Waltz? with Richard Rodgers.
Musicals for which he has written both music and lyrics include A Funny Thing Happened On The Way To The Forum, Anyone Can Whistle, Company, Follies, A Little Night Music, The Frogs, Pacific Overtures, Sweeney Todd, Merrily We Roll Along, Sunday In The Park With George, Into The Woods, Assassins, Passion and the long-in-development musical on the Mizner Brothers, known over time as Wise Guys, Bounce and Road Show.
To celebrate Mr. Sondheim's 80th birthday, Hal Leonard Australia would like to invite you to consider one of his many musicals and revues for your upcoming seasons.