Ukulele Musical Plucks Heartstrings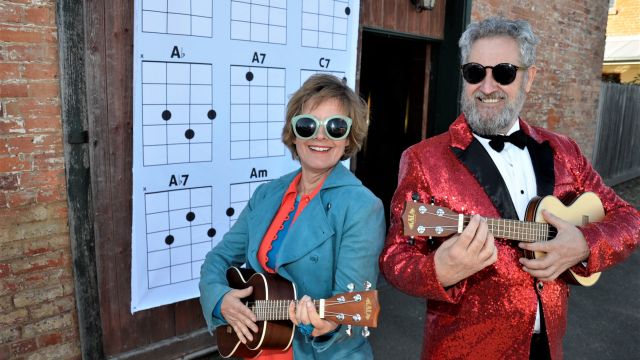 Playwright Jane Cafarella describes the moment she realised that the show she had written celebrating the humble ukulele had become a local phenomenon.
It was a cold bright morning in June. The strains of 'Happy Together' escaped from the historic Guildford Music Hall where the Uked! band was rehearsing, as I headed to the general store across the road for a warming coffee.
I knew that the story of Karla, who is dumped on her 50th birthday by her violin-playing boyfriend and who finds love and connection with the ukulele, was resonating with locals. Every time I handed out flyers at local events, someone would say, "I know a Karla!" Or "That's me!"
But would the 40 or so volunteer performers I had recruited by email over the previous months to play Karla's fellow club members turn up on this chilly winter day?
Without the volunteers, the scenes where Karla joins the fictional Newstead Ukulele Group (NUTS) and the fictional Guildford Regional Ukulele Band (GRUBS), simply would not work.
The whole premise of the show was audience engagement. I needed NUTS and GRUBS. And once the show opened - in just five days - I needed the audience to bring their ukuleles and play along with Karla.
I walked back and sat on a bench outside the pub. You could have played cricket on the highway that separated the store and the pub it was so quiet. The pit in my stomach was becoming a crater.
Then a car pulled up. Two people got out. Two people with ukuleles. Then another. And another. They began to greet each other. By name. And then I realised - they all knew each other.
While I'd been emailing them, they'd been emailing each other, and as ukulele fans travel to each other's clubs and to festivals and concerts, they'd spread the word. And here they were, beaming and greeting me like an old friend.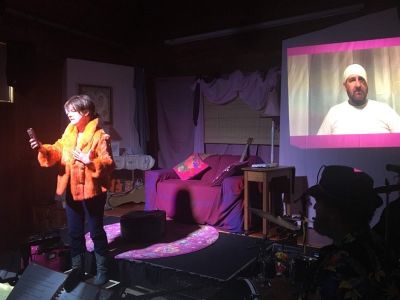 "I hope you don't mind, but I've brought my son," one woman said, smiling apologetically, as behind her trailed a 15-year-old boy carrying a laptop and a basketball.
Another woman approached with a young woman on crutches. "I've brought my neighbour," she said. "She had a car accident and needs cheering up."
Inside the hall, they crowded around the merch table, trying on t-shirts and putting on the badges and stickers, as the sound of excited voices and tinkling ukuleles grew. "I've put off my holiday to come to this," one woman told me. Another approached with a worried look - "I just wanted to ask about the costume. These are the only black shoes I have. Is this okay?" she said, pointing to her muddy black gumboots.
Another apologised for a friend who couldn't come. "He asked me to tell you that whenever he plays ukulele he dresses as Freddy Mercury. Is that okay?"
I began to worry that my cast would be upstaged.
The chatter subsided as Rebecca Morton, playing Karla, and Pete Gavin, playing all her YouTube teachers and love interests, led everyone into the first song. A power surge of voices and ukuleles filled the room: "The only one for me is you. So happy together!" My heart soared.
At the break, they offered suggestions, corrections, help and ideas and effused about the cast and the story.
The next day, those that could came back for the full dress rehearsal. They played and sang and laughed and cried in all the right places. Some asked if they could be in the show more than once. A waiting list was created. When people couldn't commit, I had a loyal group of standbys always willing to jump in.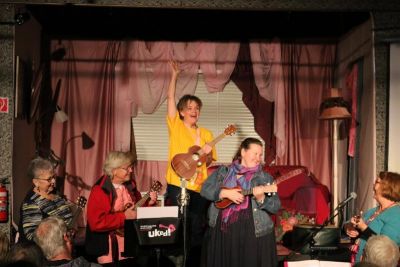 Some played in the show five times, while some audience members came twice and even three times.
As the show progressed, I trimmed and tweaked the script, which was challenging for the cast, but not for the NUTS and GRUBS. They loved playing spot the difference.
But one thing remained the same. They were committed and invested. So was the audience, which came from all over Melbourne and interstate. As one patron wrote, "I've got my ticket and my ukulele. Where can I park my caravan?"
In the end, it was not my show. It was theirs.
At the cast party, the staff at Guildford General Store presented me with a hot pink ukulele cake, iced with the words "Guildford has been uked."
And so, I realised, had I.
Click here for more details about staging uked.